"Cher's Original Mansion"
Cher's original mansion was her first serious home after her divorce from Sonny Bono, which she designed and built in Beverly Hills in 1980. It was a testament to her new found success as a single performer and where she could wholeheartedly apply her vision. It is on the market priced at $68 million with no price change since it was listed earlier in the year.
Beyond her unique contralto vocals and risque stage costumes, Cher's less heralded but equal talent is her exquisite taste in creating elegant luxury homes with plush rusticity. For years, these homes have graced the pages of the architectural and decor authority 'Architectural Digest' with her style of pristine white furniture against antique wood beams and textured stucco with a touch of Moroccan influence, which catapulted into the look so replicated today.
Cher built her mansion on the four acres she originally purchased. As her career and personal life advanced, she eventually sold the property to comedian-actor Eddie Murphy in the late 1980s. He held on to it until 1994 when new owners took over and began accumulating additional parcels of land. Over the years they turned the property into the five parcel, 14-acre premier equestrian estate that it is today – the last compound of its size in Beverly Hills.
Privately hidden from view behind massive entry gates and mature landscaping is the 20,000-square-foot unfinished main residence, in the first stage of an interior remodeling, with its 11 bedrooms and 17 baths. Outside are stone terraces, pool, spa, outdoor kitchen and tennis courts with cabana and seating for viewing the players. The move-in-ready, detached 7,000-square-foot guest house has exotic appeal with its walk-through arches, Moroccan tile, coffered ceilings, hand-carved wooden doors, five bedrooms and five baths. Also within the complex is a large equestrian center with a luxurious stable that includes five stalls and large lounge area with slate floors and fireplace.
The grounds are reminiscent of a European park in summer with expansive lawns, flower beds, mature trees and walkways. Tucked behind foliage are two large riding rings and also a network of riding trails that wind throughout the property. Options for use include a single buyer who would live in the large guest house while completing the main mansion or for a developer who would want to build additional homes.
The home that Cher designed and built, now a five parcel, 14-acre equestrian estate in Beverly Hills, the last property of its size, has been relisted at $68 million – $17 million below its original listing price. Co-listing agents are Josh and Matt Altman of Douglas Elliman Real Estate, Beverly Hills. Still for sale at $68 million.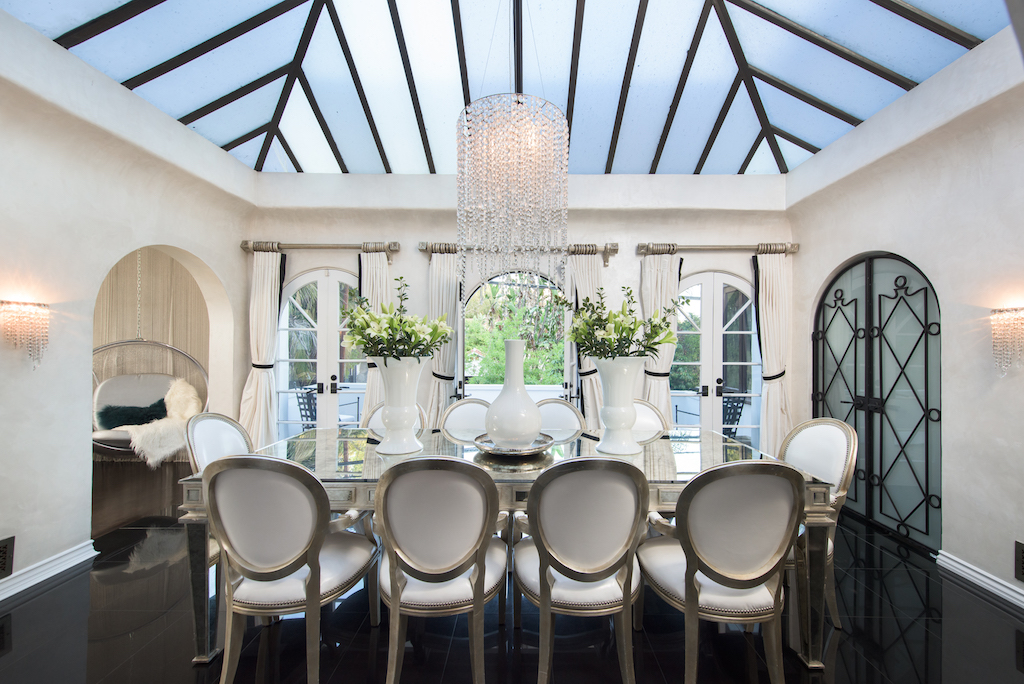 "Paris Hilton's Sunset Strip-Hollywood Hills Home"
Now living in sunny Ibiza, Spain, granddaughter of hotelier Conrad Hilton and super-socialite heiress, Paris, lived in this Sunset Strip-Hollywood Hills home from 2003 to 2007. It is now for sale and selling with Paris's original furniture, at the newly reduced price of $4.195 million, down from $4.8 million.
Paris started her career as a model for Donald Trump's agency, Trump Model Management, while still a teenager. Her looks, family connections and lifestyle of the wealthiest social circles made her popularity soar when she was featured in tabloids and entertainment news. When ex-boyfriend, poker player Rick Salomon, released a sex tape which he filmed during their affair, Paris was devastated but shortly thereafter co-starred with her friend Nicole Richie in the hit television reality series 'The Simple Life' that ran for five seasons on Fox. It was during this time frame when Paris lived in her Hollywood Hills home that is now for sale.
The house Paris called home is a three-story, Spanish-style property overlooking Sunset Strip and sweeping views of the Los Angeles city lights. Built in 1926, the 3,064-square-foot house includes four bedrooms and four baths, formal living and dining that open to a courtyard and a large eat-in kitchen that opens to the backyard with high-low terraces, lawn, swimming pool, spa and firepit. Old Hollywood-style glamour elements include dark wood floors, wood-beamed ceilings, pool cabanas and impressive chandeliers, which have always been hallmarks of star-studded California real estate. There is also a game room with pool table, a spacious media room, guest quarters, den and separate office. The master suite is pure Hollywood sparkle. Paris brought in her team of decorators for the house to turn it into a true heiress-style abode as they had done for her other homes. These same furnishings are included in the sale.
Paris Hilton's glamorous Hollywood Hills home and her original furnishings, where she lived during the five seasons of her television program 'The Simple Life' are now for sale priced at $4.8 million. Co-listing agents are Rebekah Schwartz Sklar and Paris's uncle, Mauricio Umansky of The Agency in Beverly Hills. Still for sale, the price has been reduced to $4.195 million.
Photo credit: The Agency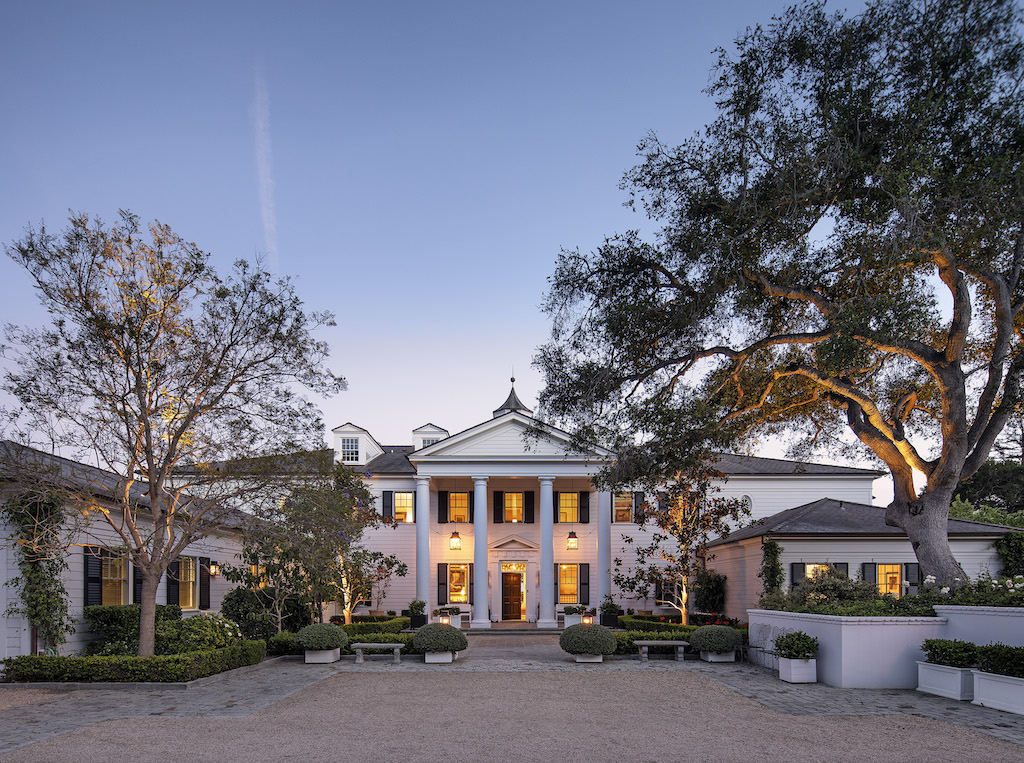 "Rob Lowe's Classic California Estate"
Heart throb actor of screen and television, Rob Lowe and his wife Sheryl listed their classic Montecito, California estate for $47 million in early 2018. Located in a celebrity-studded neighborhood, the buyer will be rubbing elbows with some of the world's biggest stars including Oprah Winfrey, Ellen DeGeneres, Gwyneth Paltrow and Julia Louis-Dreyfus. Montecito is a much favored retreat away from the work-a-day world of filmdom, located 80 miles northwest of Los Angeles between the Pacific Ocean and the Santa Ynez Mountains in Santa Barbara County with spectacular hillside views, nearby whale watching and beautiful weather.
The Lowe estate is a classic East Coast style and a stand out from the general Mediterranean architecture in the area. Sited on just over three acres, the main house was designed by architect Don Nulty, built in 2009 and encompasses 10,000 square feet. Also on the grounds are a two-bedroom guest house, one-bedroom pool house with staff quarters and outdoor kitchen, pool and spa, tennis court with observation areas and lushly landscaped lawns large enough for team sports with mature trees and a vegetable garden. There are two outside fireplaces, terraces and loggias for relaxing or entertaining, a water serenade from fountains and a koi pond. Formal rose gardens overlook the lawn and from most any location one can enjoy sunsets over the Pacific.
Inside the main house totaling 20 rooms are large open formal rooms, a huge white and cheerful family kitchen, separate catering kitchen, eight bedrooms, eleven baths, office, library-music room with bar, family room, various conversation rooms and nooks, movie theater, well equipped gym and expansive wine cellar. There are nine indoor fireplaces throughout the house with one in the master suite.
Now 54 but still not looking a day over 30, Rob Lowe has had a busy career in both film and television and is still lighting up the screens. Starting out at age 19 in the movie hit 'The Outsiders' in 1983 and 'St. Elmo's Fire' in 1985, his good looks and evolving acting skills kept his teenage fans who have turned middle age and are now binge watching him on 'The West Wing' reruns.
Reminiscent of the country estates in Charlottesville, Virginia where he was born, Rob Lowe and his wife recreated a classic East Coast-style estate in 2009 in the celebrity outpost of Montecito, California which he put on the market at $47 million in early 2018. It is still for sale at the original listing price. Suzanne Perkins of Compass Realty, Montecito, is the listing agent.
Photo credit: Jim Bartsch for Sotheby's International Realty
"Robert Redford's Wine Country Estate"
There is still time to grab Robert Redford's magical Napa Valley retreat. Though just recently listed at $7.5 million, it is no doubt being coveted by the next creative visionary looking for a respite almost guaranteed to refresh their creative spirit.
Not one of Hollywood's Ordinary People, especially when it comes to super-star actor, director and supporter of the arts, Robert Redford recently celebrated his 82nd birthday and announced his retirement as an actor. His final film, 'The Old Man & His Gun' in which he stars with Sissy Spacek and Casey Affleck and plays a real-life career criminal and escape artist was released in September to rave reviews.
For decades, Redford's permanent residence has been in Utah, home of his Sundance Institute. He and his artist wife, Sibylle Szaggars, also own a Napa Valley wine-country retreat where they enjoy hobbies and hosting family and friends. The Redfords have enjoyed the home for 14 years and have now decided to move back to the Bay Area near family and put their beloved Napa home on the market. It is priced at $7.5 million.
Robert Redford is one of the few actors who started his career near the top in television, Broadway and then breaking through to the top of the movie-star chain as the wise-cracking cowboy in 'Butch Cassidy and the Sundance Kid.' With every film he made, the awards grew larger and more important continuing to mushroom with the addition of directing and producing. Redford's long list of money-making and critically acclaimed films rank with the best in Hollywood history: 'Butch Cassidy and the Sundance Kid,' 'The Sting,' 'The Electric Horseman,' 'Ordinary People,' 'Out of Africa,' 'The Way We Were' and 'A River Runs Through It.'
Redford's other passion in addition to working for his ecological interests, was to help advance new artists in the film industry and creative arts. After filming 'Butch Cassidy and the Sundance Kid' and 'Downhill Racer,' he put all his proceeds from the two films into buying an entire ski area near Provost, Utah where he started the Sundance Institute. Using the name from the film, he formed related non-profit businesses under its umbrella such as the Sundance Film Festival, the Sundance cable channel, Sundance catalog and others as outlets for new filmmakers and artists. The first of its kind, it now draws artists worldwide. In addition to receiving the highest film industry awards, top international awards and multiple honorary degrees, he has been recognized with the Kennedy Center Honors and the Presidential Medal of Freedom.
The charming Napa getaway, named Danza del Sol, lies perched on a knoll on 10 ultra-private acres surrounded by woods and vegetation with walking paths. The compound includes the main house, a 90-square-foot artist studio/guest house and two large garages. The 5,200-square-foot main house is modest by film mogul standards with three bedrooms, four bathrooms, a large great room, den, library-office, sunny white kitchen and formal dining room. Multiple wood-burning fireplaces exist throughout the home. The quaint studio/guest house has a huge open space filled with light from a wall of French doors and double garage door that rise high into the vaulted ceiling. One of the two garages houses a large workshop and exercise studio. Terraces by the pool, spa and outdoor dining areas offer calming views and are perfect for entertaining.
The Napa Valley estate of Robert Redford is now for sale upon his retirement. Priced at $7.5 million, the listing agent is Steven Mavromihalis of Pacific Union International, San Francisco.
Photo credit: Open Homes Photography.
"Talking About Kathie Lee Gifford's Key Largo Mansion"
Having just announced her retirement from the 'Today' show, Kathie Lee Gifford is asking $10.5 million for a Key Largo, Florida home that she bought in 1998 with husband Frank Gifford. In a club neighborhood that has everything from a choice of dog parks to golf and medical care, it is surprising that Kathie ever goes back to her New York TV job. Though listed in early 2018 and still on the market at the same listing price, Kathie Lee continues to enjoy the home with her family and friends in its exceptional laid back and enviable location.
Located in the Ocean Reef Club at the northernmost part of Key Largo, Kathie's home is convenient to Miami, Coconut Grove and exploration of the Florida Keys. A small island community unto itself, the Ocean Reef Club has been an exclusive getaway for the wealthy since its inception in 1948 as a fishing camp until it became the Ocean Reef Club in 1993. Today, it is home to two 8-hole championship golf courses, a tidal swimming lagoon and pool, a marina, fire station and fully staffed medical center. There is also a landing strip, a flying club, restaurants ranging from casual to formal and specialty shops. Pet owners have access to two dog parks – one for dogs under 25 pounds and the other for larger dogs. A veterinarian is also on hand.
Kathie Lee and husband, former New York Giants star and NFL TV announcer Frank Gifford bought the new waterfront house in 1998 for $3.9 million when their children were four and eight years old. The Giffords roamed freely about the community always engaging with the neighbors and always approachable. Frank had fans who would love to talk football and the whole family enjoyed taking advantage of many of the club's amenities. This was the place they came with an entourage of family and friends to spend Thanksgiving, Christmas, New Year's and Easter, which Kathie Lee has kept up much of that tradition since Frank died in 2015.
At 11,400 square feet of air-conditioned space, not counting the large screened and open areas for outdoor entertaining, the three-level house has eight bedrooms and eight baths with a main floor master suite, an elevator or stairs to the upper levels, a large and airy great room that opens seamlessly to a screened terrace with pool and spa and an outdoor kitchen convenient for romantic waterside dining. There is a custom kitchen with pantry, media room, private gym, formal dining area and multiple casual dining locations throughout. There is a five-car garage, fire pit, boat dock and space to entertain large groups, but the pièce de résistance is the stunning sunset views across Card Sound and the Atlantic Ocean. Kathie Lee often talked about the sunset views on the 'Today' show, also where the home was seen in 2013 when she did a remote segment from the estate.
With her children now grown and careers of their own, Kathie Lee Gifford is selling her Key Largo waterfront vacation home, priced at $10.5 million. The listing agent is Roberta Watson of Watson Luxury Properties, Ocean Reef Club, Key Largo, Florida.
Photo credit: Watson Luxury Properties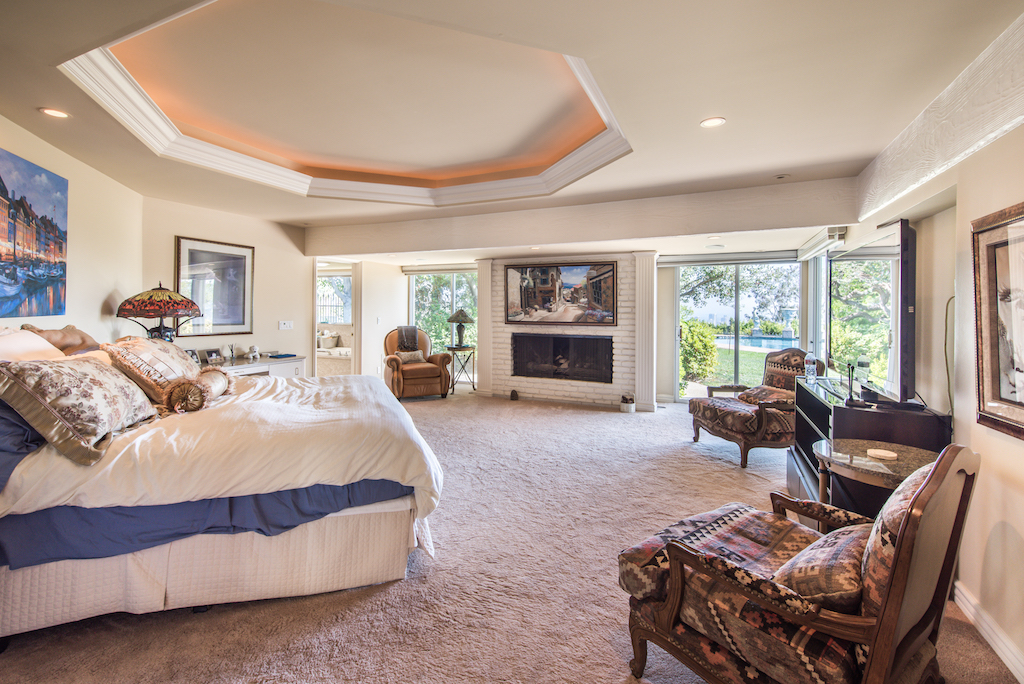 "Elizabeth Taylor's Beverly Hills House"
In the early 1950s, the stunningly beautiful Elizabeth Taylor was undergoing life-changing challenges. She had recently divorced the first of her eight husbands, Conrad Hilton, Jr., and married British actor Michael Wilding. It was a period in her life when for the first time, the tight control over her life by the MGM studio felt so suffocating that she was considering leaving her acting career. She was tired and indecisive about her profession and Wilding, being 20 years her senior, represented a safe haven. Wilding, on the other hand, felt marriage to Taylor might boost his sagging career.
In 1954, the newlyweds bought a new house in Beverly Hills that Taylor described in her book 'Elizabeth Taylor: An Informal Memoir,' as "the most beautiful house I've ever seen." Taylor put the movie studio out of her mind and threw herself into being a wife and mother to her two sons who were born and raised at the home during their infancy.
After several years as a housewife and mother, in 1956 Elizabeth was offered what she felt was a good film and was happy to accept the female lead in 'Giant.' Rumors flew around Hollywood that while she was filming, Wilding was entertaining a bevy of strippers inside the home. A year later, she and Michael were divorced and she sold the house in 1957. About the same time she married her third husband, Mike Todd.
The current owner, now 90 years old, hired starchitect Budd Holden to redesign the house when he purchased it in 1997. He added 2,000 square feet and opened it to the expansive city and ocean views by adding a large number of windows and ceiling-to-floor glass doors to access the terraces and gardens. Sited on over two private gated acres with a palm-shaded fountain entry courtyard, the 7,781-square-foot house has six bedrooms, seven baths, four fireplaces, an art studio, sauna and library. All rooms are large with glass walls to view the surrounding garden, patios, pool or city views from every room.
The estate where 22-year-old legendary beauty and film star Elizabeth Taylor began her family with her second husband Michael Wilding was for sale, priced at $15.9 million. The house sold quickly at an undisclosed price. Listing agents were Joyce Rey & Arlene Rutenberg of Coldwell Banker Global Luxury, Beverly Hills.
Photo credit: Marc Angeles
"Zsa Zsa Gabor & Elvis Presley Lived Here"
It doesn't get much better than Zsa Zsa, Elvis and a party with The Beatles – one of the most storied celebrity homes in America was for sale at $23.45 million and sold in a few months for $20.8 million. The Bel Air home was built in 1955 by eccentric playboy, wealthy businessman and aviator Howard Hughes – romantic friend of Ava Gardner, Katharine Hepburn and several more Hollywood stars. It was later Elvis Presley's home who entertained The Beatles there in 1965. Zsa Zsa Gabor bought it in 1974 and stayed until she died in 2016. Guests who have visited the property include Queen Elizabeth, Ronald Reagan, Elizabeth Taylor and Frank Sinatra. A house well-known in the film industry, it was the location for 'Behind the Candelabra,' starring Michael Douglas and Matt Damon, and in the Oscar-winning film 'Argo,' starring Ben Affleck.
Zsa Zsa was on her sixth of nine husbands when she purchased the house, married to Jack Ryan, the creator of the Barbie doll, Hot Wheels and Chatty Cathy. They were divorced two years later, but as Zsa Zsa was fond of saying, "I am a marvelous housekeeper. Every time I leave a man, I keep his house." She continued to live in the house for 40 years and three more husbands. Zsa Zsa decorated it lavishly from the era and place in history to which she felt most connected, the French Court of Louis XV, with touches of gold leaf, elegant furnishings and her ultra-feminine dressing table. When Zsa Zsa died, so did part of the legendary Old Hollywood glamor.
Sited on over an acre, the residence features spacious rooms with high ceilings, a main level that opens into a circular foyer to a grand living room, formal dining room, six bedrooms including a master suite with a two-room closet, seven bathrooms, office, breakfast room, and chef's kitchen with a butler's pantry. The large, upper-level bonus room opens to a Monte Carlo-style rooftop terrace with commanding views ideal for entertaining. The grounds feature expansive patio space and a pool, all overlooking the city views.
The ultimate celebrity property located in the East Gate area of Bel Air that was once owned by Elvis Presley and Zsa Zsa Gabor and has welcomed top celebrities from musicians and actors to world leaders was listed at $23.45 million and sold for $20.8 million. The listing agent was Jade Mills of Coldwell Banker Global Luxury, Beverly Hills.
Photo Credit: Adam Latham
"Ronald Reagan & Jane Wyman's Home"
Swept off the market in just three months, the 1938 Colonial Revival home of Ronald Reagan and Jane Wyman, designed by architect-to-the-stars, Paul Williams, sold for the first time in 64 years for $6.45 million.
When Ronald Reagan got his first starring role at age 27 as Dan Crawford in Brother Rat in 1938, his success not only drew the attention of the film industry but also of his co-star, Jane Wyman. She was only 21 but after meeting the handsome Reagan, she soon divorced her second husband and married Reagan in 1940. But instead of wedded bliss, almost from the start the relationship started going downhill until she filed for divorce in 1948. Between each working hard to advance their film careers, the life disruptions of World War II and afterwards the time Reagan spent working against the Hollywood blacklist, the biggest blow was losing their premature baby. Wyman fell into depression, tried to fill the void with work, and neither took the time to work on family, for which Reagan later expressed personal regret. As for Wyman, she expressed the belief that she wasn't the type for 'forever after' and proved her theory by continuing her trail of divorces after ending her marriage to Reagan. Of their two homes together, their Little Holmby property was the grandest and exudes Old Hollywood glamor. It was also used as the home of Joan Crawford in the television series 'Feud.'
At 6,153 square feet, the classic, five-bedroom, six-bath house retains its original architectural layout with large rooms, high ceilings, hardwood floors and hand-crafted millwork. The impressive foyer is in Williams' signature oval design with sweeping staircase and wrought-iron banister that continues through the second-floor overlook. The dramatic foyer set the tone of glamour for the rest of the home and the Reagan-Wyman guests invited by the Hollywood power couple to their home. The vast public spaces, private yard, swimming pool, gazebo, firepit and terraces, both open and covered, make entertaining comfortable and enjoyable. The reception hall includes a sunroom and the spacious family room has both fireplace and a bar. The master suite claims one whole side of the second floor along with three additional ensuite bedrooms.
The elegant home of Ronald Reagan and Jane Wyman sold after only three months on the market. Designed by architect Paul Williams, it was the epitome of Old Hollywood glamor. Selling for $6.45 million, co-listing agents Christophe Choo and Joyce Essex Harvey of Coldwell Banker Residential Brokerage arranged the sale. Coldwell Banker represented both the seller and the buyer.
"Muhammad Ali's Michigan Farm"
In 1975, almost ten years before Muhammad Ali was diagnosed with Parkinson's disease, he bought an 81-acre property in Berrien Springs, Michigan, insulated from city noise and crowds by the St. Joseph River which surrounds the lush green fields. It was where he spent his summers and a portion of his retirement years until his Parkinson's became more advanced. According to boxing experts, Ali was on the wrong end of over 200,000 punches during his career, contributing to the Parkinson's. In 2006, he and his wife Lonnie, moved to Arizona. He succumbed to the disease in 2016 and his widow is now selling the Michigan property.
Born as Cassius Clay, he grew up in Louisville, Kentucky during the 1950's Jim Crow era where African Americans had few opportunities. The family was not destitute, but fairly middle class within Louisville's black community. A twist of fate came when he was 12-years-old that changed his life forever when he hurriedly parked his bike and ran inside a building for protection from a rainstorm. When he came out, his bike had been stolen. He found a policeman to tell and said he wanted to fight the thief. The policeman asked him if he knew how to fight, and Cassius realized he didn't. The policeman said, "Come with me." He introduced Cassius to a police-sponsored youth boxing club where he was amazed to see blacks and whites fighting each other as though color segregation didn't matter. That's when he saw his future which led to Olympic Gold and one of the all-time boxing champions. Ali was known for being verbose as much as his boxing skill, but his charm was what won people over. He loved attention and loved people and found boxing to fill all his needs. He did what he loved and became one of the most important athletes of the 20th century.
The farm in southwestern Michigan, near Indiana, was the place where he and his family could relax away from the fame. The path of the river, enclosing three sides of the property, ensured privacy from neighbors and onlookers as did the gated entry. By 1975, Ali could afford to design it exactly the way he wanted and he added buildings customized to his needs which also have universal appeal. Structures on the property include the main house, carriage house, pool, gym, garages, barns and office epicenter. The elaborate gym has the boxing ring in the center, exercise equipment, a steam room, baths, massage room, laundry and spa tub. A few steps outside the gym's French doors is a full-size basketball court. Next door to the gym is the office epicenter with his private office, conference area, private bath, mail room, vault, kitchen, loading dock and several other offices and a basement. There are two separate climate-controlled garages, each accommodating over five cars, RVs and space for equipment. The two houses, main house and carriage house for guests, are on either side of the pool terrace, which includes a fully-equipped outdoor kitchen, bath house, sound system and pergola. The main house has four bedrooms, living and family rooms and kitchen with large pantry and three-car, climate-controlled garage. The carriage guest house also has a sunroom and deck overlooking the pond and fountain by the river. Grounds are lushly landscaped with firepit and a waterfall rock garden.
Muhammad Ali's pastoral Michigan home with every amenity to make a world champion boxer happy in his time off, is now for sale at a very specific price. The last two numbers represent Ali's 37 career knockouts – $2,895,037. The listing agent is Tim Mitchell of Cressy & Everett Real Estate, Dowagiac, Michigan. The property is still for sale at its original listing price.
"Frank Sinatra's Malibu Beach House"
Now for sale and formerly filled with family and close Hollywood friends, the house that Frank and Barbara Sinatra built in the early 1990s on Broad Beach in Malibu is on the market for the first time. The home has been listed for $12.9 million.
Of all the beautiful homes and retreats Sinatra owned from coast to coast, it seemed that he found his true happy place when he and Barbara visited their good friends Steve and Eydie Gorme in Malibu. Enthralled with the peacefulness of the Pacific, the white-sand beach and the prospect of having close friends for neighbors, the couple bought a lot and built their home in 1992. In addition to it being a restful beach home for Frank, who was still touring until shortly before his death at age 82, they filled the home with family and the most famous names in show business. In her book, 'Lady Blue Eyes: My Life With Frank,' Barbara fondly describes their life in the beach house and their poker games where jokes and laughter flowed as fast as the food and drinks. Although the couple also owned homes in Palm Springs and Los Angeles, this was where they chose to renew their vows in 1996 with friends watching from the dunes and speeches from Don Rickles and Bob Newhart.
With Barbara's death in 2017, her son from a former marriage has put the property on the market. Designed by architect-to-the-stars Ted Grenzbach, the house sits safely back from the waves nestled in lush lawn and mature landscaping with dunes framing the beach entrance. Its indoor-outdoor living plan affords an open and spacious floor plan for entertaining and still invites an intimate gathering in front of the oversized fireplace with a brandy on chilly evenings. Bright and white and filled with sunlight, the interior is the perfect foil for the colorful Pacific sunsets. With 40 feet of beach frontage, the two-story, 5,800-square-foot house has seven bedrooms and nine baths. The large, unusually well-equipped master suite consists of a lounge, fireplace, sauna and its own hair salon. In addition to beach-formal living and dining areas, there is also a wood-beamed family room and a wet bar in the dining area which accommodates both indoor and outdoor entertaining.
Possibly his all time favorite residence, which he built at age 75 and enjoyed with wife, family and showbiz friends, Frank Sinatra's Malibu beach house is for sale, asking $12,9 million. Listing agents are Leonard Rabinowitz and Jack Friedkin of Hilton & Hyland and Chris Cortazzo of Coldwell Banker Residential Brokerage.
Visit TopTenRealEstateDeals.com for a tour of 2018's Top 10 Celebrity Homes and for more historic, famous and spectacular homes.