It is almost Christmas, which happens to be my favorite time of the year! A time during which we all do a lot of cooking for visiting friends and family members.
Although I know about Moore's sauces, I have to admit that I have never tried them. Well, it's time and I plan to try some during my Christmas vacation. I have chosen 4 of them: the Honey Barbecue Wing Sauce, the Asian Teriyaki Wing Sauce, the Zesty Garden Herb and the Original Marinade. But first let's get a bit of history on the company.
It all began over thirty years ago in the small Alabama town of Jasper with a family-owned steakhouse featuring homegrown good flavor. There, Moore's Original Marinade was created and soon became a staple in the town for its delightful, hickory taste.
This recipe was the Moore family's shining achievement and was so sought after, that they eventually began to sell it in Styrofoam cups to the steakhouse regulars. Moore's provides Moore Flavor for any cooking occasion! Here are the sauces I plan to include in my holiday dishes.
Original Marinade
A versatile marinade for beef, chicken, pork, fish, vegetables & wild game. Its robust hickory flavor adds an interesting twist to all your favorite dishes. Use as an added ingredient to inject flavor into your favorite recipes!
Zesty Garden Herb Marinade
A fresh, lighter take on your go-to marinade with a bright, savory flavor with a hint of rosemary. It is perfect for chicken, pork, fish and vegetables. Can also be used as a tasty dressing or ingredient for salads or side dishes.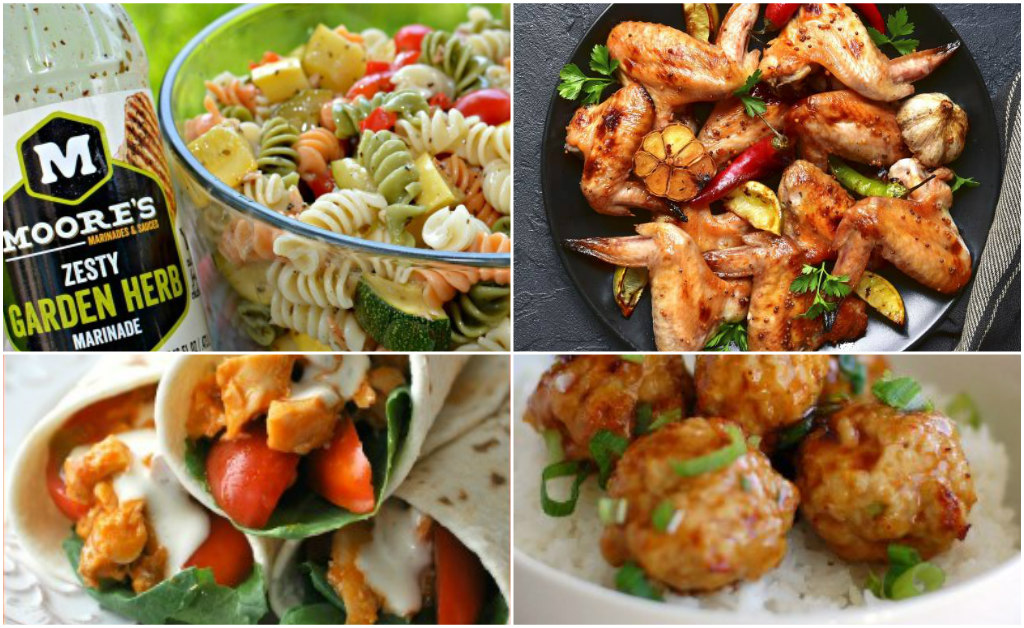 Asian Teriyaki Wing Sauce
New look, same great taste. This one can be used as a sauce or dip, for wings and lots of other things! I love the sweet garlic, soy and ginger taste. It has a medium spicy level. Put less if you are allergic to hot pepper.
Honey BBQ Wing Sauce
They call this one their "Sweet Heat sauce" and it's a fan favorite! Ready to use as a sauce or dip, for wings and lots of other things! Spicy and Sweet, Smoky and Tangy – adds a perfect balance of a spicy kick and a sweet stickiness to your dishes. It's made with real honey & molasses and also has a medium spicy level. All sauces are Gluten Free, Kosher, No MSG and are available in 16 oz. bottles.