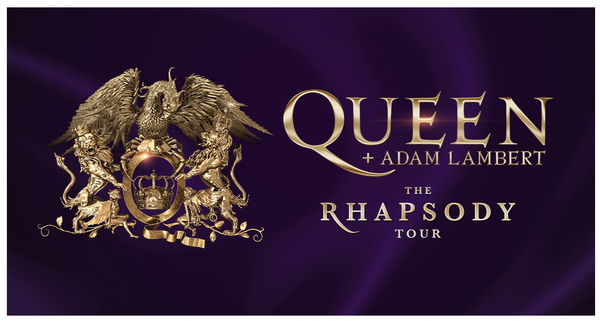 The soaring success of Bohemian Rhapsody – the Freddie Mercury/Queen movie that is set to become the biggest grossing music biopic of all time – has proven that the public's love for Queen remains as strong as ever. Longtime fans and recent converts will be thrilled to discover then, that Queen – original band members Brian May and Roger Taylor, teaming up once more with longtime front man Adam Lambert on lead vocals – will return to North America next year. Produced by Live Nation, the epic 23-date arena and stadium Rhapsody tour is set to run from mid-July through late August with an all new concert experience coming to the "Fabulous" Forum in Inglewood, CA on July 19th.
Tickets for the Rhapsody tour go on sale to the general public starting December 7th at LiveNation.com at 10AM local time. Queen and Adam Lambert Fan Club Presales will run from 10AM local time through 10PM local time on Thursday, December 6th.
Going under the Rhapsody header, the six-week tour will debut a brand new larger-than-life production. Stufish Entertainment Architects' set designer Ric Lipson says: "Queen + Adam Lambert's Rhapsody tour will, once again for them, expand the parameters of what a live music experience can be. This new show promises to be their most spectacular yet, an innovative and interactive celebration of the continued power of Queen's music."
The tour follows an acclaimed run of 10 sold-out shows at the MGM Park Theater, Las Vegas in September 2018 and will kick off July 10th at Vancouver Rogers Arena. Stop-offs include some of the most history-packed venues in the US and Canada, including The Forum in Los Angeles (the last venue the original line-up played in North America on September 15, 1982) and New York City's Madison Square Garden (the site of past. Queen glories, including a memorable performance from Queen + Adam Lambert on July 17, 2014). It will wrap August 23rd at Spectrum Center in Charlotte, NC.
Announcing their Rhapsody tour Roger Taylor said: "We are ready for America and raring to get back in the saddle." Adam Lambert said: "We have been designing a brand new visual spectacle that will reframe these iconic songs and we are excited to unveil it!"
With Brian May adding: "This is a great opportunity. Our last tour featured our most ambitious production ever, and got us our best notices ever. So we decided to rip it apart and get even more ambitious! Watch out, America!"