No plans for New Year's Eve? There's plenty to do in and around Hollywood. Check out the special evening delights at Queen Mary or Universal Studios Hollywood!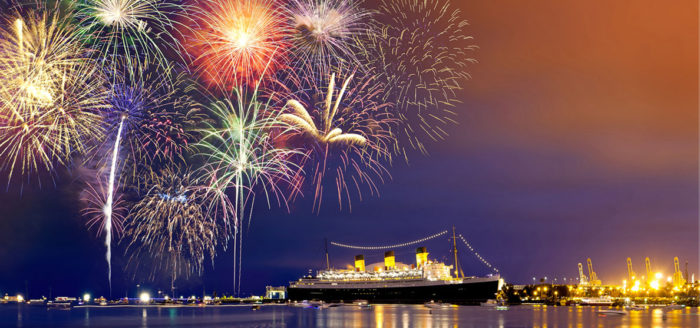 Cheers to the New Year aboard the magnificent Queen Mary, December 31, 2018. Take a unique voyage through history exploring the ship's themed decks and ballrooms, brought to life with celebratory live music, DJs, dancers, dueling pianos and more. One of SoCal's best fireworks displays will light up the night sky off the stern of the ship at midnight.
Only on New Year's Eve, the Queen's Salon will transform into The White Canary, a glittering white party with a champagne tower centerpiece, martini contortion performances, flapper girls, and DJ Cutt spinning the soundtrack for the balloon drop at midnight.
The Royal Salon has always been the Cat's Meow, and for New Year's Eve, will host the black light party, only lit by neon. Dance to electronic music with DJ Closa, grab a drink from LED bottles, as hula hoop and black light artists paint to the beats of the music.
The true party begins on the Verandah Deck, also known as the Live Wire Quay, with non-stop performances by DJ Ravidrums, Rock It Bots, La Sonora Dinamita, and DJ Rod Epic. Experience Cryo Bots, LED features and dancers, and the famous synchronized fireworks show to ring in 2019.
A secret location buried within the ship will host Capone's Hideaway. This gem will be hard to find, but once discovered, step into a speakeasy with waterfront views, an authentic absinthe bar, and hot jazz. On the Ship's Bow, head to the Hotsy Totsy party for live country music from Dean Kalogris and DJ Coral, with twinkling lights, moonshine and line dancing.
VIP party goers will receive the Bird's Welcome in the Brittania and Deck Salon. Experience tantalizing décor, sip on cocktails, and catch the Hells Belles Burlesque Show and performances by Dueling Pianos. Celebrate in VIP style at the Live Wire Lounge in the Verandah Grille. The cumbia inspired VIP lounge will host performances by DJ Rod Epic and Samba Girls, plus offer prime firework viewing.
The Boiler Room brings a brand-new VIP experience to the historic inner workings of the ship, 25 feet below the water line. Transport back in time through swirling fog to experience the Hells Belles Cage Dancers, musical stylings of DJ Pharaoh, and Steampunk Jetpack cocktail artists, all in one of the most unique party locations you've ever seen.
The Capstan Club offers an exclusive VIP experience and ultimate firework viewing location. Reserve one of eight cabanas on the Capstan deck and enjoy private seating, a bottle of champagne, exclusive bottle service, and music from DJ Malcolm Alxndr.
Dining on board to celebrate New Year's Eve is a five-star experience at Sir Winston's Restaurant & Lounge, Chelsea Chowder House and Promenade Café, all offering specialty menus for the festive evening.
Following the iconic fireworks display, starting at Midnight guests can indulge in classic breakfast favorites – buffet style – at the Midnight Breakfast in the Promenade Cafe. No reservations are needed and tickets start at $24. Keep the New Year's celebration going through January 1, and indulge in our No Resolutions Brunch for the ultimate New Year's Day buffet in the Grand and Windsor Salons. No reservations are needed and tickets start at $42.
The celebration can truly last past midnight with a New Year's Eve hotel package, which includes VIP passes to the evening festivities onboard.
New Year's Eve on The Queen Mary takes place from 8 p.m. to 1 a.m. Guests must be 21 years old to attend. Tickets are on sale now, General Admission tickets are $115 per person and VIP tickets are $215 per person. VIP tickets include a champagne toast upon entry, access to all parties plus exclusive ballrooms and prime fireworks viewing locations. Reservations are required for dining at Sir Winston's. Private champagne cabanas with bottle service are available for reservations now. For more information, pricing, hotel packages and more, visit http://queenmary.com or call 877-342-0742.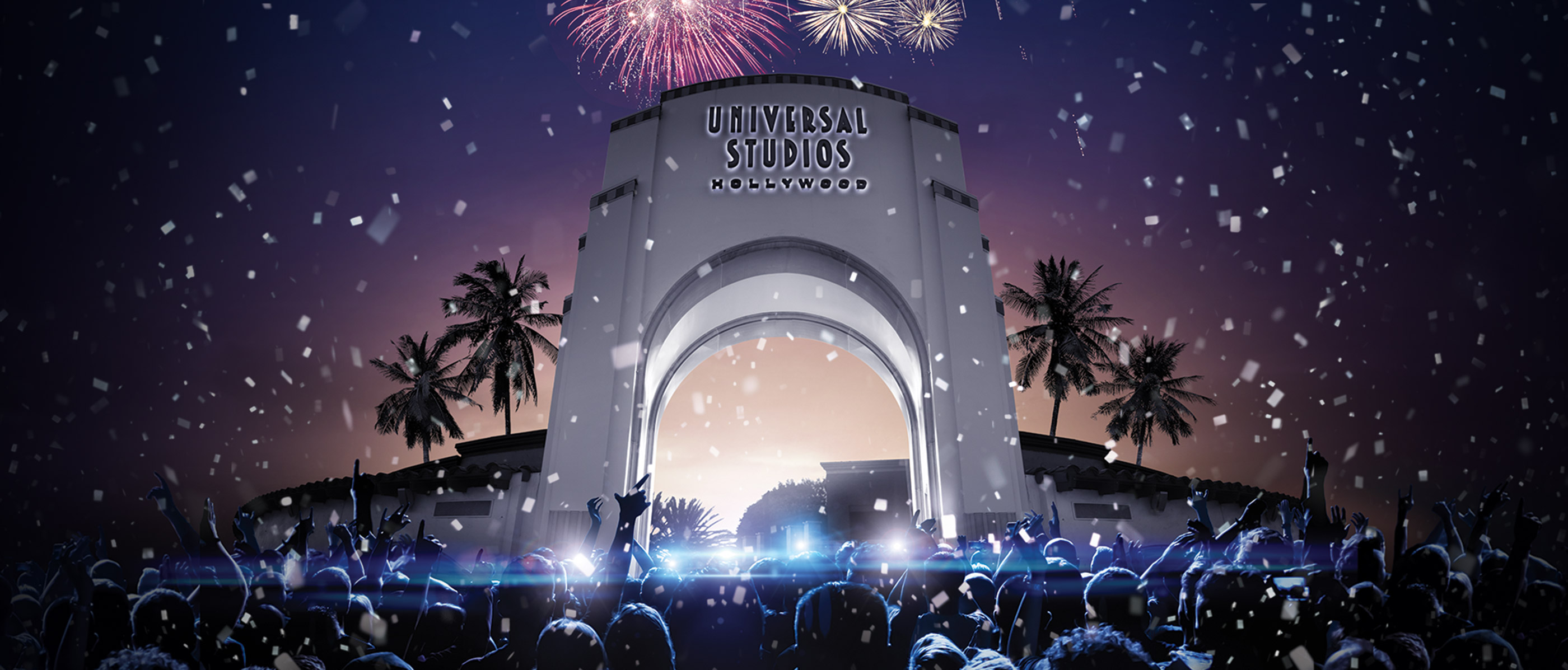 Universal Studios Hollywood rings in 2019 with EVE, Hollywood's biggest and most exciting New Year's celebration, including an all-new Ultimate EVE package, on Monday, December 31, with extended theme park hours to 2:00 a.m.
EVE is included in the price of theme park admission and invites guests to spend the day and night enjoying its many popular rides and attractions with a special park-wide party starting at 9:00 p.m., featuring multiple DJs and live music entertainment hubs, that will culminate simultaneously at midnight with a traditional New Year countdown and a spectacular fireworks display.
The all-new Ultimate EVE package is a featured addition to this year's event, inviting guests to celebrate in style. Package highlights include theme park admission starting at 6:00 p.m., access to private lounges, buffet dining, private cash bars, reserved VIP viewing areas for the dazzling fireworks display, a complimentary, midnight champagne toast, commemorative 2019 party favors and unlimited Universal Express access to all rides and attractions.
Starting at 9:00 p.m., Universal Plaza, Simpsons Plaza located in Springfield™ and an area near "Revenge of the Mummy – The Ride" will transform into three uniquely-themed party hubs, featuring a variety of music, from rock 'n' roll to electronic dance music to Latin pop, and the celebration will continue with enhanced DJ shows and after-party entertainment until 2:00 a.m.
A selection of food and beverages, including specialty desserts, champagne, beer, wine and specialty cocktails, as well as 2019 memorabilia will be available for purchase.
To purchase tickets for EVE or the Ultimate EVE package, click here.
With its festive environment, guests can toast the New Year with the spirit of the holidays already resonating throughout Universal Studios Hollywood.
The highly-anticipated return of "Christmas in The Wizarding World of Harry PotterTM brings glistening snowfall for the first time ever to Hogsmeade village along with "The Magic of Christmas at HogwartsTM Castle," a breathtaking digital light projection experience, which continues through January 6, 2019.