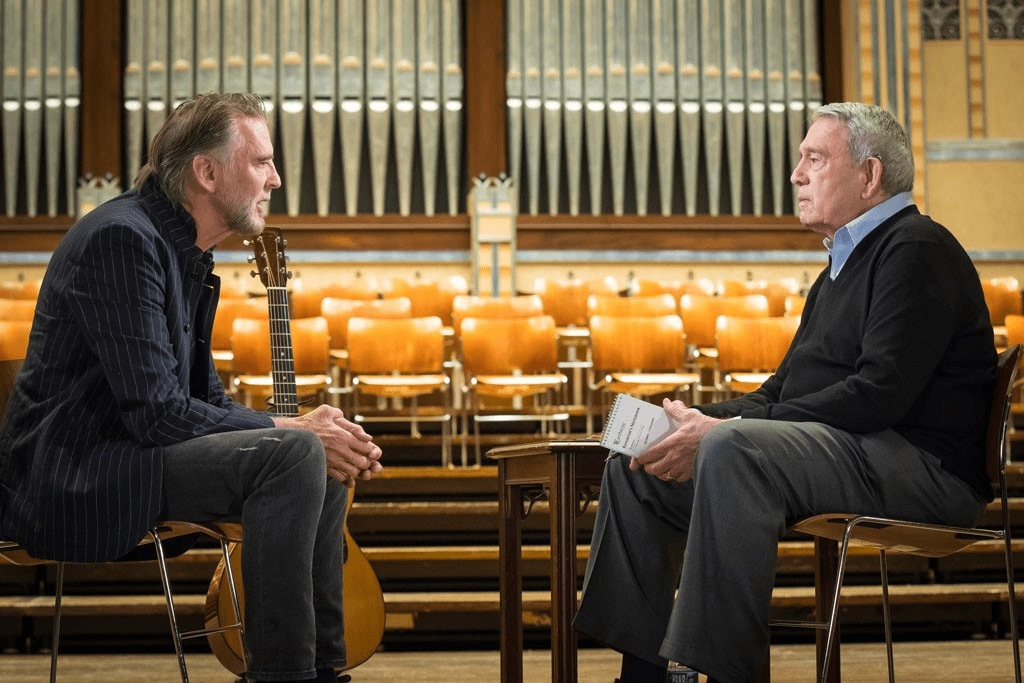 Celebrated singer, songwriter, and guitarist Kenny Loggins rides into the Danger Zone for an intimate conversation with Dan Rather on an all-new episode of "The Big Interview" — airing Tuesday, December 11 at 9pE/6pP.
Filmed at Severance Hall in Cleveland following Loggins' performance with the 100-piece Contemporary Youth Orchestra, the episode captures a lively and deeply personal conversation as the beloved hit maker — whose signature vocals fueled such unforgettable favorites as "This Is It," "Whenever I Call You Friend," and "Celebrate Me Home," among many others — gets candid about his life as one of rock's most prolific artists.
In this exclusive first look, the "king of soundtracks" reflects on how his work on films such as "Caddyshack," "Top Gun," "Footloose," and more elevated his career while blazing new ground in the marriage of music and movies. "The movie thing is an interesting synergy, because the movie lifts the song, the song lifts the movie," Loggins explains. "Back then, it hadn't been done. Pop music and movies were not necessarily symbiotic. And all the sudden it was working." Loggins credits this aspect of his career with helping him to avoid the disco-fueled pitfalls that ensnared his fellow artists at the time, saying, "A lot of acts were getting eliminated by the disco musical movement. The movie thing just took my career to another level. It's incredible luck." Watch it here.
Loggins also opens up about some of his most notable collaborations, including working with his vocalist daughter; reveals what really went on behind the scenes of "We Are The World," including the reason for Prince's surprise departure; and shares a humorous anecdote about getting his big break courtesy of a girl he was dating, whose father just so happened to be the CEO of Disney — leading to Loggins receiving the rights to what would become one of his most defining songs: "House At Pooh Corner."
"Dan Rather pulled out a level of conversation I haven't had the opportunity to experience in my entire career," says Loggins. "I'm very proud to have had such a real and honest interview with a true TV icon."
To see more of this insightful episode, tune in to The Big Interview on Tuesday, December 11 at 9pE/6pP, only on AXS TV.