Honda's third generation Insight hybrid sedan has been named Green Car Journal's 2019 Green Car of the Year® at the Los Angeles Auto Show's (LA Auto Show®) AutoMobility LA™.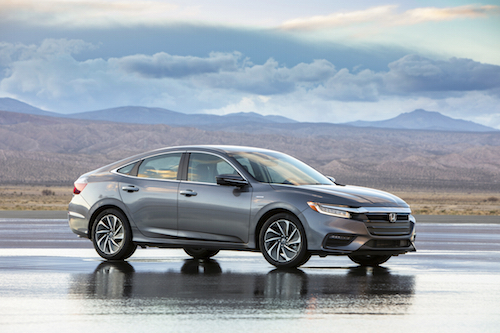 This award honors the vehicle that most significantly raises the bar in environmental performance while remaining within reach of most consumers. The expanded 2019 Green Car Awards™ also recognized two increasingly important categories this year – the 2019 Luxury Green Car of the Year™, awarded to the Jaguar I-PACE and the 2019 Green SUV of the Year™, awarded to the Mitsubishi Outlander PHEV.
"This year's finalists for our expanded Green Car Awards™ program in Los Angeles were truly exceptional, reflecting the auto industry's ever-expanding focus on cleaner and more efficient new models that also speak to the joy of driving," said Ron Cogan, editor and publisher of Green Car Journal and GreenCarJournal.com. "The award-winning Honda Insight, Jaguar I-PACE, and Mitsubishi Outlander PHEV – respectively Green Car Journal's 2019 Green Car of the Year®, Luxury Green Car of the Year™, and Green SUV of the Year™ – are distinguished by their ability to deliver everything drivers should expect from leading vehicles in their class, while also achieving important environmental goals such as higher efficiency and lower carbon emissions."
The original futuristic-looking Honda Insight made waves as the first gasoline-electric hybrid production model on American roads in late-1999. Today, the all-new, third generation Insight hybrid has reinvented itself, making a bold statement that driving enjoyment, technology prowess, and impressive 52 mpg combined fuel efficiency can come in a mainstream package with Honda's signature DNA and style.
"Today's driver wants more from a hybrid than just great fuel economy. Insight truly represents the direction Honda is pursuing with electrified vehicles, delivering style and sophisticated driving dynamics with outstanding fuel economy," said Ray Mikiciuk, assistant vice president of Honda Auto Sales. "We appreciate Green Car Journal for recognizing Honda for the fourth time with Green Car of the Year® for the 2019 Honda Insight."
The Green Car of the Year® has been selected by Green Car Journal editors and invited jurors from highly-respected efficiency and environmental organizations. This year's invited Green Car of the Year® jurors include celebrity auto enthusiast Jay Leno; Jean-Michel Cousteau, President of Ocean Futures Society; Matt Petersen, President and CEO of Los Angeles Cleantech Incubator and Board Chair of Climate Mayors; Dr. Alan Lloyd, President Emeritus of the International Council on Clean Transportation and Senior Research Fellow at the Energy Institute, University of Texas at Austin; Mindy Lubber, President of CERES; and Jason Hartke, President of the Alliance to Save Energy.
Winner of the 2019 Luxury Green Car of the Year™, the Jaguar I-PACE is an impressive premium model replete with aggressive styling, great performance, and desired efficiency delivered by all-electric power. Acceleration and road-handling manners are superb and assisted with advanced Torque Vectoring by Braking and Adaptive Surface Response, lending sports car-like agility to this crossover SUV. It features a confidence-inspiring 234 mile electric driving range.
"We are honored to have the Jaguar I-PACE named 2019 Luxury Car of the Year™ by Green Car Journal," said Joe Eberhardt, President and CEO of Jaguar Land Rover North America, LLC. "As our first all-electric vehicle, the Jaguar I-PACE is a game changer for our brand, yet it maintains the stunning design cues, characteristics, and breadth of dynamic capability that are inherent in our vehicles. It is fantastic to see our innovative technology recognized and celebrated by this prestigious publication."
Mitsubishi's Outlander PHEV is the automaker's formidable answer for those desiring plug-in hybrid power in an affordable, all-wheel drive SUV. Using an innovative series-parallel plug-in hybrid system, the mid-size SUV can operate on all-electric drive, conventional gas-electric hybrid drive, or series hybrid drive with the engine generating electricity to assist the battery in powering electric drive motors.
"The Outlander PHEV is a halo vehicle for the brand and we're proud to bring consumers an efficient yet capable plug-in hybrid CUV at a price point they can afford," said Fred Diaz, President and Chief Executive Officer, MMNA. "This prestigious award is a testament to the strong value of this vehicle, and reaffirms Mitsubishi's commitment to an electric-powered future made up of innovative and affordable vehicles."
Considered with the Mitsubishi Outlander PHEV for Green SUV of the Year™ were finalists Cadillac XT4, Hyundai Kona, Lexus UX, and the Volvo XC40. In addition to the Jaguar I-PACE, finalists in contention for Luxury Green Car of the Year™ were the Audi e-tron, Porsche Cayenne E-Hybrid, Range Rover P400e, and Tesla Model 3. Along with the Honda Insight, finalists for 2019 Green Car of the Year® included the Lexus ES 300h, Nissan Altima, Toyota Avalon Hybrid, and Volkswagen Jetta. By virtue of their environmental achievement, each of these exceptional 2019 Green Car Awards™ finalists is recognized with Green Car Journal's prestigious 2019 Product of Excellence™ distinction.