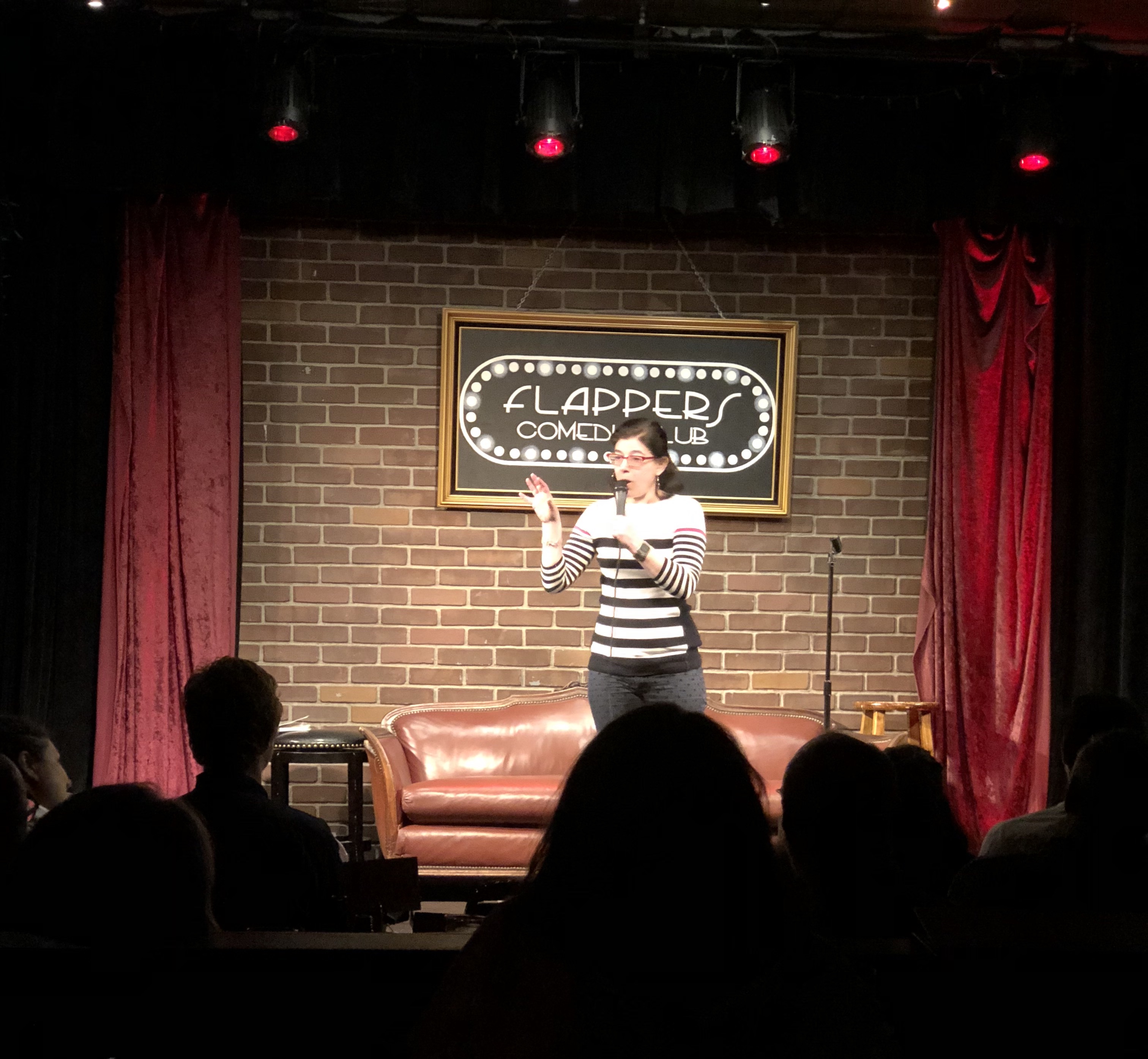 I recall watching comedy in the Belly Room of The World Famous Comedy Store, chewing on a chicken tender. I was fairly sure that they were the same chicken tenders I had frozen in my freezer. Let's face it, you don't think 'gourmet' when you go to a comedy club; nor do you expect gourmet. You're there for the laughs. But one visit to Flapper's Comedy Club and Restaurant in Burbank proved me wrong.
Turns out, you can get delicious chicken and chuckles all in one place. They are in fact breaking the cliché of "comedy club cuisine." With a full menu of gourmet entrees like the succulent Chicken Caprese, delicious Steakhouse Burger and rich Chicken artichoke Pesto Mac and Cheese, you can indulge on array of dishes while watching some of the biggest names in live comedy like Dana Carvey, Fortune Feimster and more.
Welcomed by a young woman in 1920's flapper garb, Flapper's has that old-fashioned club feeling. The layout is great with tables and open booths facing the stage on two levels. There's no bad seat in the house. On a Saturday night, it's the perfect place to go with friends, family or even on a date. Barbara Holliday & Dave Reinitz created Flappers Comedy Club & Restaurant in 2008 with the goal of providing excellent food & beverage and unique comedy training and workshops. Some of the most famous comedians come through Flapper's doors at their Burbank and Claremont location.
After you've had your glass of wine or cocktail, there are an array of delicious appetizers, entrees and desserts to choose from. Every single dish was fresh and spiced to perfection. I recommend:
For Starters:
Warm Baked Brie and Fruit Meal with a garlic baguette, berry coulis , almonds and fresh fruit.
Spinach Artichoke Dip with pita bread.
Hummus Plate with veggies.
Portabello Fries are Portabello mushrooms lightly breaded. So much healthier and better than French Fries! Dip the mushrooms in their delicious lemon caper aioli.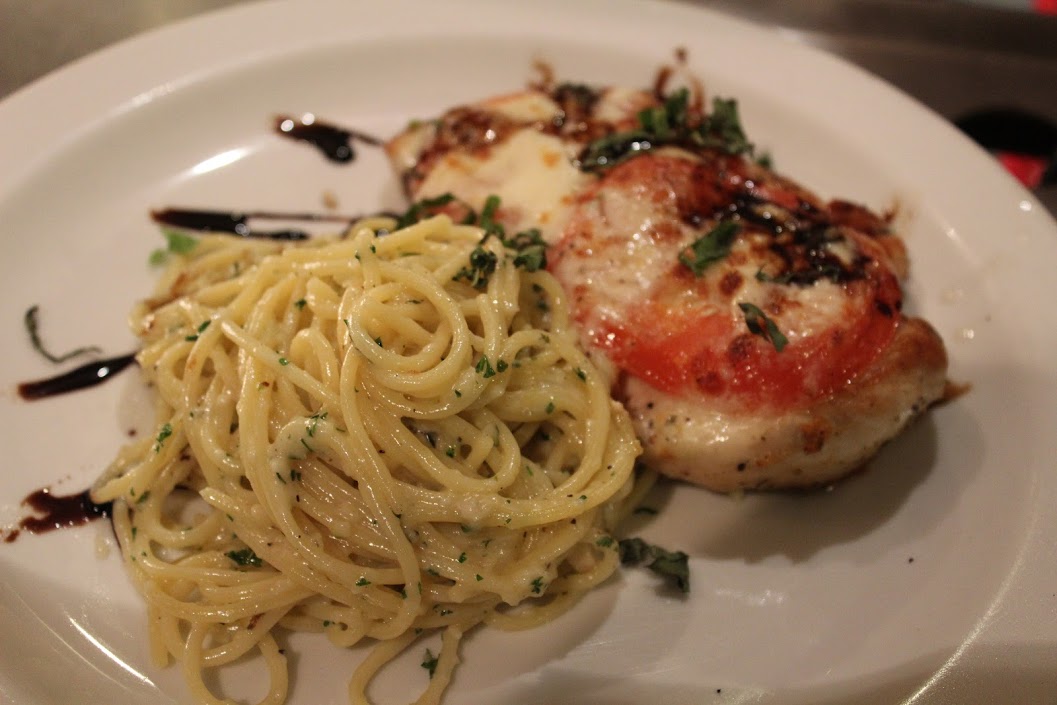 For Entrees:
Chicken Caprese seasoned impounded chicken breast with oil, salt, pepper and garlic that is marinated overnight. It is then sautéed at medium to low heat, when cooked to golden perfection it is broiled and topped with tomatoes and melted fresh mozzarella and then added tonto a bed of spaghetti tossed in olive oil, parsley and grated parmesan cheese with a balsamic reduction. The garlic pasta is literally to-die-for.
Pan-Seared Salmon is wild got caught salmon that is pat dried and seasoned with salt and pepper cooked mid-rare to medium and paired with sautéed charry tomatoes, artichoke hearts, red onion garlic in a white wine butter sauce with a side of herbed basmati rice.
If you're a carnivore, try their Prime Rib- Angus prime rib 8-12oz seared with roasted garlic and seasoning, black pepper and granulated onion and garlic on top with roasted garlic mashed potatoes.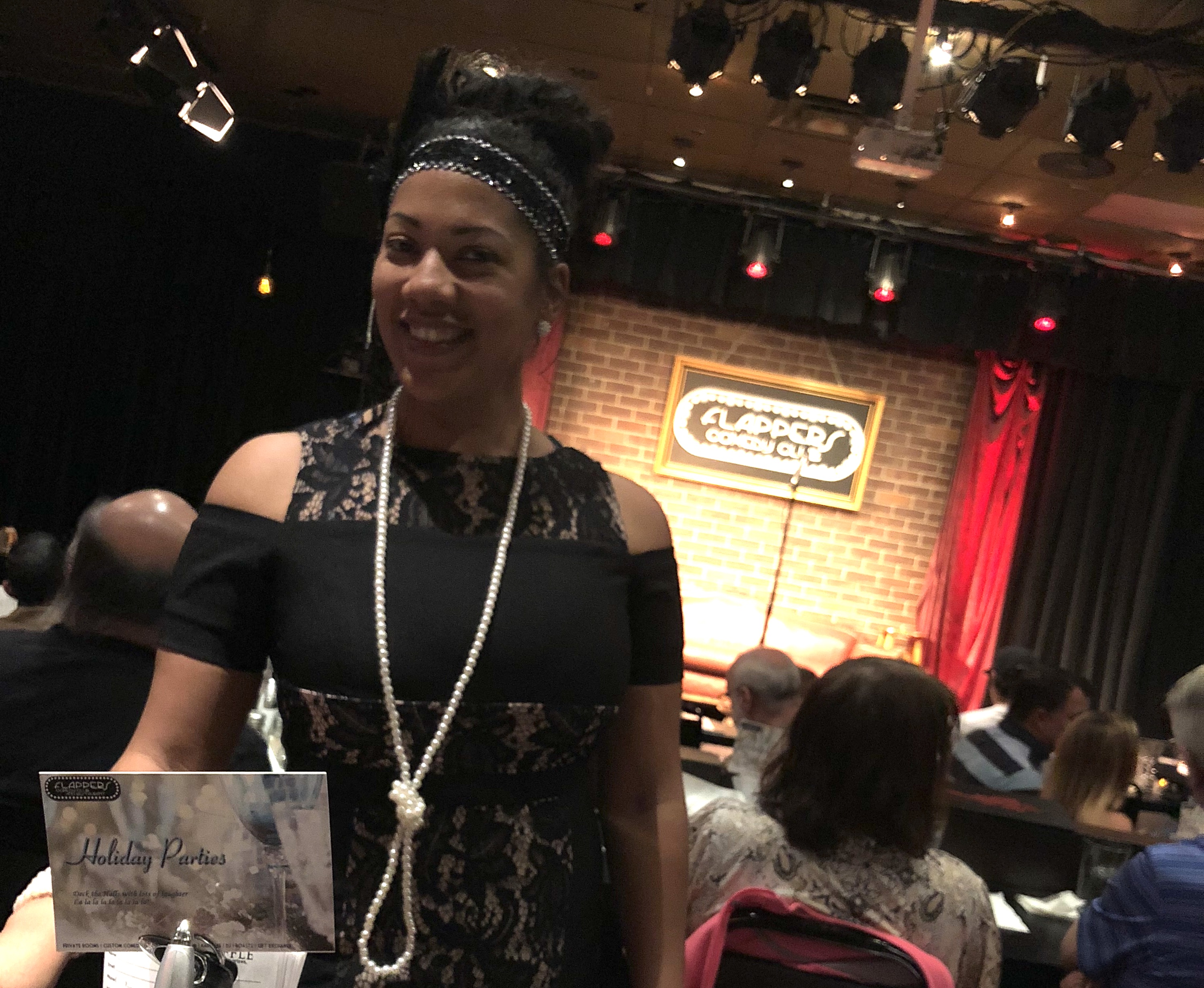 The dishes were so delectable, I can't forget to mention the main entree: The Comedy. One of the intro/opener comedians, Dana Eagle had a stand-out set. She turns 'awkward' into hilarity. Debi Gutierrez was the main headliner and, while most of her comedy is related to relationships and husband-wife quarrels; it doesn't matter if you're single or married, you will be falling out of your seat laughing. Dubbed, the 'Mommy Comic,' you do not want to miss her next show at Flapper's!
For scheduling and reservations visit:
​https://www.flapperscomedy.com/