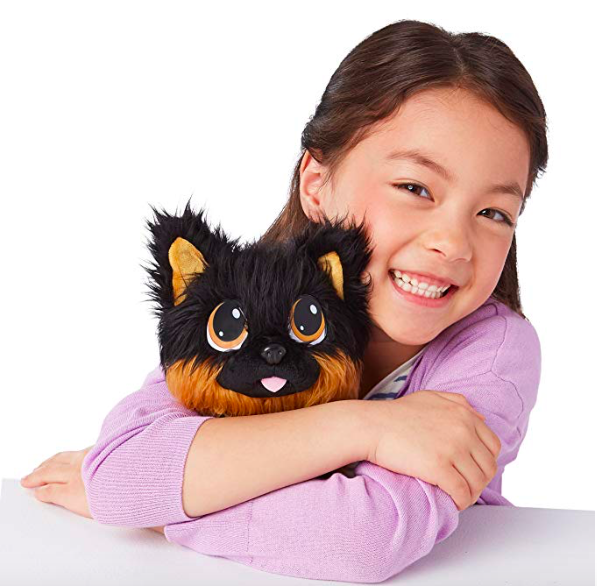 And how great because it teaches children the importance of rescuing animals!
Rescue Runts, the adoptable pets you rescue, groom and love, were named to Amazon's Top 100 Holiday Toys List this week, making these adorable plush puppies one of the hottest items to watch as kids make their holiday wish lists this year! The list is carefully curated by Amazon as a resource for busy shoppers who want to quickly and conveniently shop the "best of the best" toys. Rescue Runts are available in four styles (Husky, Shepherd, Spaniel and Spotty) on Amazon.
Rescue Runts need kids' love and care to go from ragged runts to perfect pets! When they arrive in their crate-style packaging, these sad puppies have matted fur, pretend fleas (yucky bugs!), dirty paws, tears in their eyes, and downturned ears. Kids can clean up their Rescue Runt using the included grooming kit, complete with brush, collar, tweezer and towel.
To complete the amazing transformation:
Pick out the fleas with the included tweezers;
Remove the cast;
Brush their messy fur with the included brush;
Clean the dirt from their paws with the included towel;
Wipe away their tears;
Perk up their ears to make them happy at last; and
Give them a name and write it on the included collar to complete your adoption!
Rescue Runts need regular grooming, love and care to stay clean, healthy and looking their best! Over time, their fur will become messy again and dirt will reappear on their paws, so kids need to brush them each day and clean them up again and again. Kids can also rewrap the cast, replace the fleas and flip their ears up or down for repeated animal rescue play.
Adopt a Rescue Runt today before they sell out for the holiday season. Rescue Runts are great for kids of all ages and recommended for ages 3 and up. Each style is sold separately.