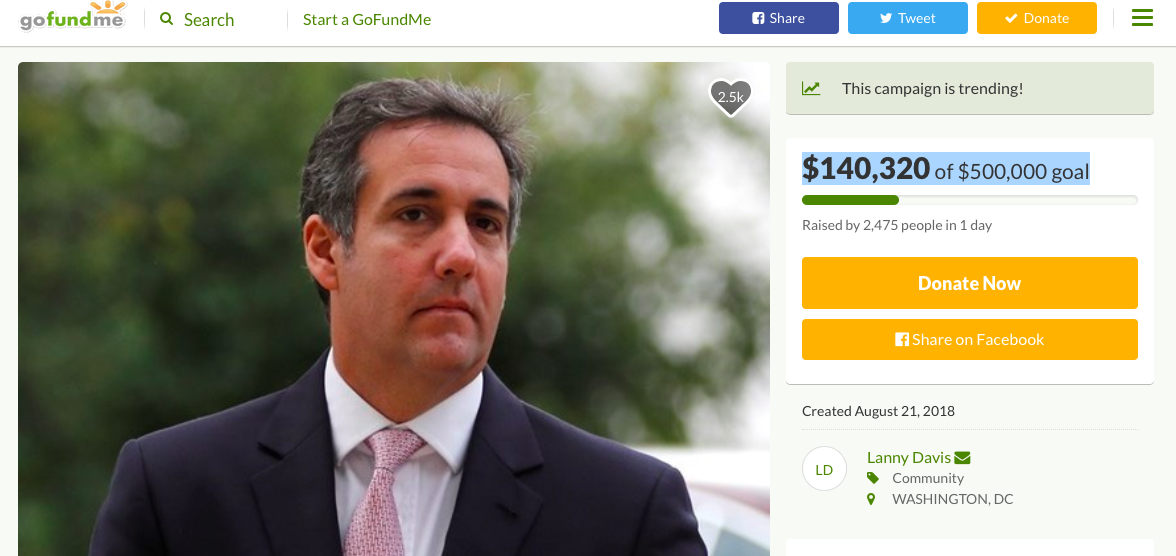 Yes, Michael Cohen has a GoFundMe account and people are actually donating to it. $140,320 to be exact. The account has a goal of $500,000.
It's called the "Michael Cohen Truth Fund" to help the president's former lawyer and fixer. Who started it? Cohen's lawyer, Lanny Davis.
The page writes: On July 2, 2018, Michael Cohen declared his independence from Donald Trump and his commitment to tell the truth.
On August 21, Michael Cohen made the decision to take legal responsibility and to continue his commitment to tell the truth.
Michael decided to put his family and his country first. Now Michael needs your financial help — to pay his legal fees.
The Michael Cohen Truth Fund is a transparent trust account, with all donations going to help Michael Cohen and his family as he goes forward on his journey to tell the truth about Donald Trump.
Last month, President Trump (then Presidential Candidate) was heard on tape discussing with Cohen how they would buy the rights to a Playboy model's story about an alleged affair Trump had with her years earlier, according to the audio recording of the conversation aired exclusively on CNN's "Cuomo Prime Time."
Just this week, a federal jury in Virginia convicted Paul Manafort, President Donald Trump's former campaign chairman, on eight felony counts on Tuesday, but the judge declared a mistrial on the 10 other charges he faced.
Will Cohen meet his GoFundMe goal? With donors giving as much as $100 and as little as $10, something tells me he could actually raise $500,000.