CALVIN KLEIN WOMEN reveals new campaign featuring award-winning actors Lupita Nyong'o and Saoirse Ronan.
CALVIN KLEIN WOMEN is the first CALVIN KLEIN fragrance to be developed under the vision of Chief Creative Officer, Raf Simons.
Directed by artist Anne Collier with creative direction from Lloyd & Co., the television campaign unfolds into a series of vignettes that provide a glimpse into Lupita Nyong'o's and Saoirse Ronan's creative inspirations. An extension of the print campaign, the commercial follows both women as they reflect on and embrace figures from the past that have inspired them and shaped their identities as women. Viewers see Saoirse playing a Nina Simone record and sharing admiration for Sissy Spacek, while referencing her on the cover of a vintage magazine, while Lupita draws inspiration from beautiful collaged photography of Eartha Kitt and Katharine Hepburn, as she works on a script. The intimate apartment settings serve as the perfect backdrop to follow Lupita and Saoirse as they draw from these iconic women, to help write themselves – and define modern femininity.
Launching on August 15th at Macy's, the CALVIN KLEIN WOMEN fragrance is a play of contrasts, as infinitely varied as the personas of the women who inspire it. A woody floral, it fuses strength with fragility, freshness with sensuality. The light pink-hued fragrance builds around three core ingredients – fresh eucalyptus acorns, delicate orange flower petals and rich Alaskan cedarwood.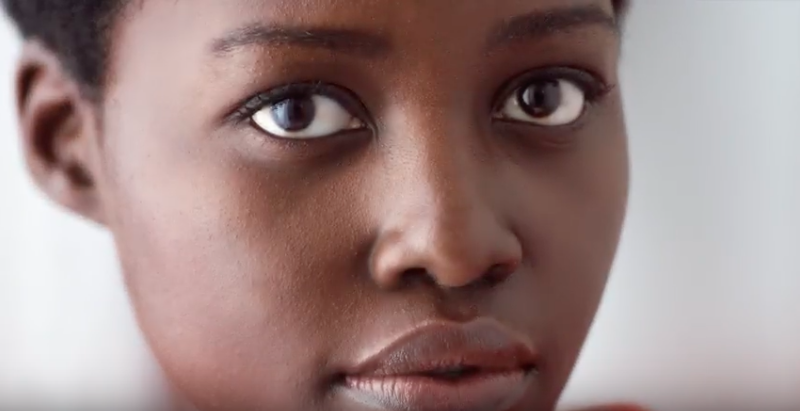 The flacon blurs the boundaries between art and fashion, fusing quotes from the visual language of contemporary photography with age-old notions of the feminine. It is redolent of a timeless femininity, with an ergonomically rounded shape in weighted glass and silver collar and pump, drawing on traditional fragrance archetypes. It simultaneously disrupts aesthetic codes and respects traditions – the graphic, oversized disc-shaped cap designed in collaboration with Raf Simons, a canvas for a photographic print by Anne Collier.