Bond No. 9 is preparing for the September arrival of their latest fragrance.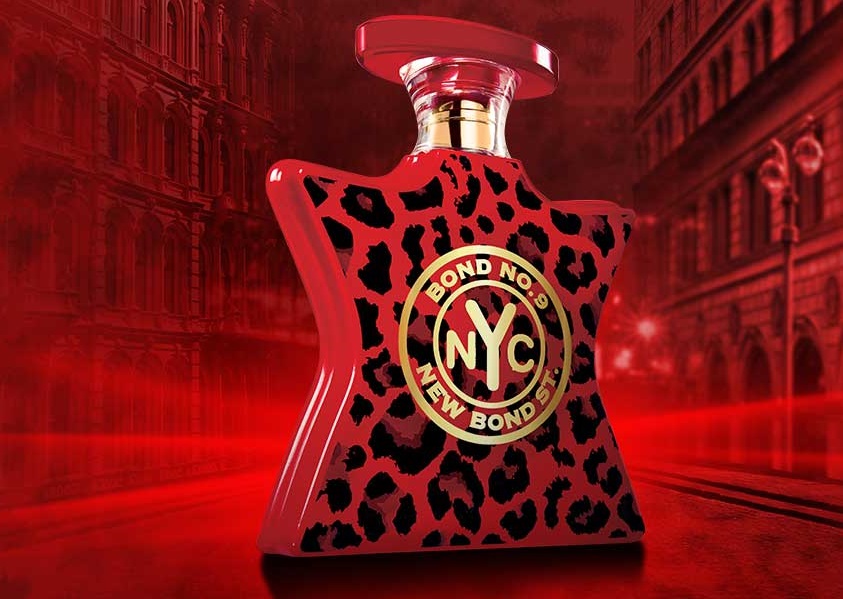 They have created a scintillating eau de parfum that's as woke, style-wise, as their flagship headquarters. Arriving on counter September 15, New Bond St., a rich, strong, very sexy, multi-sexual gourmand oriental scent. It starts out with a wake-up call: citrusy bergamot, pepper and dewy muguet—the only floral in this scent. Then come the edible mid-notes: soothing cocoa, high-energy coffee beans and creamy chestnut. And finally, exotica: lingering patchouli, vanilla and sandalwood, mingled with feral leatherwood.
Like its locale, the New Bond St. superstar bottle couldn't possibly be more of an of-the-moment fashion statement: a fierce black leopard print resides on an arrogant, totally unexpected fire-engine, million dollar red background, with the Bond No. 9 token logo front and center in gold relief.
New Bond St. arrives on counter: September 15, 2018 and will be sold at Bond No. 9 New York Boutiques, Saks Fifth Avenue nationwide, select Bloomingdales stores, Harrods UK, Selfridges UK and www.bondno9.com.
Price: New Bond St., 100ml, $405
New Bond St. Swarovski Limited Edition, 100 ml, $485