Southwest Airlines Co. in partnership with Discovery Channel launched a Shark Week Fleet this morning with five aircraft entering the Southwest® network of 99 destinations and operating more than 4,000 daily flights.
The five aircraft celebrate the 30th anniversary of Shark Week, one of the most popular and longest-running televised events in history. Each aircraft proudly displays custom artwork featuring a species of shark often showcased in a Shark Week episode. The Great White Shark and Hammerhead Shark aircraft launched from the carrier's home base of Dallas Love Field (DAL); the Tiger Shark aircraft launched from Chicago (Midway) (MDW); the Bull Shark aircraft launched from Houston (Hobby) (HOU); and the Mako Shark aircraft launched from Phoenix Sky Harbor (PHX).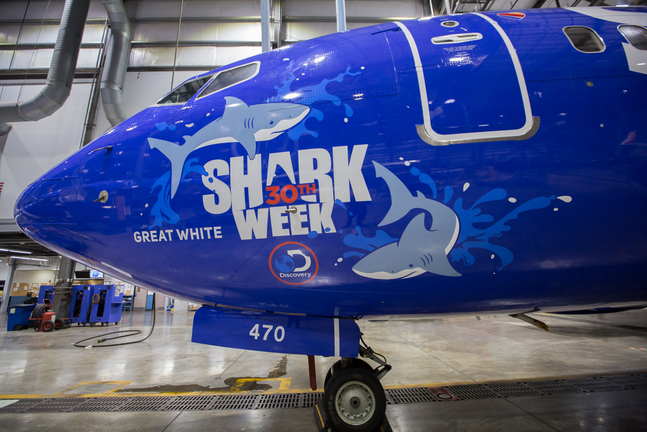 Customers can visit FlightAware.com from a desktop device to track the Shark Week Fleet via custom-created shark icons, which have replaced the site's traditional airplane icons. To see past and future shark flights, Customers can search FlightAware.com by each aircraft's tail number: Great White Shark (N470WN), Hammerhead Shark (N705SW), Mako Shark (N961WN), Tiger Shark (N553WN) and Bull Shark (N947WN). The information page for each shark-themed aircraft will showcase a custom Shark Week logo. We encourage our Customers and Aviation Enthusiasts to share their plane-spotting photos of our Shark Week Fleet with @SouthwestAir using the hashtag #SharksTakeFlight.
The aircraft will fly throughout the Southwest system through August 31, 2018.
Customers flying with Southwest can enjoy jawsome content via the Onboard Entertainment Portal's custom Shark Week TV Series Channel. The Shark Week TV Series Channel houses a library of Shark Week episodes that are sure to feed your appetite until Shark Week airs on Discovery Channel beginning Sunday, July 22. Shark Week will continue through July 29 and can be viewed via Live TV onboard a Southwest flight. Beginning July 11, Shark Week premieres a never-before-seen episode of Great White Abyss for Southwest Customers via the Shark Week TV Series Channel two weeks ahead of its worldwide release during Shark Week. Great White Abyss showcases an expedition to Mexico's Guadalupe Island, a hot spot for Great White Sharks.
For those adventure seekers, enter the Dare to Dive sweepstakes from July 1 through July 31 via Southwest.com/sharkweek for a chance to win a five-day, all-inclusive Great White Shark cage diving trip. Southwest and Discovery will send a winner and a guest roundtrip to San Diego, with transportation to Guadalupe Island to experience Great White Shark diving firsthand. The excursion will take the winner and the winner's guest from Southern California to Guadalupe Island, Mexico with Islander Charters, aboard the same boat as shown in Shark Week's Great White Abyss pre-premiering onboard Southwest flights on July 11.