Getting older is not much fun, but there isn't much you can do about it. Fortunately for us, there are many ways we can slow down the process by improving our skin texture and reducing wrinkles until the inevitable time comes to schedule a facelift.
Watch Michele's microneedling and filler procedurs with Nurse Practioner Karen
As Ringo Starr so aptly put it when he said; "I get by with a little help from my friends," I called upon someone who I consider to be the best in Los Angeles; Nurse Practitioner Karen House who will guide and manage my "age-deceleration" process during the coming year. I have given myself one more year before having a facelift, however in the meantime, I have to try to maintain a somewhat youthful appearance and that is a real challenge. While talking to her over the phone, Karen suggested "Microneedling" followed by fillers a week later. Although, I vaguely knew about the procedure, I thought that it was important to be informed so that I could ask the proper questions. I read all about it on Silk A Medical Spa's site:
A Collagen induction therapy, also known as microneedling, is another non-invasive skin tightening option. Treatment involves using tiny needles on a hand-held device that is gently rubbed over the skin. The needles create tiny puncture wounds on the skin, triggering the body to heal itself by creating more collagen. The production of collagen creates firmer and youthful-looking skin. Collagen induction therapy can be used to improve skin laxity on the face and neck. Results are gradual and improve over the course of several months. Repeat sessions are generally recommended to achieve the most desirable results. The treatment starts with taking your own blood, then placing it in a centrifuge, which will separate the plasma (PRP) then you re-apply it to the areas being treated.
What is microneedling with PRP?
Microneedling is an innovation in aesthetics for the treatment of the appearance of fine lines, wrinkles, acne scars and the skin's texture. It promises to give you younger-looking skin with fewer signs of aging. That works for me.
This procedure can be used on all parts of the body, including face, neck, décolleté, arms, hands, legs, and abdomen.
The small skin openings allow for penetration of the serum or PRP, inducing further collagen formation and further enhancing the results. Not very comforting, but I had no choice; either I listen to her and rejuvenate my skin or stay with my deteriorating face. This was a no brainer; I chose to go through the torture!
Some of the questions I had were answered during treatment:
Does it hurt?
Yes, specifically on the forehead, some areas are more sensitive than others however, it is bearable.
How long does the procedure take?
The procedure takes 15-30 minutes depending on how many areas are being treated.
Is there any downtime?
After the treatment, I noticed a bright redness to my skin on the face and the neck. The recovery time depends on the individual and the number of overlapping passes your skincare received. On average, people are red for 2-4 days. I was red only one day
How long does it take before seeing results?
I saw visible changes within a week. Two weeks later, my skin continued to improve.
I asked Nurse Karen How many treatments I needed?
She suggested I have at least 2 treatments spaced 6-8 weeks apart. Sometimes a 3rd one will seal the benefit and will last for up to a year.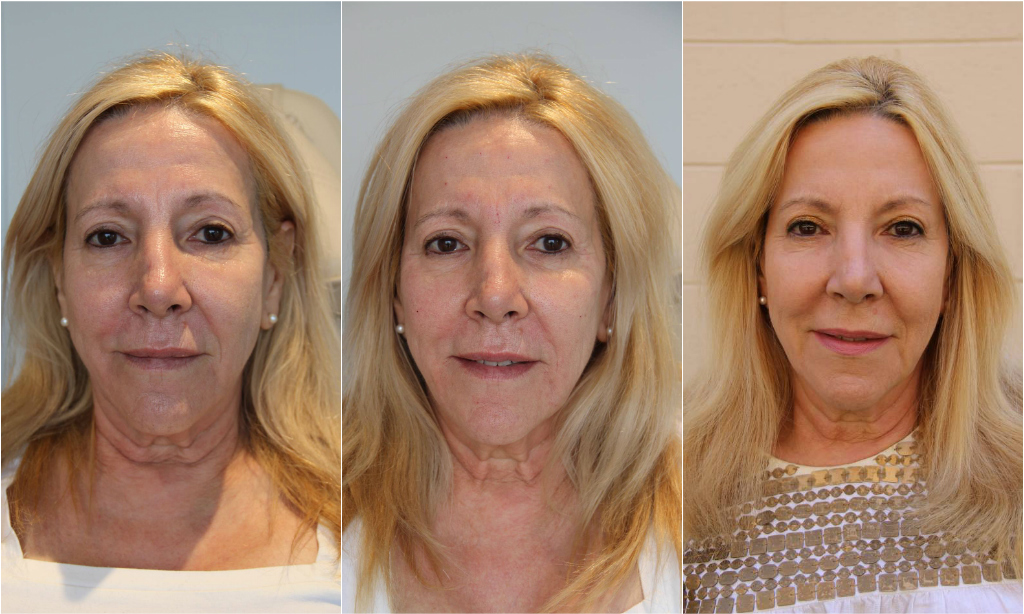 Before & After microneedling + fillers
I went through the treatment and I was thrilled about it. Two weeks later I revisited Nurse Karen, but this time for fillers. Although I am quite familiar with injections, I had never tried Merz products. This is what she used:
Radiesse to the cheeks and nasolabial folds, and marionette lines. It is guaranteed to help with volume and lifting. And it certainly did. It was the most incredible immediate lift.
Belotero Balance to the glabella wrinkle, chin wrinkle and jowl folds. Helps with subtle wrinkles and softens static wrinkles. A static wrinkle is when you stretch the skin and it is still there. For the finish she used Botox to the glabella, forehead, and crow's feet.
Believe it or not, I am a new woman minus 10 years…
Thank you Nurse Karen! Merz you are the best!