Yes, toilet paper. Ronaldo Cruz of Chesapeake, VA was named the winner of the 14th Annual Toilet Paper Wedding Dress Contest presented by Cheap Chic Weddings and Quilted Northern® at the design showcase.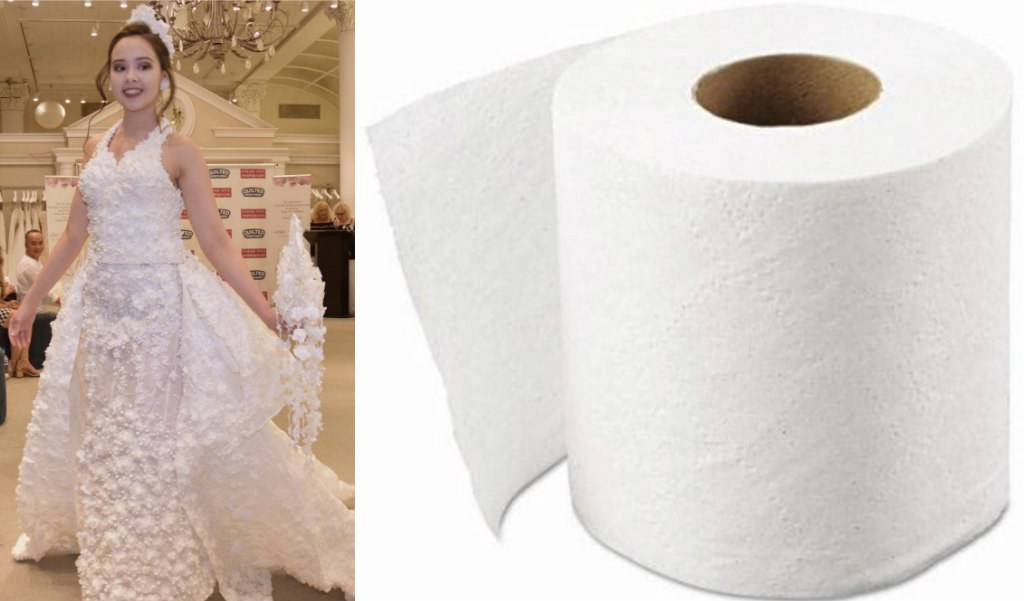 Earlier today, ten finalists showcased their work at the contest's finale event held at Kleinfeld Bridal. Contestants crafted dresses out of nothing more than Quilted Northern® toilet paper, tape, glue and needle and thread, and this year 1554 entrants were up to the challenge. Members from Cheap Chic Weddings, Brian Rice of Quilted Northern®, Mara Urshel, co-owner of Kleinfeld Bridal, Reality TV Star Danielle Jonas and Michael Russo, Lifestyle Expert and Celebrity Wedding & Party Planner served as judges for this year's contest to help select the winning designs.
Russo commented "These dresses, with the incredible level of detail and the originality of the design, make them showroom ready."
Cheap-Chic-Weddings.com, an online company specializing in providing brides with fiscally savvy tips for a fabulous wedding, began the annual contest thirteen years ago based on the popular bridal shower game. As the contest has increased in popularity from year to year, so has the level of competition.
"Even after 14 years of holding the contest, the designers consistently exceed our expectations!" says Laura Gawne, co-founder of Cheap Chic Weddings. "This year's entries are stunning and convey what is truly possible when toilet paper is meticulously designed," added Susan Bain, Cheap Chic Weddings Co-Founder.
Designers used between 12 and 54 rolls of Quilted Northern®'s Ultra Plush and Ultra Soft & Strong.
"It was truly remarkable to see these designs brought to life on the runway at Kleinfeld this year amidst the latest in bridal fashion – ultimately creating couture gowns from just really nice toilet paper," said Brian Rice, Senior Director, Design & Packaging Innovation for Georgia-Pacific. "The attention to detail on each of these wedding dresses is outstanding and reflects the same passion for design and craftsmanship that we have for Quilted Northern®."
Ronaldo Cruz of Chesapeake, VA won the Grand Prize of $10,000 and was joined at the finale event by the other nine contest finalists. The second place winner was Augusto Manzanares of New York received a check for $5,000, third place winner Mimoza Haska from South Carolina received a check for $2,500, and "Fan Favorite" winner Frank Cazares from Palm Springs, CA received $1000. Photos from the contest can be found at www.cheap-chic-weddings.com, their Facebook and Twitter pages and across Quilted Northern®'s Facebook and Twitter pages.