Charge all of your Apple gadgets at once? Yes, please.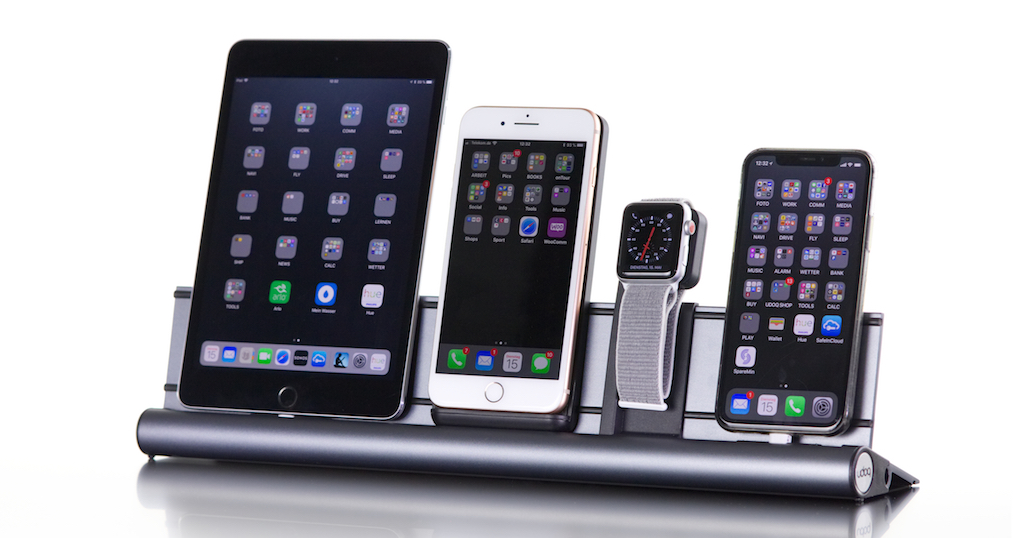 udoq, creator of the udoq line of elegant patented docking/charging stations, announced THE ULTIMATE APPLE DOCK.
Available through Indiegogo: https://www.indiegogo.com/projects/udoq-the-ultimate-apple-dock-iphone/ at 50% off for only $99 (normally $199), THE ULTIMATE APPLE DOCK includes the udoq anodized aluminum docking/charging station, udoq designed Qi wireless adapter charging plate, udoq Apple watch adapter, two Lightning cables with adapters, and the udoq cable box that cleanly organizes cables out of view.
Designed for Apple lovers by Porsche minimalist designers, the udoq THE ULTIMATE APPLE DOCK has a high quality, nearly indestructible dark grey profile that matches timelessly with Apple's famous design aesthetic — built for a lifetime of use and always compatible.
THE ULTIMATE APPLE DOCK features udoq's convenient patented sliding cables that move back and forth and can be changed out while keeping cables always elegantly hidden from view. In addition, the dock's front facing design lets you see and operate devices while charging.
udoq Founder Marcus Kuchler said, "I developed udoq because I was sick and tired of the daily search for my family's iPhones, iPads, iPods, or AirPods. And cable clutter or dangling connectors simply don't match Apple's clean and straightforward design concept. THE ULTIMATE APPLE DOCK lets you charge, operate, and display all your Apple mobile devices in one central spot. It lasts you a lifetime, and since udoq stays compatible forever​, it will be adaptable to all new charging technologies."

udoq is the only patented docking station to:
Dock and slide around mobile devices with patented cable adapters.

Dock and remove devices from the dock with just one hand.
View and operate all devices simultaneously while charging.
Wirelessly charge iPhones X or iPhone 8 with the included Qi adapter.
Charge with included udoq Lightning cables.
Dock and charge any Apple Watch by mounting the Apple magnetic charging cable into udoq's adapter.
Adjust the height of udoq connectors to fit bumpers and cases with up to 8mm thickness.
Charge super-fast with 2.4A per USB port/device with the integrated 40W power charger for all USB cables.
Neatly hide cables in udoq's cable box.
Mount on any wall surface with the optional WALL MOUNT SET (available separately).
Features:·
Measures 15½ inches (400mm) and fits 4-6 devices.
Comes with two Lightning cables with adapters.
Includes Apple Watch adapter.
Includes Qi wireless adapter.
Anodized 4mm high-grade aluminum dock stays beautiful and is nearly indestructible.
Cables slide smoothly to any position for a custom arrangement of your mobile devices and can be moved and swapped out in seconds.
Hides and organizes all cables and connectors to avoid cable clutter.
Comes with a 4 port 40W charger so all devices get up to 2.4A for fast charging.
Dock also works with Android and fits older Apple devices (cables sold separately).
Comes with non-slip cables and user manual.