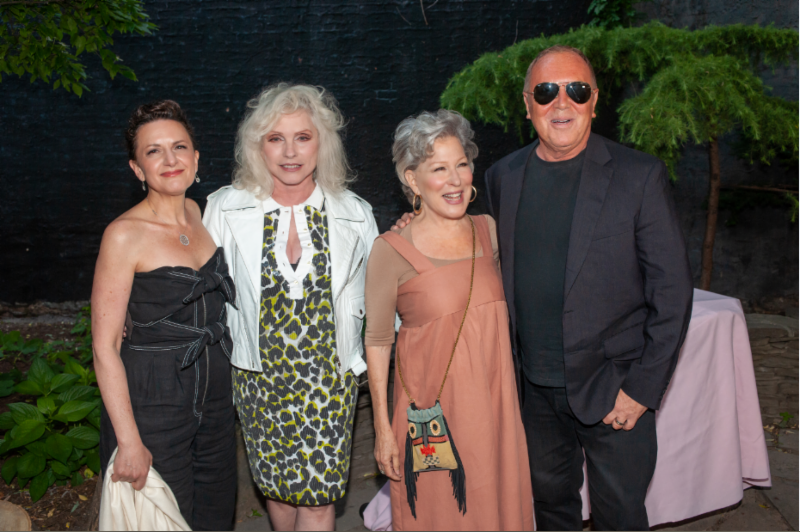 New York Restoration Project (NYRP), founded by award-winning singer, entertainer, actress, and green activist Bette Midler, celebrated over two decades of transforming and beautifying New York's urban environment Tuesday night with its 17thAnnual Spring Picnic Soiree in Harlem. This year's event celebrated the longtime partnership between NYRP and the East Harlem Neighborhood – where they have greened almost 3% of the community – more than 1 million square feet.
It was a perfect June evening for this year's event, and the night kicked off as attendees sipped Pink Lemonade cocktails and sparkling Rosé in NYRP's two community gardens sponsored by Tiffany & Co. and Rodale. Spring Picnic-goers were treated to a performance by the magical dance company Leimay, and as dusk fell the hilariously talented Harlem Wizards had the crowd in stitches as they performed their signature basketball routine. Dinner was held near the Ann Richards Cherry Tree Grove in Thomas Jefferson Park, and highlights included remarks by the evening's host Bette Midler, a poem-reading by director/actress and philanthropist Trudie Styler, and icon Debbie Harry led a sing along of songs that included "L-O-V-E," "That's Amore," and "Can't Buy Me Love" (on which she was joined by The Divine Miss M herself!). By dusk, the stars were twinkling over the Harlem River, which served as the perfect backdrop for the John Pizzarelli Trio who kept guests dancing all night.
The evening also honored long time NYRP supporters Diane and Clyde Brownstone and board member Todd DeGarmo, each of whom serve as exemplary champions of NYRP's belief that nature is a fundamental right of every New Yorker. In addition, this year's Spring Picnic celebrated the life of the organization's dear friend and champion, the late Liz Smith.
The tables were adorned with pristine peonies, and twinkling lights lit the beautiful big-top style tent. Guests were treated to a perfect summer picnic meal with an elevated, gourmet twist: garden fresh stracciatella salad with lentils, roast BBQ chicken with a summer corn and heirloom tomato salad – paired with a perfectly smoky mac & cheese; while dessert was served up "summer-camp style" with fruity cereal macarons, s'mores tarts and brioche donut holes with cherry jam and lemon sugar.
Among the hundreds of NYRP supporters in attendance were NYRP founder Bette Midler, Debbie Harry, Trudie Styler, Michael Kors, Holland Taylor, Amy Hargreaves, Ryan Jamaal Swain, NYRP Executive Director Deborah Marton, Todd DeGarmo, Clyde Brownstone, Diane Brownstone, Darcy Stacom, Elizabeth Peabody, Maria Rodale, Vernon Evenson, Linda Allard, Spencer Brownstone and many more.
New York Restoration Project (NYRP) is a non-profit organization driven by the conviction that all New Yorkers deserve beautiful, high-quality public space within ready walking distance of their homes. Since its founding in 1995 by Bette Midler, NYRP has planted trees, renovated gardens, restored parks, and transformed open space for communities throughout New York City's five boroughs.