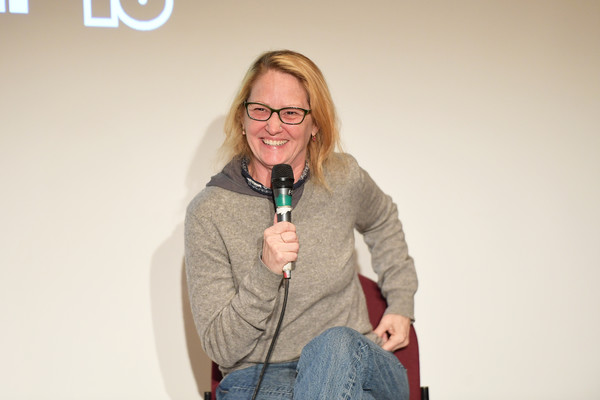 The Mammoth Lakes Film Festival is back and better than ever. Now in its fourth year, on Saturday night, the festival honored Academy Award-winning actress Melissa Leo with the Centerpiece Sierra Spirit Award for her "bold and fiercely independent acting career and the consistently outstanding quality of her work."
In addition to a lively, wide-ranging discussion with Leo moderated by festival director Shira Dubrovner, the night also featured a screening of "Frozen River," the 2008 indie drama that earned the celebrated actress her first Academy Award nomination. Although Leo had been a working actress for two decades prior to starring in the critically acclaimed drama, it wasn't until "Frozen River" that audiences were able to bear witness to the full scope of her emotionally raw and deeply naturalistic acting style.
Speaking about the early days of her acting career, the actress noted the importance of perseverance and open-mindedness. "After 'All My Children', the work started coming," Leo said. "But I auditioned long and hard, and I came very close to getting a lot of movies that you have all seen over the years. Meanwhile, I got the parts that I got, the ones that came to me. I think the best way that I handled it was to never pick and choose. Even with the soap, it was a great opportunity to shoot a couple of scenes every day. If nothing else, it's great practice."
Recalling the making of "Frozen River," Leo grew mournful on the subject of her young costar Misty Upham, who tragically died in 2014 at the age of 32. "She was found at the bottom of a gully," Leo said, holding back tears.
"One of the greatest American actresses we ever had, and nobody looked for her for three weeks because of who she is, which is one-hundred percent Blackfeet Indian. She has a small part in 'August: Osage County', and Meryl Streep concurs with me: one of the finest actresses we ever had."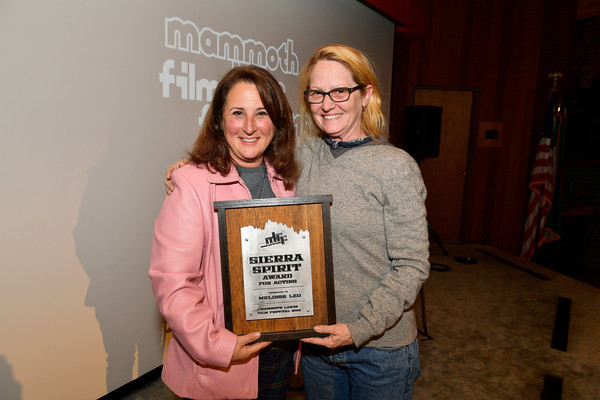 Asked about the range of characters she's played over the years, Leo addressed the lack of quality writing for women. "What ("Frozen River" writer-director) Courtney Hunt did with this film is write two extraordinary roles for women, and it just doesn't happen that often. So a lot of these, let's just say it, bitchy women that I get asked to play, they're all they know how to write. And the more years I've put into my life, the bitchier these women become, which hasn't been my experience of getting to be an older, wiser person, but it's the experience that primarily gets written. The roles are underwritten, so I have to work my ass off."
On the subject of working with a first-time filmmaker, as was the case with Courtney Hunt on "Frozen River," Leo discussed the inherent challenges of inexperience. "Unfortunately, when people don't have experience, they tend to be very protective of themselves and don't want to be helped," Leo said. "Courtney Hunt's film went to the Oscars because she took every ounce of help that was there on the set. And she never gave her film away. She held the reins, but she took that advice, and that's a rare beast."
When asked about her experience with the Academy Awards and winning an Oscar, Leo revealed the double-edged nature of receiving such recognition. "It's not what you'd imagine. The honor in it is unspeakable, like literally just cannot find the words to say. Because I know how the Academy works. And sure the entire academy votes, but it's your fellow actors that have to nominate you. Workwise it's a pain in the ass. I used to come onto sets with people having no idea who number thirteen on the call sheet was. And I walked away after the three days or five weeks that I worked with people, and they'd say, 'Oh, you're kinda good,' which is nice. There's an expectation now, and with that expectation there's also a jealousy. It's just a whole other thing to navigate that I did not particularly ask for or see. But I'll live with it."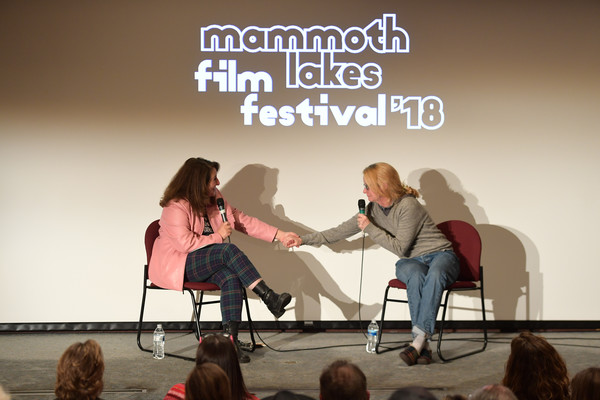 When asked about the current state of women in film, things took a slight turn toward the controversial. "Shakespeare wrote some really good roles for women, and nowadays they let us play them," Leo dryly noted. "I can't think of any other real big advancements – I"m a pessimist. And the answer I really have is so not politically correct. There's a lot of roles that women would play that are going to people who used to be men. It's a complicated world. And I think we just have to do what we've always done on our own and fight to make the character stronger and just be the people that we are. I don't know that the planet earth will ever have a human family living on it. We seem hell-bound to find differences and divisions."
An audience member pressed Leo to elaborate. "It has to do with the humanities identifying itself at this time when there's a fair amount of trans people coming into the industry," Leo offered. "But there's not enough roles for women to begin with. There's only five spots for nominations for women, and there's only five roles in any given year that are even worth considering. And to me a fine actor is an actor who has range, whatever the actor is. What I'm interested in is the actor's range."
When asked if she had any interest in stepping behind the camera, Leo responded firmly in the negative. "None whatsoever," Leo declared. "I know a lot about what I do, and I love to learn about what I do, but you don't want me in charge of anything. I like to talk with actors, young and old, and teach on set as people are willing to hear. I love that. And that's how the industry has gotten this far. But directing is a really particular animal. A director has to have such specific qualities that are so rare to have in a single individual. And really who wants to be a shit director?"​
Leo can currently be seen in season 2 of the Showtime dramedy, "I'm Dying Up Here," as well as the upcoming action thriller, "The Equalizer 2."
By Lucas Mirabella