Did you know that Urban Air Market is the largest outdoor marketplace for local and sustainable design?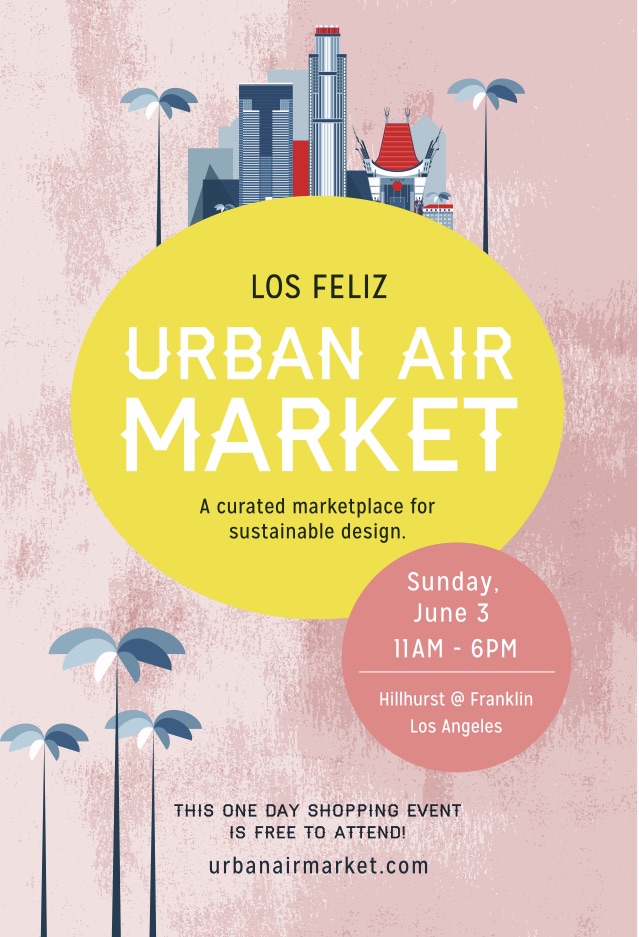 Yes! The market is returning to Los Feliz on Sunday, June 3rd. Taking place at the Los Feliz Village on Hillhurst at Franklin, the anticipated one-day retail pop-up will be free and open to the public for visiting guests from 11:00am – 6:00pm. Featuring 100 emerging, sustainable brands and live musical performances with support from the neighboring shops and restaurants of Los Feliz Village, the Urban Air Market has become a community favorite for all-ages.
Urban Air Market was founded in San Francisco 13 years ago with the intention of illuminating the creative locale, providing a platform for creative small businesses, and bringing makers and shoppers together face to face in their communities.
Discover one-of-a-kind apparel, accessories, art, natural body products and home goods that you won't find anywhere else. Participate in activities like hula hooping with Eclectic Hoops and tarot card readings by Kaitlyn Watsabaugh, plus DIY macrame keychains with Twine, tassel necklaces with Insomniac Treasures, and buttons with Rx Candles.
Stay for brunch and enjoy LA hottest eats from neighboring restaurants like The Dresden, Alcove, and Little Dom's. Guests will also be treated to live music performances by MB3, Ipanema Lounge, Dani W., Jonny Sands, Irish Goodbye, and Sylvia Bosco.
Urban Air Market: Los Feliz is FREE to attend and all ages are welcome. The event will take place on Hillhurst between Franklin and Finley in Los Angeles on Sunday, June 3rd from 11am – 6pm. To receive a FREE canvas tote custom made by Story Spark, RSVP here: losfelizshow.eventbrite.com. Totes will be available for pick up at the information booth while supplies last.
Public transit: Take the metro to the Sunset/Vermont stop. Driving: Take the 5 to Los Feliz Blvd exit towards Griffith Park and take a left on Hillhurst. On the 101 take the Hollywood Blvd exit east and take a left on Hillhurst.
For more information on Urban Air Market or to apply to be a vendor, please visit: urbanairmarket.com.