Today, Multi-platinum global superstar Khalid releases a brand-new track entitled "OTW" featuring Ty Dolla $ign and 6lack. The song is available now at all digital retail providers via Right Hand Music Group/RCA Records.
Emerging artist Ruel debuted the official video for his soulful self-penned single "Don't Tell Me." "Don't Tell Me" comes as a deluxe package featuring an acoustic version and exclusive remixes from Jarami, Jerry Folk and IAMNOBODI, along with the original, available now on all digital platforms worldwide.

---
Thievery Corporation announce the release of Treasures from the Temple, a companion LP to the band's chart-topping 2017 album, Temple of I & I. The 12-track compendium includes a collection of original recordings and remixes from the band's Temple sessions at Geejam Studios in Port Antonio, Jamaica with vocal appearances by LouLou Ghelichkhani, Mr. Lif, Sitali, Racquel Jones, Natalia Clavier and Notch.
---
Los Angeles based, Swedish vocalist, producer, and songwriter Lykke Li today releases new single "deep end" and additional track "hard rain." The songs mark the long-awaited coming of so sad so sexy, Lykke Li's fourth full-length album and follow-up to 2014's critically acclaimed I Never Learn, due June 8th via RCA Records, her first release with the label.
Listen to 'deep end' – www.fanlink.to/deepend
---
Vanessa Carlton unveils the second of six cover songs that she plans to release over the coming months with a cover of Fleetwood Mac's "Dreams," which she premiered on Fuse. PRESS HERE to listen and to purchase.
---
British singer-songwriter James TW, who just wrapped a U.S. tour with Andy Grammer, releases the highly anticipated official music video for his brand new single, "Say Love," the first new music from his upcoming debut album which is expected this fall.
---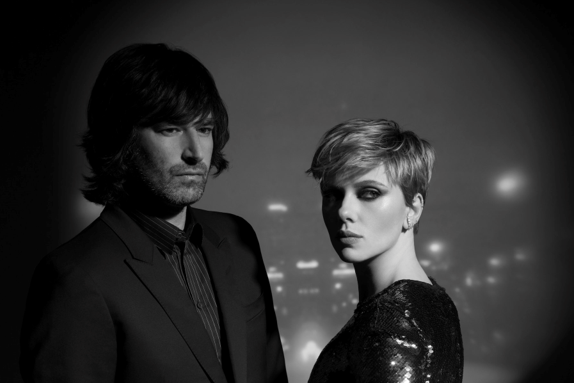 Capitol Records released "Bad Dreams," the first single from Pete Yorn & Scarlett Johansson's new EP, Apart. Set for release on June 1, Apart marks their first collaboration since their 2009 album, Break Up. The EP features four brand new recordings and a new version of "Tomorrow," a song that originally appeared on Yorn's last album, 2016's ArrangingTime. See below for track listing.
---
Erika Wennerstrom shares her breathtakingly powerful video for "Extraordinary Love" via TIDAL, who calls it a "fittingly and gorgeously trippy video."
---
In other music news…
Just in time for 4/20:
Today, Grammy Award-winning artist Damian "Jr Gong" Marley released the remix and music video for his single "Medication" featuring Stephen Marley, Wiz Khalifa and Ty Dolla $ign off his fourth studio album, Stony Hill. The video exclusively premiered the music video for the track on global music and entertainment platform, TIDAL, and the track is available everywhere, click HERE.
Members can watch the video on TIDAL.com/DamianMarley and you can embed to your site using the code here: http://tdl.sh/medicationremix
Non-members can access a free 90-day trial to TIDAL on TIDAL.com/DamianMarley
Previously, the TIDAL artist-owner collaborated with the platform to debut the visuals for "Living It Up," "Speak Life," "Stony Hill to Addis" Documentary, "Medication," "Nail Pon Cross," and TIDAL X: High Times, a 4/20 celebration as well as performed during TIDAL's annual charity concert in 2016, TIDAL X: 1020.
---
GRAMMY® Award-nominated, multi-platinum songstress Halsey releases the official Calvin Harris remix of her latest single "Alone" featuring Stefflon Don. It's available HERE via Astralwerks.
Pop vocalist and songwriter Malia Civetz reveals new track and lyric video "Little Victories" TODAY. Click HERE to view!
---
Today sees London's most unapologetic and compelling popstar GIRLI release the acoustic version of her latest single "Play It Cool", out on PMR/Virgin EMI. Listen to GIRLI's stripped back version HERE. The video for the track was released last month and has hit nearly 90,000 views – check it out HERE.
---
Sting and Shaggy's new, island-inspired collaborative album 44/876 is available now at all retailers and digital platforms on A&M/Interscope Records (see below for album tracklistings & configurations).
In creating 44/876, Sting and Shaggy drew from the many surprising connections at the heart of their music. With its title referencing their home country codes, 44/876 first and foremost honors the duo's love for Jamaica: Shaggy's homeland, and the place where Sting penned such classics as The Police's "Every Breath You Take."
Furthering each artist's exploration of reggae and its transcendent rhythms, the lead single "Don't Make Me Wait" – which debuted at #1 on Billboard's digital reggae singles chart – came to life after the musicians were introduced by Martin Kierszenbaum (Sting's manager, Chairman of The Cherrytree Music Company and Shaggy's former A&R executive). The correlating music video (https://bit.ly/2FRa7Ay), directed by Gil Green, was filmed in Kingston, Jamaica and has garnered over 8.5 million views on YouTube.