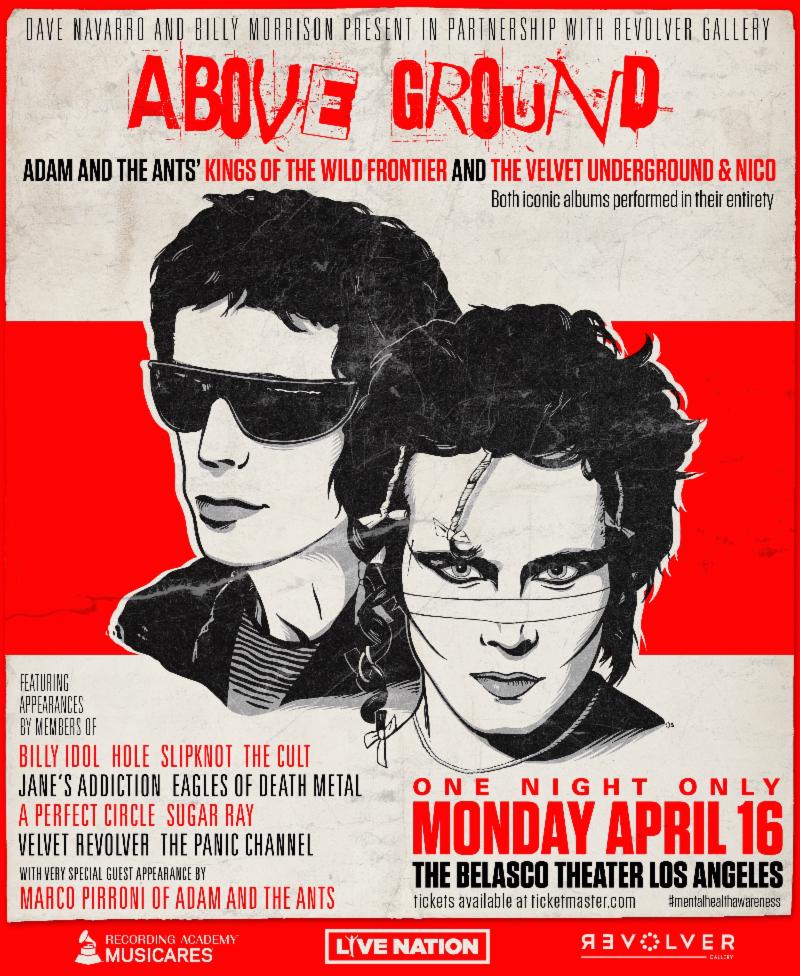 As the hotly tipped event date draws closer, "ABOVE GROUND" has revealed additional names of guests that will be joining Dave Navarro and Billy Morrison for this one-night-only event taking place Monday, April 16 at The Belasco Theater in downtown Los Angeles (see the artist list below).
The immersive evening of art and music–presented by Navarro (Jane's Addiction) and Morrison (Billy Idol) in partnership with Revolver Gallery–will celebrate the vinyl album as an art form, and at the same time raise awareness and funds for the treatment of mental health, with the profits being donated to MusiCares®, a charity of the Recording Academy™. The musicians will perform two seminal albums in their entirety–first Kings Of The Wild Frontier by Adam and The Ants with a special guest appearance by Marco Pirroni of Adam and The Ants and then The Velvet Underground & Nico by Lou Reed and The Velvet Underground–with completely different stage sets and production for each album's performance.
Set to join guitarists Navarro and Morrison throughout the evening are the following musicians and guests (in alphabetical order), with more to be revealed. Newly added names are noted with an asterisk.
Billy Duffy (The Cult)*
Billy Howerdel (A Perfect Circle)*
Billy Idol
Chris Chaney (Jane's Addiction)
Corey Taylor (Slipknot, Stone Sour)
Courtney Love (Hole)
Dave Kushner (Velvet Revolver)*
Erik Eldenius (Billy Idol)
Franky Perez
Jenny Vee (Eagles of Death Metal)*
Jerry Harrison (Talking Heads, The Modern Lovers)*
Jesse Hughes (Eagles of Death Metal)
Josh Freese (The Vandals, Devo, A Perfect Circle, Nine Inch Nails)
Lili Haydn
Marco Pirroni (Adam and The Ants)*
Mark McGrath (Sugar Ray)*
Paul Trudeau (Billy Idol)*
Steve Isaacs (The Panic Channel)*
Steve Stevens (Billy Idol)*
Tickets for ABOVE GROUND are priced at $100 each and available via ticketmaster.com and livenation.com. View a trailer for the event here and read an interview with Navarro and Morrison here.