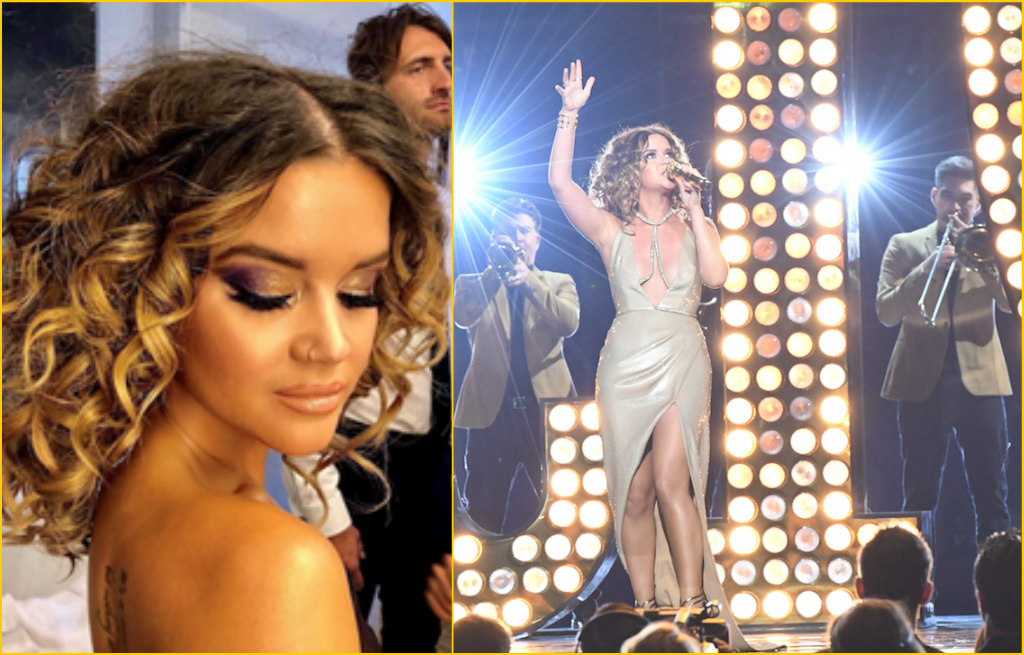 Maren Morris lit up the stage at the ACM Awards on Sunday night. But it wasn't just the flashy lights that had her glowing.
Celebrity Makeup Artist Allan Avendano for Kat Von D Beauty is the one to thank for the country music singer's gorgeous look.
"All of Maren's looks for the evening were all amazing metallic pieces that sort of had a 70s vibe. In true country form, my motto was 'Go Big or Go Home!' I wanted to take references from the late 70s and early 80s and give her makeup a Studio 54 vibe so we went with a lot of metallics on the eyes, with glowing skin and a nude lip," said Allan Avendano.
Get the look:
Eyeshadow & Lip Makeup Tips/Techniques: After prepping with skincare, Allan applied Kat Von D Lock-It Foundation in Medium 54 Cool by dotting it on Maren's face with his fingers and then steppling it with a Beauty Blender. He then brightened up the highlight points of her face with Kat Von D Lock-It Concealer Crème in Light 13 by also dotting it with the concealer wand and blending it out with the Beauty Blender. Next, Allan applied a generous amount of Kat Von D Lock-It Setting Powder under Maren's eyes and then lightly dusted the powder all over her face to set the concealer and foundation.
For the eyes, Allan used Kat Von D Lock-It Concealer Crème as an eye primer to help the eyeshadow colors he used to adhere and be more vibrant, while also giving Maren a more even tone on her eyelids. He then applied Kat Von D Metal Crush Eyeshadow in Thrasher, a metallic gold shade, all over her eyelids. In the outer corners of her eyes, Allan used Kat Von D Metal Crush Eyeshadow in Synergy, a metallic dark bronze shade, and pulled it out into a cat shape before blending it back into the crease. He also applied Synergy to her bottom lashline. Next, Allan blended Kat Von D Metal Crush Eyeshadow in Raw Power, a metallic mahogany color and Danzig, a metallic violet shade, into her crease and bottom lashline, and blended the shades to add some depth. In the inner corners of her eyes, Allan used a fine white gold glitter to give highlight and extra dimension. He then rimmed her bottom lashline with a deep purple eyeliner. Allan applied Kat Von D Tattoo Liner in Trooper Black to Maren's upper lash line and pulled it out into a winged liner shape. He then quickly blended the black liquid liner before it set to smudge and soften it, especially at the ends. Allan then smudged the liner some more with a touch of black eyeshadow and topped it with the Danzig violet eyeshadow shade. As the final step for the eyes, he gave Maren's lashes two coats of a volumizing mascara and then applied custom false lashes on her upper lash line to give some serious drama for the red carpet and her upcoming performance.
To frame her eyes, Allan applied the new Kat Von D Brow Struck Dimension Powder in Dark Brownusing the Kat Von D Powder Brow Brush #75 and then defined all the edges with the new Kat Von D Signature Brow Precision Pencil in Dark Brown.
To give her face some extra dimension, Allan used Kat Von D Shade + Light Contour Face Palette and lightly dusted the taupe Sombre shade from under her temples to under her cheekbones. After applying a peachy blush on the apples of her cheeks, he topped it off with the Gammary shade, a prismatic peach with pink and gold crystals, from the Kat Von D Metal Crush Extreme Highlighter Palette to really give Maren a glow. He also applied the Gammary shade to the bridge of her nose, under her brow bone and on her Cupid's bow.
After prepping her lips with a lip balm, Allan lined Maren's lips with Kat Von D Everlasting Lip Liner in Lolita II, a terra cotta nude shade, and then topped it off with Kat Von D Everlasting Liquid Lipstick in Noble, a petal-pink nude color. As the final step, he dabbed Kat Von D Everlasting Glimmer Veil Liquid Lipstick in Thunderstruck, a champagne shade with pink and gold glimmer, in the center of her lips for added dimension and shine.
What to use?
Kat Von D Lock-It Foundation in Medium 54 Cool ($35), Kat Von D Lock-It Concealer Crème in Light 13 ($26), Kat Von D Lock-It Setting Powder ($30), Kat Von D Metal Crush Eyeshadow in Thrasher, Synergy, Raw Power and Danzig ($13 each), Kat Von D Tattoo Liner in Trooper Black ($20), Kat Von D Brow Struck Dimension Powder in Dark Brown ($20 – launching April 20 on Katvondbeauty.com, Sephora.com and in Sephora stores), Kat Von D Powder Brow Brush #75 ($18 – launching April 20 on Katvondbeauty.com, Sephora.com and in Sephora stores), Kat Von D Signature Brow Precision Pencil in Dark Brown ($20 – launching April 20 on Katvondbeauty.com, Sephora.com and in Sephora stores), Kat Von D Shade + Light Contour Face Palette ($49), Kat Von D Metal Crush Extreme Highlighter Palette ($36), Kat Von D Everlasting Lip Liner in Lolita II ($18), Kat Von D Everlasting Liquid Lipstick in Noble ($20), Kat Von D Everlasting Glimmer Veil Liquid Lipstick in Thunderstruck ($22)