GRAMMY®-winning comedy duo Cheech & Chong will be the subject of a new exhibit opening at the GRAMMY Museum® on 4/20.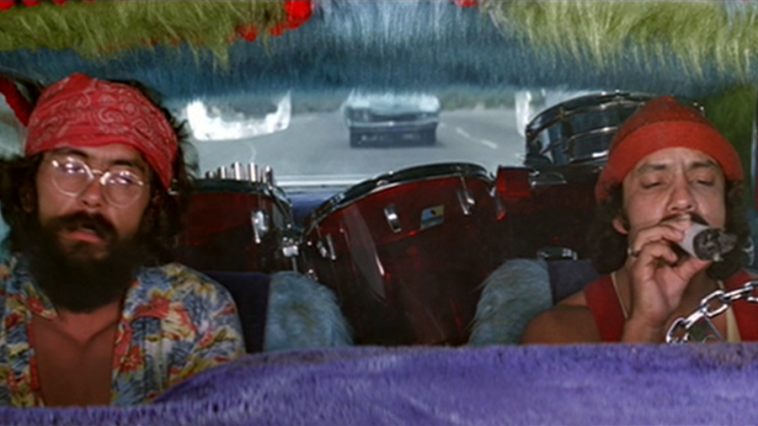 Titled Cheech & Chong: Still Rollin'—Celebrating 40 Years Of Up In Smoke, the exhibit is curated in collaboration with GRAMMY-winning producer Lou Adler, who uncovered the legendary duo, produced many of their albums, and directed the film.

On display through spring 2019, the exhibit explores what made the world fall in love with East L.A. native Richard "Cheech" Marin and Canadian Tommy Chong, while chronicling the development and success of their first feature-length film, Up In Smoke. Items on display will include the original marked-up script from Up In Smoke, the master tape for the soundtrack album, comedy sketches, an assortment of limited-edition 40th anniversary smoking devices, and selections from Marin's "Blazing Chicano Guitars" guitar-art collection, among other items.

As the first strictly counterculture comics, Cheech & Chong helped change the dialogue, and ultimately attitudes, about marijuana use. As recording artists, they utilized the studio much like musicians do—a place to improvise and experiment as they turned their comedy routines into full-length albums. They released an eponymous LP in 1971 featuring studio sketches including "Dave," "Cruisin' With Pedro De Pacas," and "Trippin' In Court." The album's 1972 follow-up, Big Bambú, peaked at No. 2 on the Billboard 200 and earned a GRAMMY nomination for Best Comedy Album. The following year's GRAMMY-winning Los Cochinos also charted at No. 2 and included the novelty hit "Basketball Jones." These albums, and those that followed, served as a template for future comedy albums and stoner films.

"Cheech & Chong are arguably the quintessential comedy duo of the hippie generation," said Scott Goldman, GRAMMY Museum Executive Director. "Individually, they've achieved great success, with Cheech becoming one of the most well-known and respected Chicano entertainers, and Tommy making his mark as an actor, writer, musician, and cannabis rights activist. Together, they became a voice for the counterculture, and to this day their hit film, Up In Smoke, is considered one of the best comedies of all time."

"Our Cheech & Chong exhibit will introduce an entirely new generation to one of the most iconic comedy duos to ever exist," said Nwaka Onwusa, GRAMMY Museum Curator. "This experience wouldn't have been possible without the help of Cheech & Chong and our dear friend Lou Adler. We thank them for their involvement, and we can't wait to share this story of comedic success with our visitors."

Just days ahead of the exhibit's debut, the GRAMMY Museum will welcome Cheech & Chong to the Clive Davis Theater for an intimate sold-out Q&A hosted by Goldman on Tuesday, April 17. This exhibit marks the fourth in the Museum's comedy series. Previous exhibits have included spotlights on GRAMMY winners George Carlin, Rodney Dangerfield, and Joan Rivers.