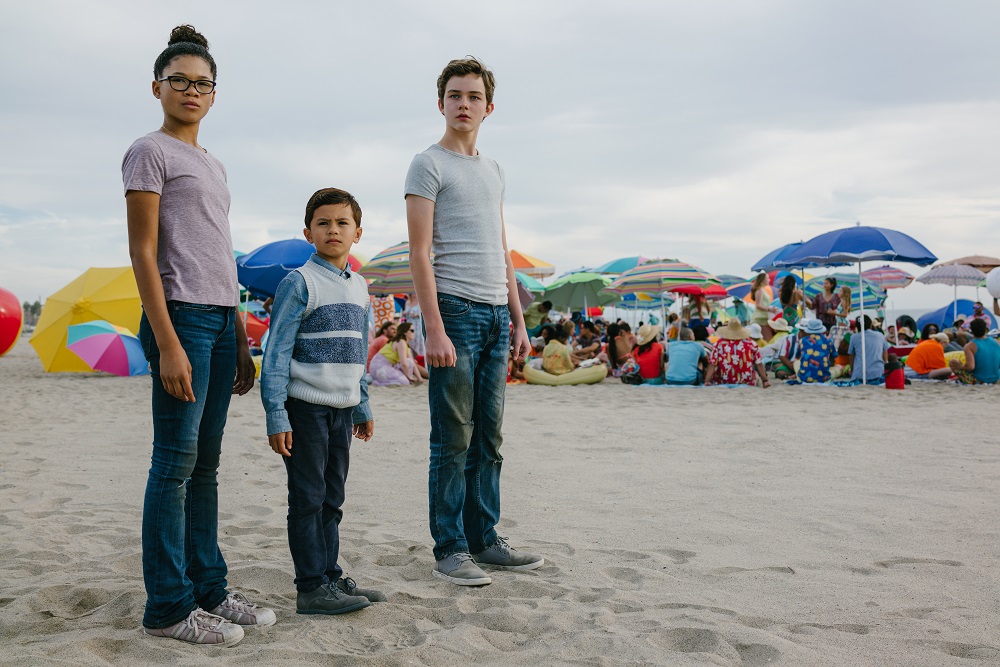 An emotionally withdrawn girl and her genius younger brother set out on a fantastical adventure into the cosmos to find their missing father and overcome the evil in their lives in "A Wrinkle in Time," an inventive, at times exhaustingly so, fantasy adventure starring Chris Pine, Gugu Mbatha-Raw, Reese Witherspoon, Oprah Winfrey and newcomers Storm Reid and Deric McCabe.
An adaptation of the beloved children's book by Madelein L'Engle, written for the screen by "Frozen" scripter Jennifer Lee, this boldly staged but formulaically plotted Disney film should sufficiently capture the imaginations of its young demographic. Having shown her proficiency in intimate family drama ("Middle of Nowhere") as well as monumental historical drama ("Selma"), with her first big-budget studio film, director Ava Duvernay proves more than capable of handling a project of this magnitude, uneven though the results may be. Highlighted by the kind of awe-inspiring cinematography, visual effects and production design that really make a fantasy film pop, punctuated by an all-star cast that gamely inhabit their otherworldly roles, and overwhelmed by an oppressive score that tries to cover too much emotional legwork, "A Wrinkle in Time" will resonate with the youngsters, their parents, less so.
"A Wrinkle in Time" centers on Meg Murry (Storm Reid), a shy and bullied middle school student still reeling from the sudden disappearance of her father (Chris Pine), a theoretical physicist at NASA, four years prior. Constantly taunted by her mean-spirited classmate (Rowan Blanchard), Meg finds solace in the company of Charles Wallace (Deric McCabe), her child prodigy younger brother, and her loving mother (Gugu Mbatha-Raw), a biophysicist who runs a lab from home. Adding to the mystery of Meg's father's vanishing is the fact that, just before disappearing, he claimed to have discovered a way to travel intergalactically through "a wrinkling of time and space" called tessering.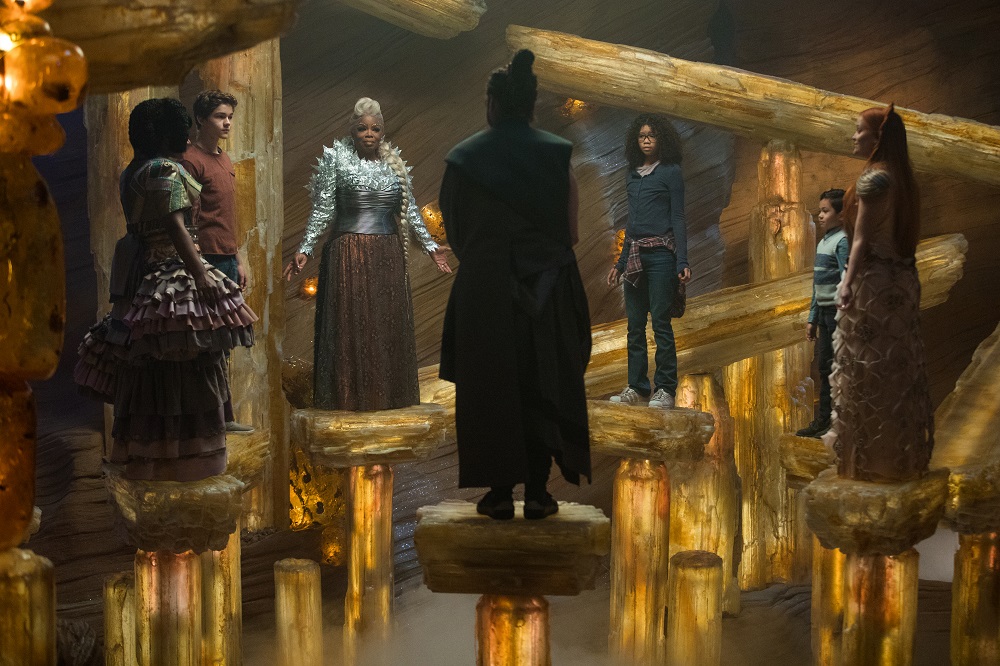 Thanks to a surprise visit from three otherworldly figures – Mrs. Which (Oprah Winfrey), Mrs. Who (Mindy Kaling) and Mrs. Whatsit (Reese Witherspoon) – Meg and Charles Wallace soon discover that, not only is their father still alive, his "tessering" discovery is real, and now he's in grave danger, danger from which only his children can save him. With the assistance of her fairylike friends, Meg travels with her younger brother and her classmate crush (Levi Miller) to the nether regions of the universe to save her father from the evil forces.
"A Wrinkle in Time" succeeds as a children's film thanks to director Ava DuVernay's full-on commitment to this incredible tall tale, remaining faithful enough to the source material to satisfy its ardent fanbase while deviating from it just enough to make it her own. Working with veteran German cinematographer Tobias A. Schliessler ("Patriots Day," "Beauty and the Beast"), DuVernay overwhelms moviegoers with eye-popping imagery, making this production a visual spectacle that enables audiences to immerse themselves in the fantasy at hand. Although some plot holes are evident throughout the proceedings, the general storyline of the fight between good versus evil and a daughter scouring the universe for her long-lost father are adroitly related and emotionally resonant. And while the script mostly does justice to the children's book, the film too often relies on the Ramin Djawadi's overbearing score to accentuate the dramatic notes, resulting in occasional overkill.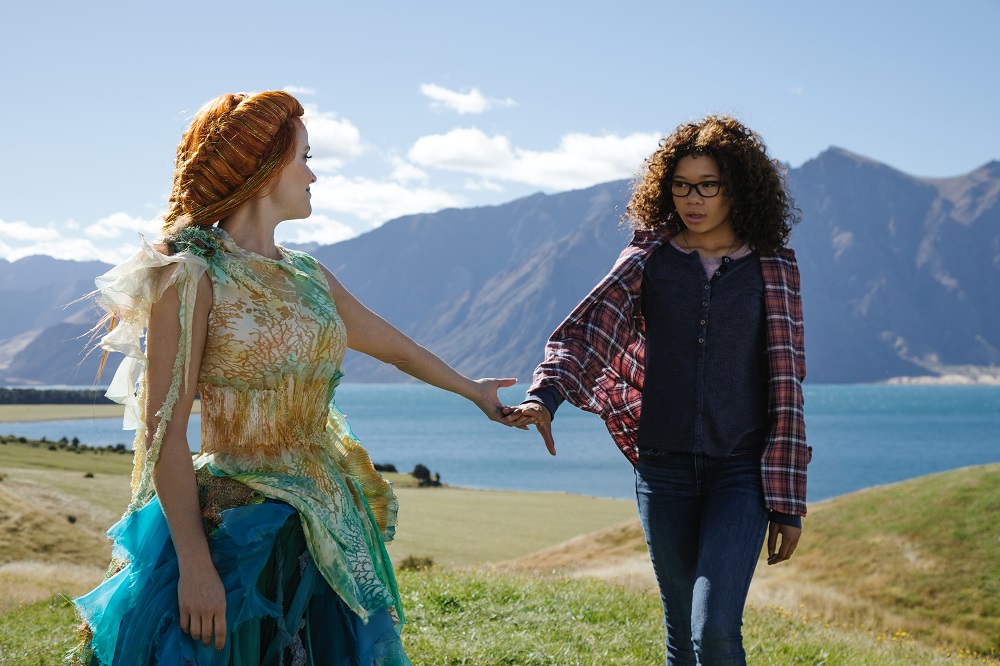 As the emotionally withdrawn middle schooler at the story's center, Storm Reid proves herself a captivating, wise-beyond-her-years screen presence that audiences will welcome as a guide through this otherworldly adventure. Similarly, youngster Deric McCabe gives an at turns delightful and frightening performance as Meg's gifted younger brother Charles Wallace. As for the marquee actors in supporting roles, Mindy Kaling and Reese Witherspoon both give spirited turns as the children's intergalactic chaperones Mrs. Who and Mrs. Whatsit, while Zach Galifianikis and Michael Pena add some humor and horror to the adventure as Happy Medium, a seer who offers insight into their father's whereabouts, and Red, a beady-eyed evildoer from the planet Camazotz.
An imaginative and family-friendly production that fits squarely within the Disney film fold, "A Wrinkle in Time" is an emotionally grounded escapist fantasy.
By Lucas Mirabella
Running Time: 109 minutes
Rated PG for some thematic elements and some peril.