The Franco-American Cultural Fund has announced the films that will be featured in the Documentary and Shorts sections at COLCOA French Film Festival which runs from Monday, April 23 and runs through Monday, April 30 at the Directors Guild of America.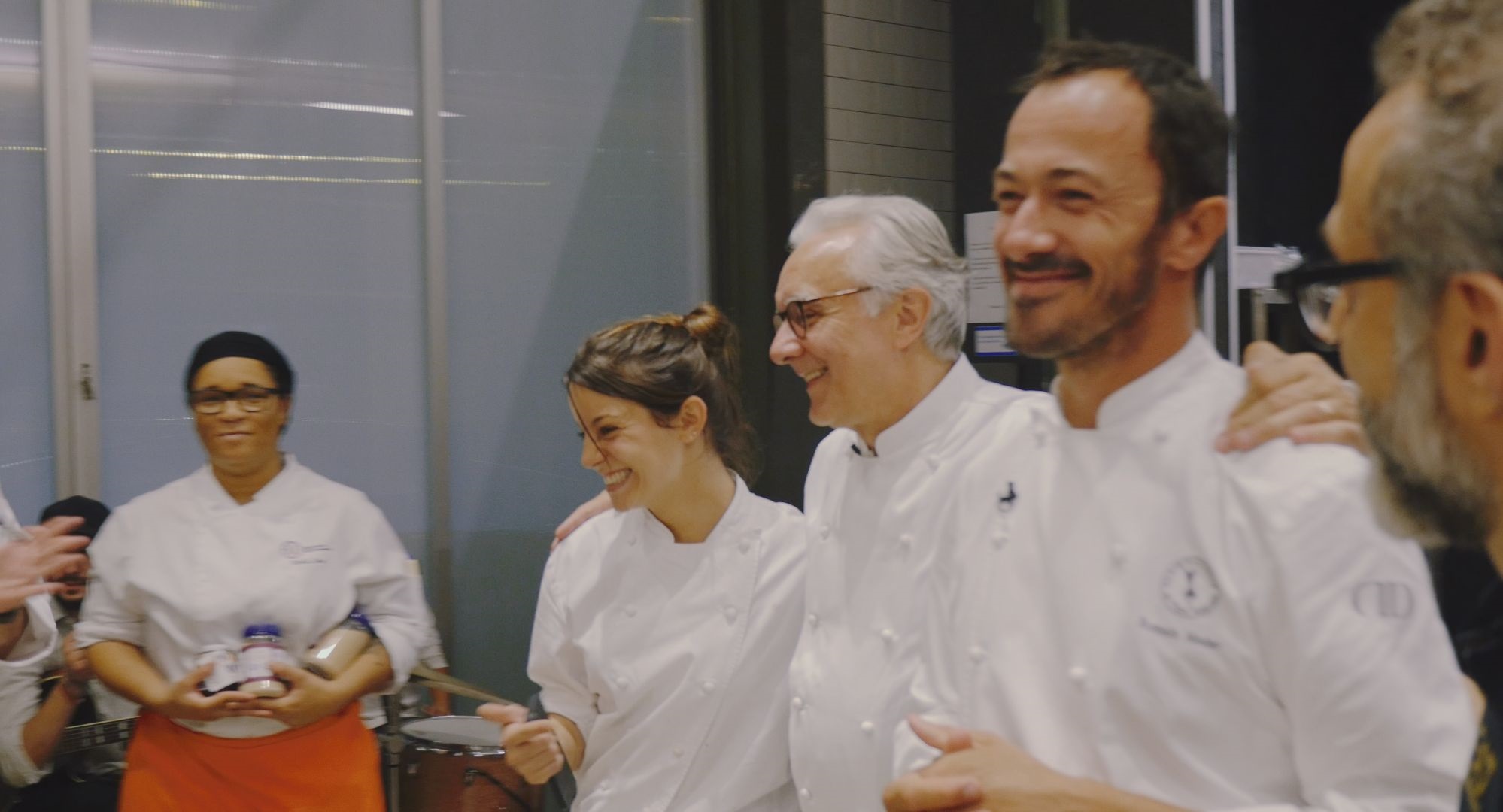 The Documentary section includes four films competing for the 2018 COLCOA Best Documentary Award. ALAIN DUCASSE gives the audience insight into one of the world's most acclaimed chefs, MAKALA highlights the aspirations of a young farmer in Congo hoping for a better future, NOTHINGWOOD showcases Salim Shaheen, Afghanistan's most prolific actor-director-producer, and PLOT 35 confronts a mystery from the filmmaker's childhood.
The Shorts section presented in association with Unifrance and TV5 Monde is comprised of an exclusive selection of 23 films, which will be in competition for the COLCOA Short Awards on April 29. This year, more than half of the selections are by women filmmakers and a quarter of the section are animated films. The COLCOA Shorts Competition will be available in the U.S. after the festival from May 4 to May 31, on the cinema-on-demand program of TV5 Monde, an Official Partner of COLCOA. GARDEN PARTY, which was presented in this section last year at COLCOA, received an Oscar® nomination in 2018 for Best Animated Short Film.
Documentary Competition
ALAIN DUCASSE/La Quête d'Alain Ducasse
What makes virtuoso chef Alain Ducasse tick? How did that little boy who grew up on a farm in southwestern France become an innovative, sustainability-conscious culinary master, with 23 restaurants, 18 Michelin stars and three cooking schools to his name? Gilles de Maistre endeavored to find out, following his fascinating subject across the globe for almost two years, in his indefatigable search for perfection. And if this film offers any rationale for Ducasse's brilliance, it is certainly his endless curiosity, humanity, energy and passion for learning, sniffing, tasting, and eking out the most exquisite of ingredients and flavors. Gorgeously shot for the big screen by the director himself, this absorbing documentary offers a veritable smorgasbord of delights. Written by Eric Roux and Gilles de Maistre; directed by Gilles de Maistre. The film is presented in association with Pathé and Magnolia Pictures and will be released in the U.S. later this year.
MAKALA
"Makala" means charcoal in Swahili. But this solemn, restrained documentary is not about words. It is almost silent. It is the simple story of Kasongo, a 28-year-old man who dreams of building a home for his wife and daughters. To do so, he fells a colossal tree, turns it into charcoal, stuffs it into colossal bags, precariously loads them onto a rickety bicycle, then — Sisyphus-like — pushes his load up a colossal hill, through clouds of dust and exhaust fumes, to market. Emmanuel Gras' exquisitely photographed, existential film, a loving ode to one man's resolve and backbreaking labor, is said to be the first documentary ever selected by International Critics Week in Cannes, where the film was honored with the 2017 Grand Prize and a Golden Eye Special Mention for Best Documentary. Directed by Emmanuel Gras the film features Kabwitz Kasongo and Lydie Kasongo. The film is presented in association with Les Films du Losange and Kino Lorber and will be released in the U.S. later this year.
NOTHINGWOOD / Le Prince de Nothingwood
"Hollywood, Bollywood, Nothingwood!" proclaims Salim Shaheen. He has been called the "Afghan Ed Wood" and is certainly the war-torn country's most popular and prolific actor/director/producer. Launching production on his 111th B-movie masterpiece, the exuberant filmmaker travels to a remote village to shoot with his usual ragtag crew of friends, actors, war veterans and his perennial cross-dressing "leading lady." Armed with a small video camera, a few Kalashnikovs and a box of live ammo, it's "lights, camera, action!" First-time helmer Sonia Kronlund's at-times hilarious portrait of this local hero elicits both admiration and affection for Shaheen's braggadocio, sincere dedication to his oeuvre and guileless belief in the transcendent power of moving pictures. Directed by Sonia Kronlund, the film features Qurban Ali, Sonia Kronlund and Salim Shaheen. The film is presented in association with Pyramide International.
PLOT 35 / Carre 35
"I lived… we all lived with a ghost," says director Éric Caravaca in the voiceover narration of his deeply moving, poetic film, PLOT 35. The "ghost" is that of the sister he never knew. He never even knew she existed. Christine, died at three, before he and his brother were born. Stranger still, his mother burned every photograph and home movie the child appeared in. Reeling from that discovery, Caravaca sets out to investigate the truth and try to find out why Christine's death was so shameful that his parents chose to methodically erase her entire existence. The resulting film is a fascinating, fearless look — not into the grave at plot 35, but into the heartbreaking, dysfunctional nature of family secrets and lies. It is also a rousing, heartfelt affirmation of the unconscious information we carry within us… and of the very act of remembering. Written by Éric Caravaca and Arnaud Cathrine; directed by Éric Caravaca. The film is presented in association with Pyramide International.
Shorts Competition
• ACIDE, written/directed by Just Philippot (produced by Capricci Films)
• CREATURE FROM THE LAKE / La Créature du lac, written/directed by Orianne Siccardi, Maria Castro Rodriguez, Mallaury Simoes, Logan Cluber, Renata Antunez, Nicolas Grangeaud, Alexis Bédué, Capucine Rahmoun-Swierczynski, Léa Bresciani, Victor Rouxel, Amandine Canville (produced by Isart Digital)
• FIST / Prends mon poing, written/directed by Sarah Al Atassi (produced by La Femis)
• GRANDPA WALRUS / Pépé le morse, written/directed by Lucrèce Andreae- Winner 2018 César Best Animated Short (produced by Caïmans Productions)
• HYBRIDS, written/directed by Romain Thirion, Florian Brauch, Matthieu Pujol, Kim Tailhades, Yohan Thireau, Florian Brauch (produced by Mopa)
• HITCHIKER (THE) / L'Autostoppeuse, written/directed by Julien Decoin (produced by Mon Voisin Productions)
• I HAVE ARRIVED / Je suis venu, written/directed by Amiel Roux, Ronan Posnic, Emmanuel Gautier
• I AM A WOUND / Je suis une blessure, written/directed by Leo Bigiaoui
• INDES GALANTES (LES), written/directed by Clément Cogitor (produced by Les Films Pelléas)
• INTERFERENCES, written/directed by Delphine Barel (produced by Les Films 13)
• JUNE 19 / 19 juin, written/directed by Anaïs Tellene (produced by Caméra Subjective)
• LITTLE GIRLS / Petites Filles, written/directed by Camille Japy (produced by Mandarin Cinéma)
• MARLON, written/directed by Jessica Palud (produced by Punchline Cinéma)
• ORDEAL, written/directed by Sacha Barbin (Yukunkun Productions)
• OUR CHILDREN / Nos Enfants, written/directed by Sarah Suco (produced by Mon Voisin Productions)
• OVERRUN, written/directed by Adrien Zumbihl, Pierre Ropars, Antonin Derory, Diane Thirault, Jérémie Cottard, Matthieu Druaud (produced by Rubika)
• PIONEERS / Les Pionniers de l'Univers, written/directed by Benjamin Bernon, Clémentine Courbin, Matthieu Guevel, Anthony Rège, Jérôme Van Beneden (produced by Artfex)
• NOTHIN' SPECIAL / Rien d'spécial, written/directed by Floriane Colas
• RISE OF A STAR, written/directed by James Bort (produced by Full Dawa Prod)
• UNDER MOM'S SKIRT / Les Trompes de ma mère, written/directed by Sarah Heitz de Chabaneix (produced by SDC)
• UNDERSTUDY (THE) / La Doublure, written/directed by Morgane Polanski (produced by RP Productions)
• VOYAGERS, written/directed by Lea Finucci, Marina Roger, Gauthier Ammeux, Alexandre Dumez, Valentine Baillon, Benjamin Chaumeny (produced by Mopa)
• WINKLES (THE) / Les Bigorneaux, written/directed by Alice Vial – winner 2018 César Best Short Film (produced by Les Films du Cygne)