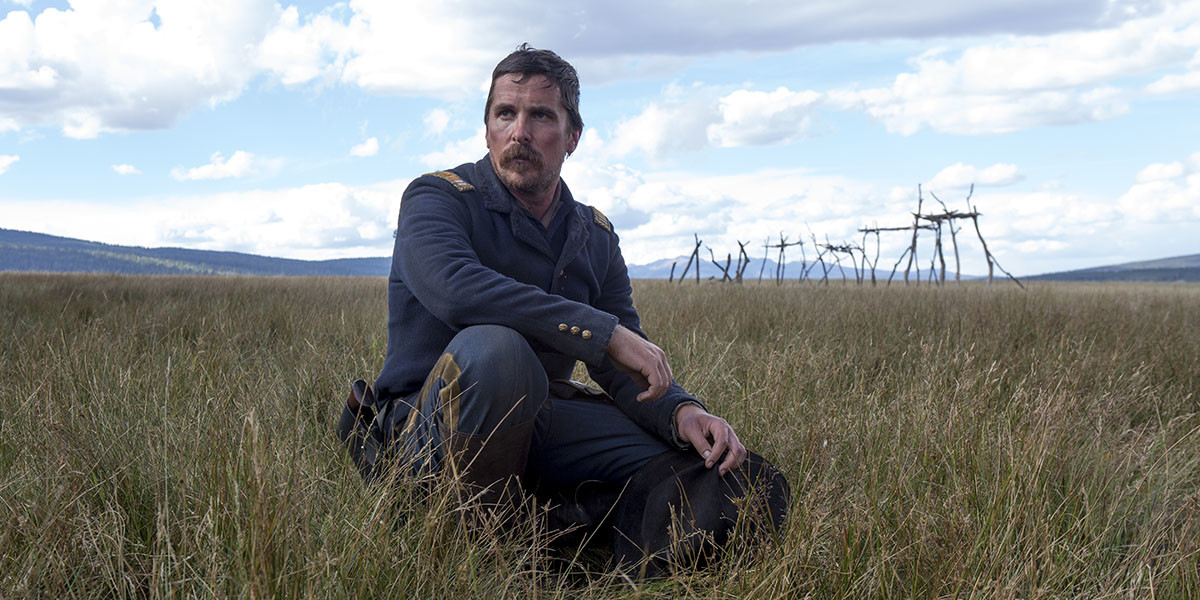 Christian Bale, an actor physically incapable of giving a bad performance, adds another indelible role to his repertoire as a late 19th century Army Captain forced to escort a cancer-ridden Cheyenne War Chief to his Montana homeland in "Hostiles," a powerful and pensive western costarring Rosamund Pike, Jesse Plemons, Rory Cochrane and Wes Studi.
Written and directed by Bale's "Out of the Furnace" director, Scott Cooper, and based on a manuscript by the late Oscar winning screenwriter Donald Stewart ("Missing"), this exceptional entry to the western genre is chockfull of punishingly violent action, deeply felt drama, and thoughtfully explored themes of equality, second chances, and the age-old battle between good and evil. Featuring filmmaking of the finest degree, highlighted by a superbly elegiac score and breathtaking camerawork, not to mention an extraordinary Bale performance, a tough-as-nails Rosamund Pike, and a embarrassingly talented supporting cast, "Hostiles" has all the makings of a damn fine western. Despite its nineteenth century setting, this finely crafted piece of filmmaking should hit home with its message of peace in our divisive cultural climate.
Set in the wild west of 1892, "Hostiles" features Christian Bale as Captain Joe Blocker, a war hero turned jailer whose violent exploits during the Indian Wars have earned him legendary status. After decades of ruthless frontier life, Joe's hatred toward the native people is palpable, but his hate runs deepest for an imprisoned Cheyenne war chief named Yellow Hawk (Wes Studi) who committed unspeakable acts against some of Joe's dearest friends. Now that Yellow Hawk is dying of cancer, rotting away in a cell at New Mexico's Fort Berringer alongside his family (Adam Beach, Q'orianka Kilcher, Xavier Horsechief), President Harrison has ordered that he be released and returned to his tribal land to live out his final days. And since Joe knows the land as good as anybody, his commanding officer (Stephen Lang) insists that he lead the party, or face a court martial and forfeit his pension.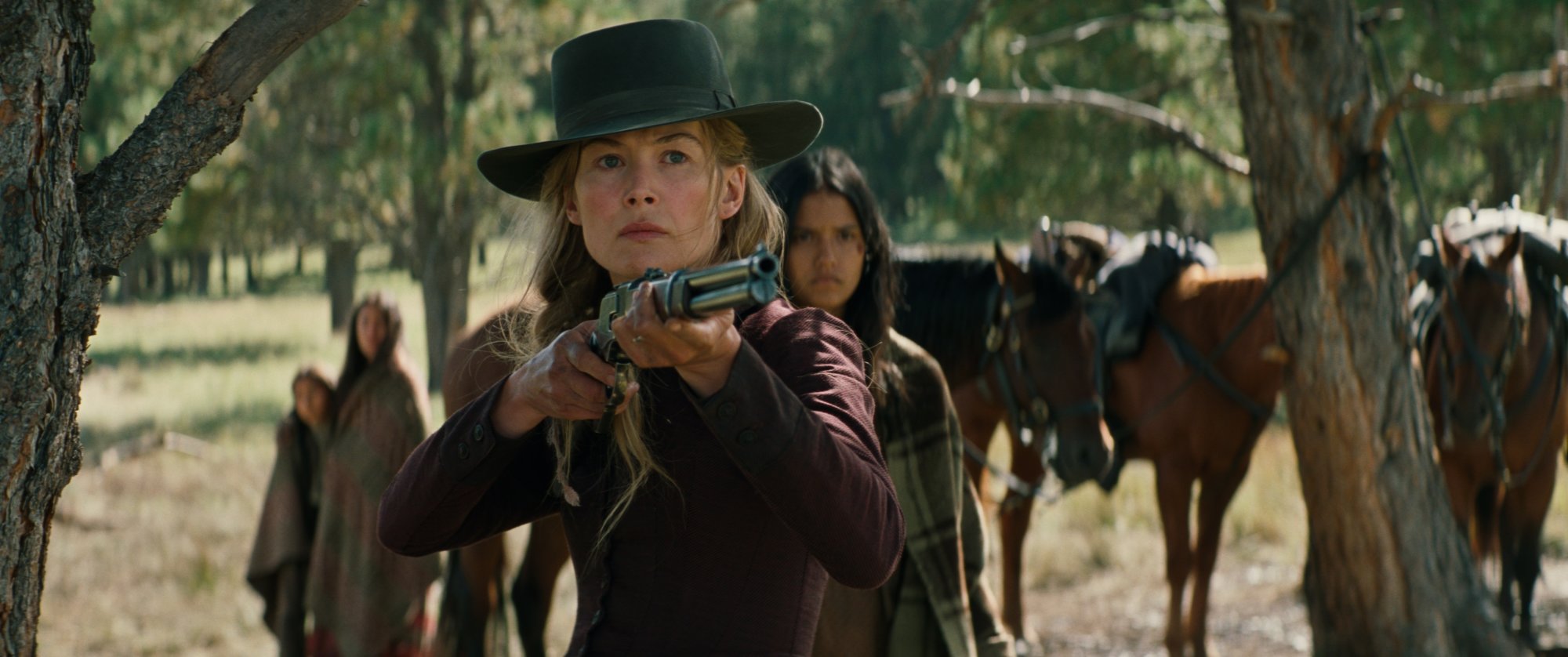 Fronting a detail that includes longtime comrades Master Sergeant Thomas Metz (Rory Cochrane) and Corporal Henry Woodson (Jonthan Majors), as well as a West Point grad (Jesse Plemons) and a recently immigrated French teen (Timothée Chalamet), Joe reluctantly sets off on his thousand-mile journey to return his adversary to his homeland. Shortly after departure, Blocker happens upon a traumatized widow (Rosamund Pike) who witnessed her entire family slaughtered by Comanche, and insists on leading her to safety.
Despite Joe's loathing towards Yellow Hawk and his family, he soon realizes that, in order to survive their dangerous journey, they must present a unified front against the ruthless Comanche and other undesirables they encounter along the way. What begins as an objectionable order becomes a profoundly cathartic and life-altering experience for all involved.
Scott Cooper's directorial prowess continues to grow with each picture, and his evolving expertise is evident in every frame of his fourth feature. Beyond his skillful direction, Cooper also continues to mature as a screenwriter, exhibiting a purposefulness and coherence to his storytelling that surpasses his previous films – no small feat given that those titles include "Crazy Heart," "Black Mass," and "Out of the Furnace."
"Hostiles" also attains its overall splendor thanks to a team of collaborators who use the opportunity to display the full range of their capabilities. Among the film's many memorable traits, the spot-on score by Max Richter stands out for its seemless alternation between mournfulness and doom-laden suspense. Tom Cross's superior editing also deftly juggles the story's interplay between unexpected violence and contemplative campfire scenes, pacing the proceedings with utter assuredness. However, this being a western, one can't overstate the emphasis on the imagery, and audiences should prepare to be mesmerized by the hauntingly beautiful camerawork of Cooper's preferred cinematographer, Masanobu Takayanagi. It's truly a sight to behold.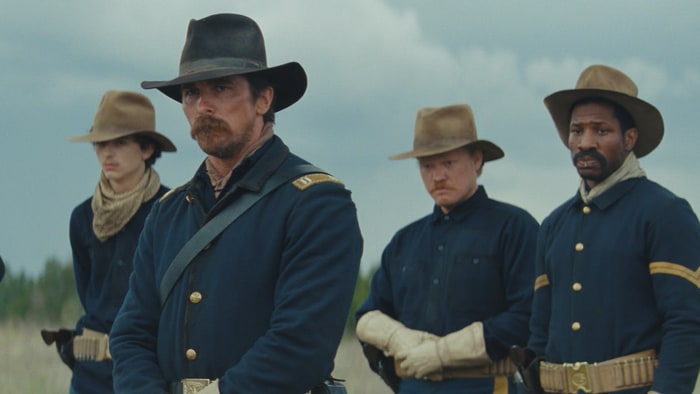 Cooper's ability to elicit memorable performances from his cast once again holds true with this production. Beyond the psychically and emotionally demanding requirements of Bale's character, which are considerable, the role of Captain Joe Blocker also tasks him with speaking partially in native Cheyenne dialect, which the Oscar winner handles with expected ease. It's yet another dimension to an already fully inhabited performance that leaps off the screen, and the depth of Bale's immersion into character is simply extraordinary. As for the supporting players, there isn't a bad one in the bunch, from Rosamund Pike's bereft but brave widow and Wes Studi's noble war chief to Jesse Plemons' by-the-book West Point grad and Rory Cochrane's psychologically tortured brother-in-arms. Ben Foster also excels in his minimal screen time as a criminal soldier and one-time comrade of Blocker's, while relative newcomer Jonathan Majors nearly steals the show as a soulful Buffalo Soldier and Blocker confidante.
Poetically rendered and masterfully executed, "Hostiles" is a western for the ages.
By Lucas Mirabella
Rated R for strong violence, and language.
Running Time: 133 minutes