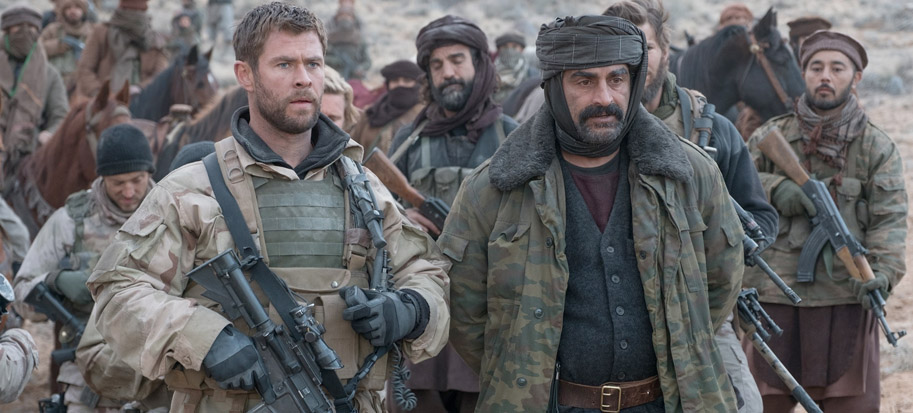 Following the September 11th attacks, twelve elite soldiers from the U.S. Army's Special Forces are chosen to lead the fight against the Taliban and their Al Qaeda allies in the mountains of Northern Afghanistan in "12 Strong," a conventional, action-oriented war film that stars Chris Hemsworth, Michael Shannon, Michael Pena and Trevante Rhodes ("Moonlight").
From prolific producer Jerry Bruckheimer, this emotionally intense and proudly patriotic actioner, helmed by first-timer Nicolai Fuglsig, is a slightly above average dramatization of a secret military mission only recently declassified. Chronicling the exploits of the U.S. Army's very first soldiers to step foot into the Taliban stronghold just days after 9/11, screenwriters Ted Tally ("Silence of the Lambs") and Peter Craig ("The Town") capably adapt Doug Stanton's non-fiction account of the brave and unsung heroes at the story's center, clearly relating the soldiers' messy mission as well as Afghanistan's chaotic politics. However, while the narrative's particulars are sufficiently elucidated, this being a Bruckheimer production, the emphasis is on massive explosions and adrenaline-pumping firefights, with little by way of character development. Still, for audiences partial to rousing true tales with no shortage of military action, "12 Strong" definitely fits the bill.
After a brief history of Al Qaeda attacks against America, "12 Strong" begins on September 11th, 2001, when Captain Mitch Nelson (Chris Hemsworth) sees the World Trade Center attacks on television. A family man transitioning to a desk job at his Kentucky home base of Fort Campbell, upon witnessing the atrocities, Nelson's sense of duty kicks in, and he approaches his superior to volunteer to fight the enemy overseas. After some initial pushback from his colonel (Rob Riggle) due to his lack of battle experience, Captain Nelson and his eleven-member team of Green Berets – including hard-edged Chief Warrant Officer Cal Spencer (Michael Shannon) and sergeants Sam Diller and Ben Milo (Michael Peña and Travonte Rhodes), among others – ship off to Northern Afghanistan as Task Force Dagger, with an objective to dismantle the Taliban by any means necessary.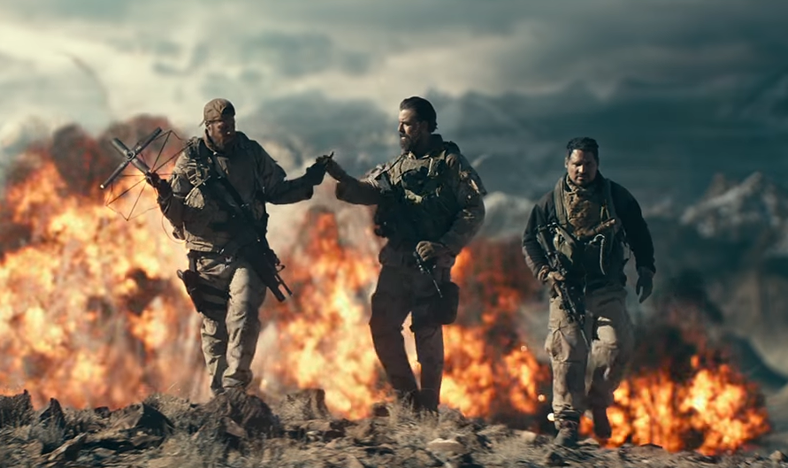 After being dropped off by chopper in Northern Afghanistan's rugged, mountainous terrain, Nelson and his men go about overcoming their first obstacle: convincing General Abdul Rashid Dostum (Navid Negahban, "Homeland"), a proud and distrustful warlord, to join forces in fighting their common enemy. Together, with General Dostum, Task Force Dagger sets in motion a plan to decimate the Taliban, territory by territory, and help the Northern Alliance regain control of the unstable country. But given the degree to which the soldiers are outnumbered, not to mention the unforgiving landscape, which they're forced to traverse by horseback, the odds are stacked against them.
Utilizing his background as a photojournalist during the Kosovo War, Danish director Nicolai Fuglsig makes an impressive feature debut, not only crafting a sturdy war film but effectively tapping into the many emotions – sadness, rage, resilience, patriotism – Americans felt in the aftermath of 9/11. Although the film eventually becomes overwhelmed by overblown action set pieces, the screenplay by Ted Tally and Peter Craig at least takes pains to make sense of the mayhem, enabling audiences to understand the mission at hand and the unlikelihood of their success. Working with Danish cinematographer Rasmus Videbæk ("The Dark Tower"), Fuglsig crafts a relentlessly explosive cinematic landscape, placing the chaos and disorientation of war front and center right alongside the familiar beats of soldier solidarity and the bridging of cultural gaps.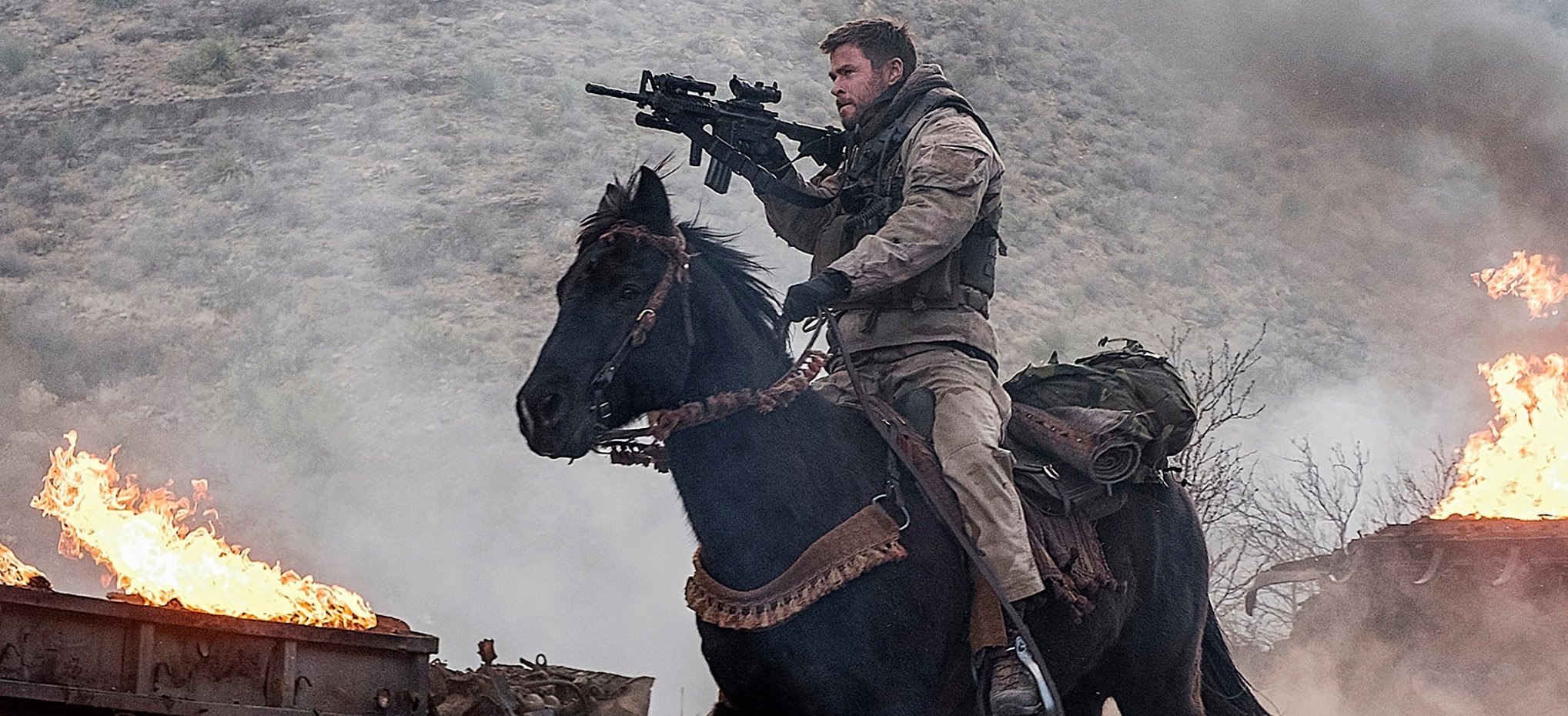 "12 Strong" deploys a muscular ensemble cast who fit well into their respective roles and, in some cases, transcend the limitations of their characters. Granted, given the size of the ensemble, it's hard to fault the writers, let alone the cast, for simplistic representations, as the setup doesn't lend itself well to nuanced portrayals, but the characters here are all fairly stereotypical. Chris Hemsworth is a likable and convincing lead as the untested captain ready to prove his mettle on the battlefield; Michael Shannon brings gravitas and self-assurance to the role of Chief Warrant Officer Cal Spencer; Michael Peña puts his dramatic and comedic background ("Fury," "Observe and Report") to good use as a sarcastic sergeant; and Trevante Rhodes exhibits humor, vulnerability and toughness in equal measure as another sergeant in Task Force Dagger.
Despite covering familiar terrain, "12 Strong" is a solid war film that injects some action into a relatively sleepy January movie slate.
By Lucas Mirabella
Rated R for war violence and language throughout.
Running Time: 129 minutes