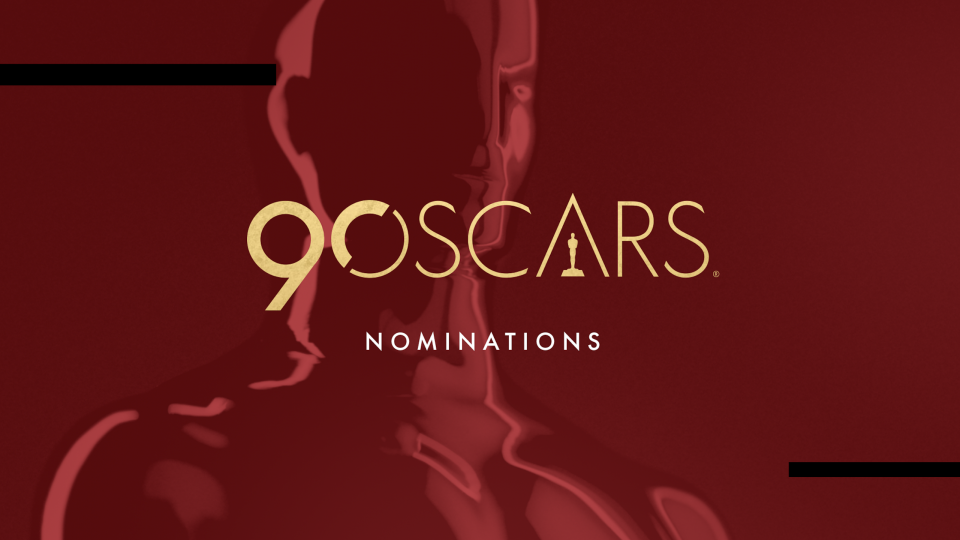 The 90th Oscars®, hosted by Jimmy Kimmel, will be held on Sunday, March 4, 2018, at the Dolby Theatre® at Hollywood & Highland Center® in Hollywood, and will be televised live on ABC 6:30 p.m. ET/3:30 p.m. PT.
Actress-comedian Tiffany Haddish and actor-director Andy Serkis, joined by Academy President John Bailey, announced the 90th Academy Awards® nominations today (January 23) live from the Academy's Samuel Goldwyn Theater via a global live stream on Oscar.com, Oscars.org, the Academy's digital platforms, a satellite feed and broadcast media.
For a complete list of nominees, visit the official Oscars website, www.oscar.com.
Actor in a Supporting Role
Nominees
Three Billboards outside Ebbing, Missouri
All the Money in the World
Three Billboards outside Ebbing, Missouri
Actress in a Leading Role
Nominees
Three Billboards outside Ebbing, Missouri
Actress in a Supporting Role
Nominees
Tom McGrath and Ramsey Naito
Nora Twomey and Anthony Leo
Lee Unkrich and Darla K. Anderson
Dorota Kobiela, Hugh Welchman and Ivan Mactaggart
Nominees
Abacus: Small Enough to Jail
Steve James, Mark Mitten and Julie Goldman
Agnès Varda, JR and Rosalie Varda
Bryan Fogel and Dan Cogan
Feras Fayyad, Kareem Abeed and Søren Steen Jespersen
Yance Ford and Joslyn Barnes
Documentary (Short Subject)
Nominees
Laura Checkoway and Thomas Lee Wright
Heaven Is a Traffic Jam on the 405
Frank Stiefel
Elaine McMillion Sheldon and Kerrin Sheldon
Kate Davis and David Heilbroner
Nominees
Paul Machliss and Jonathan Amos
Three Billboards outside Ebbing, Missouri
Jon Gregory
Nominees
Kazuhiro Tsuji, David Malinowski and Lucy Sibbick
Daniel Phillips and Lou Sheppard
Nominees
Three Billboards outside Ebbing, Missouri
Carter Burwell
Nominees
from Mudbound; Music and Lyric by Mary J. Blige, Raphael Saadiq and Taura Stinson
from Call Me by Your Name; Music and Lyric by Sufjan Stevens
from Coco; Music and Lyric by Kristen Anderson-Lopez and Robert Lopez
from Marshall; Music by Diane Warren; Lyric by Lonnie R. Lynn and Diane Warren
from The Greatest Showman; Music and Lyric by Benj Pasek and Justin Paul
Nominees
Peter Spears, Luca Guadagnino, Emilie Georges and Marco Morabito, Producers
Tim Bevan, Eric Fellner, Lisa Bruce, Anthony McCarten and Douglas Urbanski, Producers
Emma Thomas and Christopher Nolan, Producers
Sean McKittrick, Jason Blum, Edward H. Hamm Jr. and Jordan Peele, Producers
Scott Rudin, Eli Bush and Evelyn O'Neill, Producers
JoAnne Sellar, Paul Thomas Anderson, Megan Ellison and Daniel Lupi, Producers
Amy Pascal, Steven Spielberg and Kristie Macosko Krieger, Producers
Guillermo del Toro and J. Miles Dale, Producers
Three Billboards outside Ebbing, Missouri
Graham Broadbent, Pete Czernin and Martin McDonagh, Producers
Nominees
Production Design: Sarah Greenwood; Set Decoration: Katie Spencer
Production Design: Dennis Gassner; Set Decoration: Alessandra Querzola
Production Design: Sarah Greenwood; Set Decoration: Katie Spencer
Production Design: Nathan Crowley; Set Decoration: Gary Fettis
Production Design: Paul Denham Austerberry; Set Decoration: Shane Vieau and Jeff Melvin
Nominees
Glen Keane and Kobe Bryant
Victor Caire and Gabriel Grapperon
Dave Mullins and Dana Murray
Max Porter and Ru Kuwahata
Jakob Schuh and Jan Lachauer
Nominees
Derin Seale and Josh Lawson
Chris Overton and Rachel Shenton
Katja Benrath and Tobias Rosen
Nominees
Mark Mangini and Theo Green
Richard King and Alex Gibson
Nathan Robitaille and Nelson Ferreira
Matthew Wood and Ren Klyce
Nominees
Julian Slater, Tim Cavagin and Mary H. Ellis
Ron Bartlett, Doug Hemphill and Mac Ruth
Mark Weingarten, Gregg Landaker and Gary A. Rizzo
Christian Cooke, Brad Zoern and Glen Gauthier
David Parker, Michael Semanick, Ren Klyce and Stuart Wilson
Nominees
John Nelson, Gerd Nefzer, Paul Lambert and Richard R. Hoover
Guardians of the Galaxy Vol. 2
Christopher Townsend, Guy Williams, Jonathan Fawkner and Dan Sudick
Stephen Rosenbaum, Jeff White, Scott Benza and Mike Meinardus
Ben Morris, Mike Mulholland, Neal Scanlan and Chris Corbould
War for the Planet of the Apes
Joe Letteri, Daniel Barrett, Dan Lemmon and Joel Whist
Writing (Adapted Screenplay)
Nominees
Screenplay by James Ivory
Screenplay by Scott Neustadter & Michael H. Weber
Screenplay by Scott Frank & James Mangold and Michael Green; Story by James Mangold
Written for the screen by Aaron Sorkin
Screenplay by Virgil Williams and Dee Rees
Writing (Original Screenplay)
Nominees
Written by Emily V. Gordon & Kumail Nanjiani
Screenplay by Guillermo del Toro & Vanessa Taylor; Story by Guillermo del Toro
Three Billboards outside Ebbing, Missouri
Written by Martin McDonagh