Celebrating over a decade of surf dog spectacles by BONE-afied athletes, Helen Woodward Animal Center and Blue Buffalo invite the public to the 12th Annual Surf Dog Surf-A-Thon. Surfing canines love this dog surf-competition in particular because it's the only local one-of-its-kind with 100% of the proceeds going towards helping orphan pets!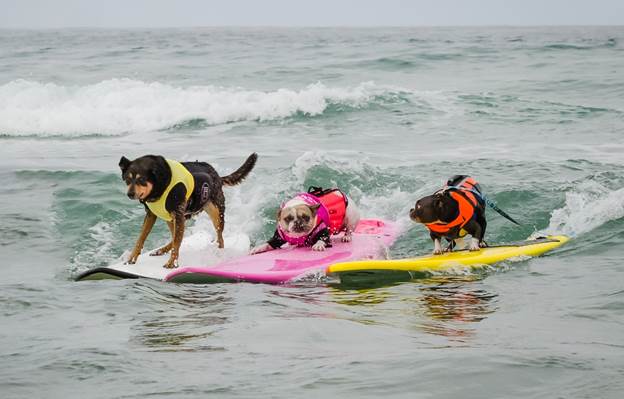 The 12th annual Surf Dog Surf-A-Thon is presented by Blue Buffalo and takes place at Dog Beach Del Mar on Sunday, September 10th, 2017 from 8am to 2pm PST. and is certain to make some very big waves!
If you can't be there in person, watch the broadcast live at 8:30am PT/11:30am ET on Ustream.tv or download the Ustream app on your smartphone or tablet.
For more information on the Surf Dog Surf-A-Thon, visit www.animalcenter.org or call 858-756-4117.
WHERE: Dog Beach in Del Mar
WHEN: Sunday, September 10th, 2017 between 8:00am – 2:00pm.
SCHEDULE:
Registration: 7:30-11:00AM
Small Dog Heats: 8:30-9:00AM
Medium Dog Heats: 9:10-10:00AM
Freestyle Surf Competition: 10:10-10:40AM
Large Dog Heats: 10:50-11:20AM
XL Dog Heats: 11:30AM-12:20PM
Best in Surf: 12:30-12:40PM
Canine Costume Contest: 12:50-1:20PM
Hall of Fame Induction 1:20-1:30PM
Awards Presentation 1:30-2:00PM
VISUALS:
· Life-vested canines competing in real surfing heats – 4 different weight classes!
· A freestyle surf contest with points awarded for creativity – tandem rides and costumes encouraged!
· Land-loving pups showing off at the Canine Costume Contest.
· Athletic Dogs tackling the Canine Agility Course.
· The BLUE LAGOON – A Special Canine Paradise with puppy pools, shading umbrellas, special protective doggy shoes, the Dripping Dog booth for protective paw wax, games, gifts and photo backdrops!
· 50+ surfing dog-loving vendors joining in on the fun.
· A VERY SPECIAL Surf Dog Hall-of-Fame Induction with our first-ever human recipients!
· Top Placing Surf Dogs Receiving Plaques and Awards!
CELEBRITY PARTICIPANTS AND JUDGES:
· Special guest from ABC's The Bachelor in Paradise and owner of Zorn Fitness, Ben Zorn
· Shelby Detmers, professional surfer, surfing the World Surf League Qualifying Series and for the Mexican Nationals Team for Baja California South.
· Sunshine Makarow, member of the CSUSM national champion collegiate surf team, former US Surf Team member, two-time West Coast Women's Surf Champion, founder and publisher of Surf Life for Women Magazine.
· Jagger & Kristi, hosts of the morning show on Magic 92.5
· KUSI Weatherman Mark Mathis
· Sunny 98.1 Radio Host Dave Mason
SURF DOG SPECIFICS:
Dogs divided into 4 weight classes:
Small – 20 pounds or less
Medium – 21 to 40 pounds
Large – 41 to 60 pounds
Extra Large – 61 pounds or more
2 heats for the Small dogs….3 heats for the Medium dogs, 2 Large dog heats, and 3 heats for the Extra Large dogs. The winners announced are the TOP scorers of the total heats for each weight class.
The top three finishers in each weight class will receive medals.
After the heats there is a, "Best In Surf" heat including the top finisher from each heat.
Being judged by: Sunshine Makarow, Shelby Detmers, and Jaden Jeter