I've always had a passion for cross-country running and hiking the smaller canyons here in Los Angeles. This summer, I decided to turn my fitness game up a few notches.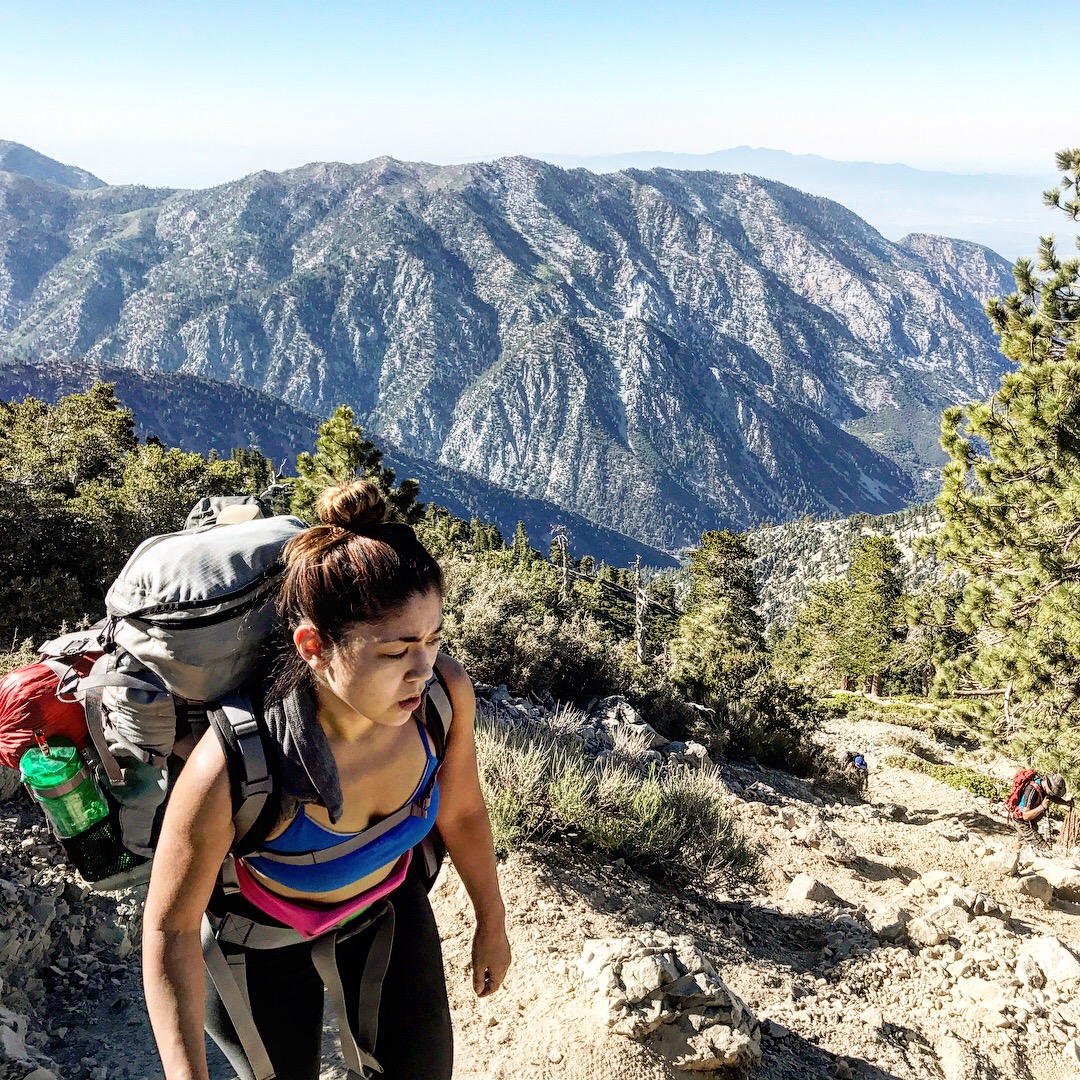 One of the greatest outdoor fitness challenges for Angelenos and anyone living in California is to complete the Six-Pack of Peaks. It's a challenge to hike, climb and summit 6 mountains in Southern California. Many decide to reach these summits as a training prep for the big Kahuna… Mount Whitney, the highest summit in the contiguous United States and the Sierra Nevada.
Mount Wilson: 14 miles, 4,200' gain, 5,710' elevation
Cucamonga: 11.6 miles, 4,300' gain, 8,859' elevation
Mount Baldy: 10-11 miles, 3,900' gain, 10,064' elevation
Bernardino: 16.5 miles, 4,702' gain, 10,649' elevation
San Jacinto: 11.4 miles, 4,689' gain, 10,649' elevation
San Gorgonio: 17.3 miles, 5,840' gain, 11,503' elevation
*Mount Whitney: 22 miles, 6,100' gain, 14,505' elevation
Prepping for these hikes and climbs is not as easy as putting on a pair of sneakers and grabbing a water bottle. While some summits can be hiked in a day, many decide to camp halfway up. In addition to preparing with fitness training: including running, lunges and weights; I'm here to give you your ultimate guide on how to prep and pack for an overnight. On my most recent camping/hiking trip on Mount Baldy, I worked with some incredible gear from REI Co-op, Black Diamond and more. I created a checklist so you will be best prepared for your next or first summit trip!
Make sure you lay out all of your items before packing, that way you don't miss anything!
| | | | |
| --- | --- | --- | --- |
| Tent (REI QD 1 For single) | Freeze Dried Food | Hiking boots with ankle support | Toothpaste/Toothbrush |
| Sleeping bag (see below) | Protein Bars (Bonk Breaker, Clif, Simply Organic) | Thermal layers/jacket | First Aid Kit |
| Sleeping pad (see below) | 2 liters of water (There is a creek on Mount Baldy for water pumping) | Socks (1 change) | Sunscreen |
| Trekking Poles (see below) | Water pump | Gloves | Bug spray |
| Headlamp (see below) | Camping stove w/ gas | Beanie for cold | Chapstick |
| Backpack (of course) | Utensil, something to eat out of | Hat for sun | Toilet Paper/shovel |
| Extra batteries for your headlamp if you like | Bags for garbage | Extra pair of light shoes to change into at campsite | Portable phone charger |
| | FlipBelt (helps to have your phone handy for photo ops!) | Headphones | Your I.D. |
The number one KEY thing to packing is keeping the weight of your backpack as light as possible! Hardcore campers pack ultralight (that means cutting your toothbrush in half!). Thankfully, REI has some great tents, bags and pads that keep the weight down.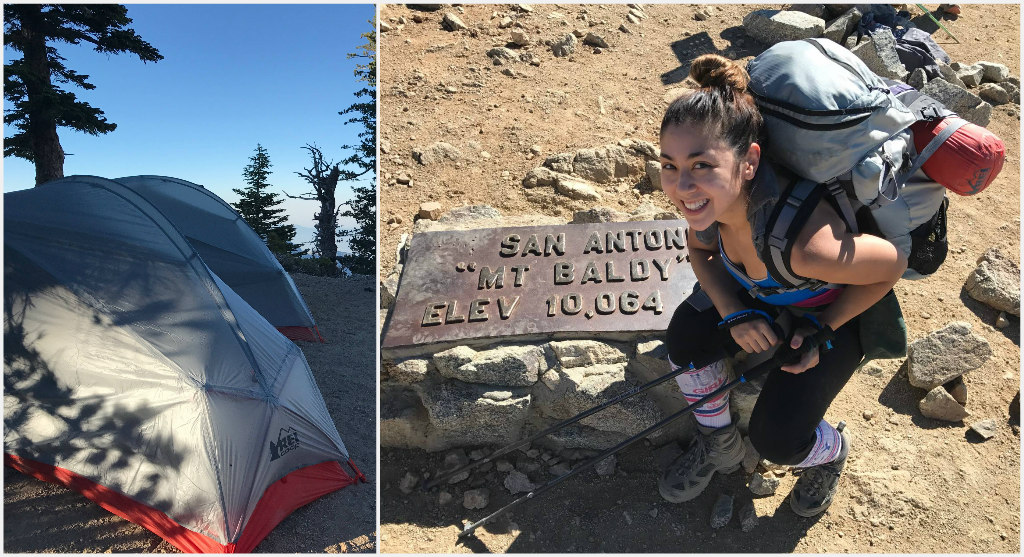 REI Co-op's Quarter Dome 1 Tent
This is perfect for one person! It's so simple to setup; I did it in under 5 minutes!
Their new 2017 pole design adds liveable interior space so that you can sit up comfortably. Plenty of space for your bag, etc.
New 2017 dual-stake vestibule is 46% larger, easily sheltering all your gear from the elements.
Vertical sidewalls create spacious elbow room and provide a no-drip entryway.
Large door on fly vestibule and tent body adds ease to the entry and can be hung out of the way when unzipped.
15-denier ripstop nylon in the fly minimizes weight while retaining strength.
Roof vent with internal zippered access helps control condensation.
This tent is strong! It was a windy night up at Mt. Baldy and mine stayed put! Adjustable stakeout points make stake placement easy and allow for quick vestibule tensioning. / Pricing: $279.00
REI's Joule 21 Sleeping Bag for Women
Extremely comfortable and lightweight for hiking.
A 3 season sleeping bag.
Combines a polymer-coated down fill with waterproof/breathable fabric.
Designed to fit a woman's body, this bag offers increased room at hips, decreased room at shoulders and extra insulation in critical heat-loss areas.
Water-repellent 700-fill-power duck down offers superior loft and warmth. / Pricing ranges from: $299.00 – $319.00
REI's Flash Insulated Air Sleeping Pad
The easiest part of setting up camp!
Inflates and deflates in a matter of seconds.
Has a Mylar® reflective layer to provide a high warmth-to-weight ratio. / Pricing ranges from: $99.95 – $119.00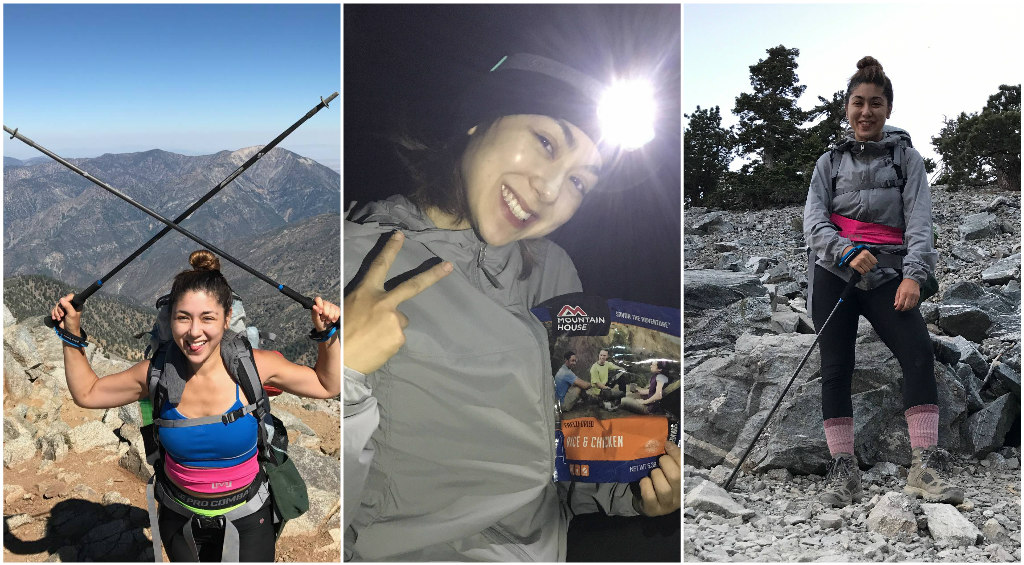 From Black Diamond….
Iota Rechargeable Headlamp
When the sun is setting and you're on the trail heading to the campsite, you'll be happy to have the right headlamp!
So comfortable and easy to adjust.
1 DoublePower LED with 150 lumens (max setting) projects a strong, oval beam.
Powered by a lithium ion rechargeable battery (TK-hour USB charge time)
Settings include full strength, dimming and strobe… even a red light, which is great for talking around the campfire (or no campfire because fires are off limits on many Southern California summits!)
PowerTap Technology allows fast and simple transitioning between full and dimmed power
Protected against splashing or sprayed water from any angle (IPX 4) / Pricing: $39.95
Distance FLZ Trekking Poles for Women
On my very first summit hike, I borrowed someone's trekking poles and it changed the game for me. Trekking poles help for sharp turns, rocky terrain and those steep climbs. Make sure you check for that 90 degree angle for the right height.
Black Diamond's Distance FLZ Trek Poles are great because they break down into 3 sections, folding and with FlickLock adjustability.
Lightweight EVA foam grip and breathable, moisture-wicking strap.
Aluminum construction.
Interchangeable, non-scarring rubber Tech Tips and carbide Tech Tips. / Pricing: $129.95
http://blackdiamondequipment.com
As for boots, I recommend going to your local REI to get fitted. You want to make sure you have enough ankle support and time to wear the boots in order to break them in before your trip. I went with Vasque boots! When you get to the campsite, it's a relief to have a change of comfortable shoes. Sperry 7 SEAS new line are light to carry and they give your feet a breather break (Read more about them here).
My biggest advice to those preparing for their first summit trip is to pace yourself. Remember, it's not a race. It's an incredible mental and physical accomplishment to summit a mountain. With enough water and determination, you'll reach the top and enjoy the view. Don't forgot to stop on the way up and tip your hat to Mother Nature!
Stay tuned for more 'How To' stories involving summits, fitness inspired trips and more!
By Pamela Price