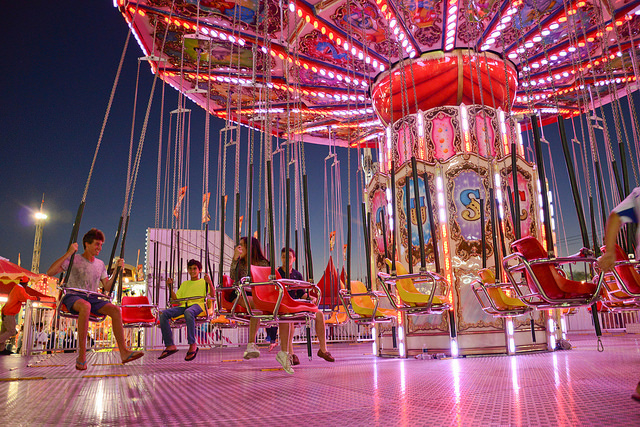 1. Meet the L.A. Chargers (Friday, July 21 2-4 p.m., 5-7 p.m., Heroes Hall): Come meet members of the Los Angeles Chargers and the Charger Girls in support of the Heroes Hall Veterans Foundation.
2. See the pig races (Saturday, July 22 & Sunday, July 23, 2-9 p.m., Livestock): Run, piggies, run! See who the fastest piggies during the Fair favorite All-Alaskan Pig Racing.
3. Make cocktails with Matthew Biancaniello (Sunday, July 23, 4 p.m., OC Promenade): Renowned cocktail chef Matthew Biancaniello will teach fairgoers how to create "farm-to-glass" cocktails using local, seasonal, unusual and organic produce.
4. See "Through the Eyes of Veterans" (Friday, July 21 & Saturday, July 22, 8:30 p.m., Main Mall, on The Hangar side): This multimedia tribute and pyrotechnic display honors those who have served.
5. Go Medieval at Knights of Valour (Friday and Saturday 5 p.m. & 8 p.m., Sunday 4 p.m. & 7 p.m., Action Sports Arena): Watch brave knights risk their lives as they battle each other in one spectacular show.
6. French Fry Challenge with Coast Packing & Chicken Charlie (Sunday, July 23, 5 p.m., Culinary Stage): See which french fry is the ultimate fry as Coast Packing and Chicken Charlie help decide what's the best way to fry a french fry.
7. Relax with orange bath fizzies by Sherry Horton (Friday, Saturday & Sunday, July 21-23, noon, Garden and Floral Pavilion): Sherry Horton, owner-designer of American Gardner, will demo how to make natural home products with ingredients straight from a garden. This weekend, she'll show how to make orange bath fizzies.
8. Eat up at the Milk & Cookie Eating Contest (Friday, July 21, 7 p.m., Culinary Stage): Think you have what it takes? This contest is FREE and winners will be awarded prizes and ribbons.
9. Hit one of the shows at Pacific Amphitheatre: Strange Love and Dead Man's Party (Saturday, July 22, 7:15 p.m.): Rock on with the ultimate Depeche Mode and Oingo Boingo tribute bands.
Pepe Aguilar (Sunday, July 23, 8:15 p.m.): The Grammy Award-winning mariachi and ranchera star sings his greatest hits on the Pacific Amphitheatre stage.
10. Rock out in The Hangar:
BOSTYX (Friday, July 21, 8:30 p.m.): Listen to Boston and Styx's greatest hits with featured vocalist David Victor (formerly of Boston).
Hot August Night (Saturday, July 22, 8:30 p.m.): Jam with tribute artist Dean Colley as he performs Neil Diamond's classic hits.
Metalachi (Sunday, July 23, 1 p.m.): Mariachi AND heavy metal together? See the world's only heavy metal mariachi band perform a set of unique and fun tunes.
Trevor Hall (Sunday, July 23, 8:30 p.m.): This South Carolina native will perform a mix of acoustic rock, reggae and Sanskrit chanting.
For more information, check out the OC Fair official website.