How fitting is it to feature the Jao product line on Earth Day! Jao Ltd. was created by Gale Mayron. Her chemist-father helped her to formulate the line.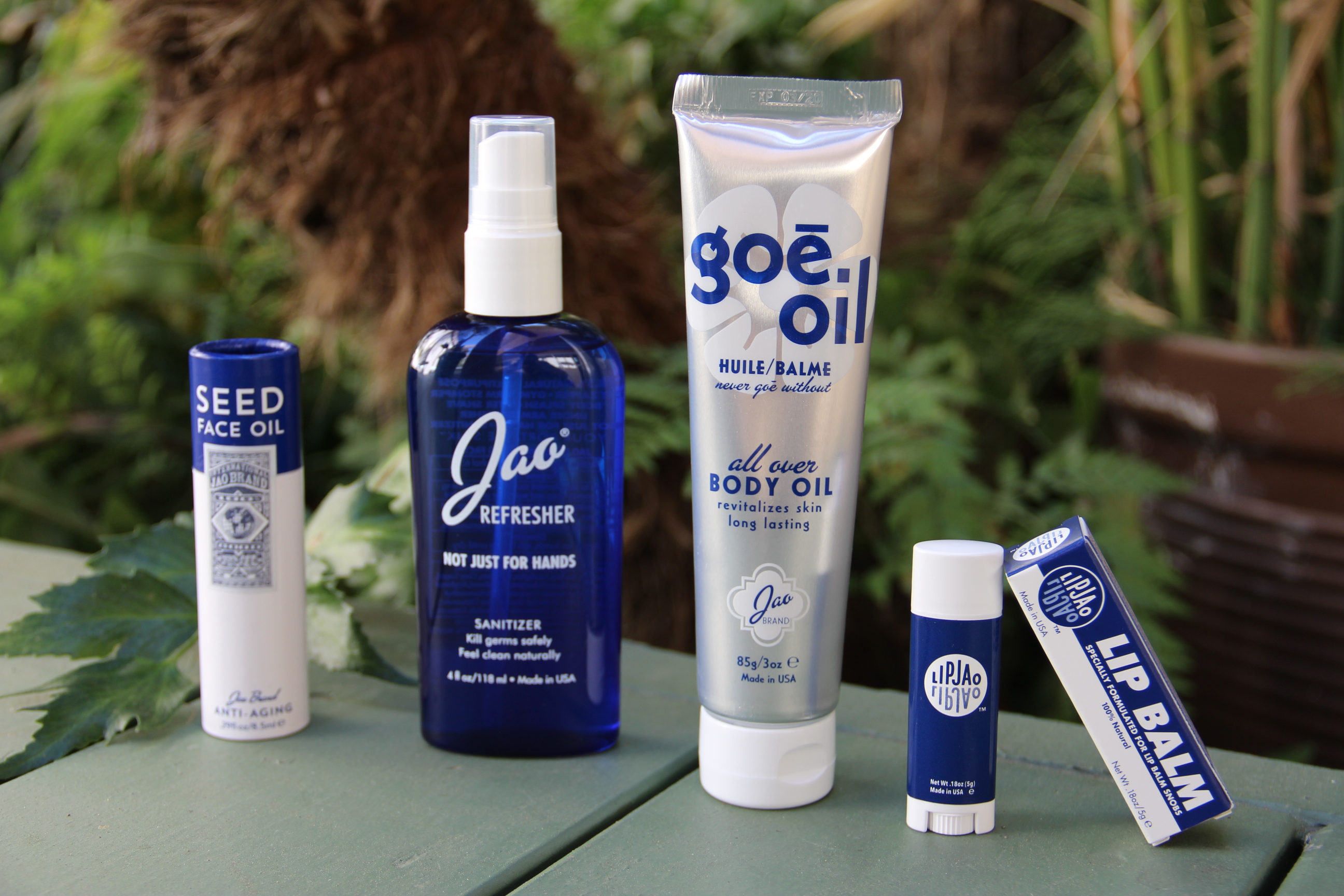 "Jao Ltd. is focused on healthy, multipurpose products. When one product does many things we buy less, and consume less. Our unisex products will become your talismans to keep you clean, soft, smooth, and herbally uplifted," Gale said.
Jao is a mystical word inscribed on a 2,000 year old charm believed to prevent and cure disease. With 14 products and growing, the Jao brand has many natural ingredients wonderful for the body.
Goē Oil (Garden of Eden): For Hands, Hair, Body and Soul
Goē Oil™ is a semisolid oil and can be used for the entire body. Goē Oil™ is 100% natural. It is the combination of 28 plants, fruit and flower oils and butters. Lightly scented with Monoi from Tahiti. Lighter than a typical body butter, longer-lasting than a moisturizer, It has a high percentage of Jojoba Oil which is technically a polyunsaturated liquid wax similar to Sebum.
Goē Oil™is unique and actually replaces the natural oils that we lose due to age, environmental stress and weather. Use after the shower and a small amount at a time. It will penetrate into the skin quickly. If it takes too long to be absorbed, you are using too much!
Price: 3 oz tube for $48.00
Not Just For Hands Sanitizer Jao Refresher™
We come in contact with germs all day long. Jao Refresher™ is an instant disinfectant and aromatherapy boost in one, which helps to kills germs and freshen the hands. It contains 65% Ethyl Alcohol (less drying) designed to safely kill germs with no Bacteriostats and a blend of antiseptic essential oils: Lavender, Tea Tree, Eucalyptus, Geranium and Sage. Combined with natural moisturizers, it will not dry out your hands.
Price: 2oz for $10.00. Also comes in 4 oz, 8oz
LipJao™
It contains 34% Shea Butter, Zinc Oxide and Meadowfoam Seed Oil for natural UVA/UVB protection.
The lip butter blend has been formulated with:
Rosehip Oil – known to treat dry, irritated, weathered skin
Jojoba – rich in Vitamin E
Pumpkin Seed Butter, revitalizes damaged skin while being rich in vitamins A,E,C.
Sea Buckthorn – high in Vitamin A which aids in healing
Propolis- which helps heal and soothe cracked skin
Natural light flavor with essential oils of grapefruit, anise, tea tree and palmarosa.
A must for all!
Price: $8.00
The Seed Face Oil
Made with 9 Seed Oils, it also includes Unisteron Y-50 (Wild Yam Root extract), a multi-active phytosterol complex to stimulate the vital functions of aging skin targeting fine lines. It is designed to Smooth, Plump and Hydrate. Use this powerful antioxidant as a skin conditioner to restore smooth and supple skin.
Price: $45.00