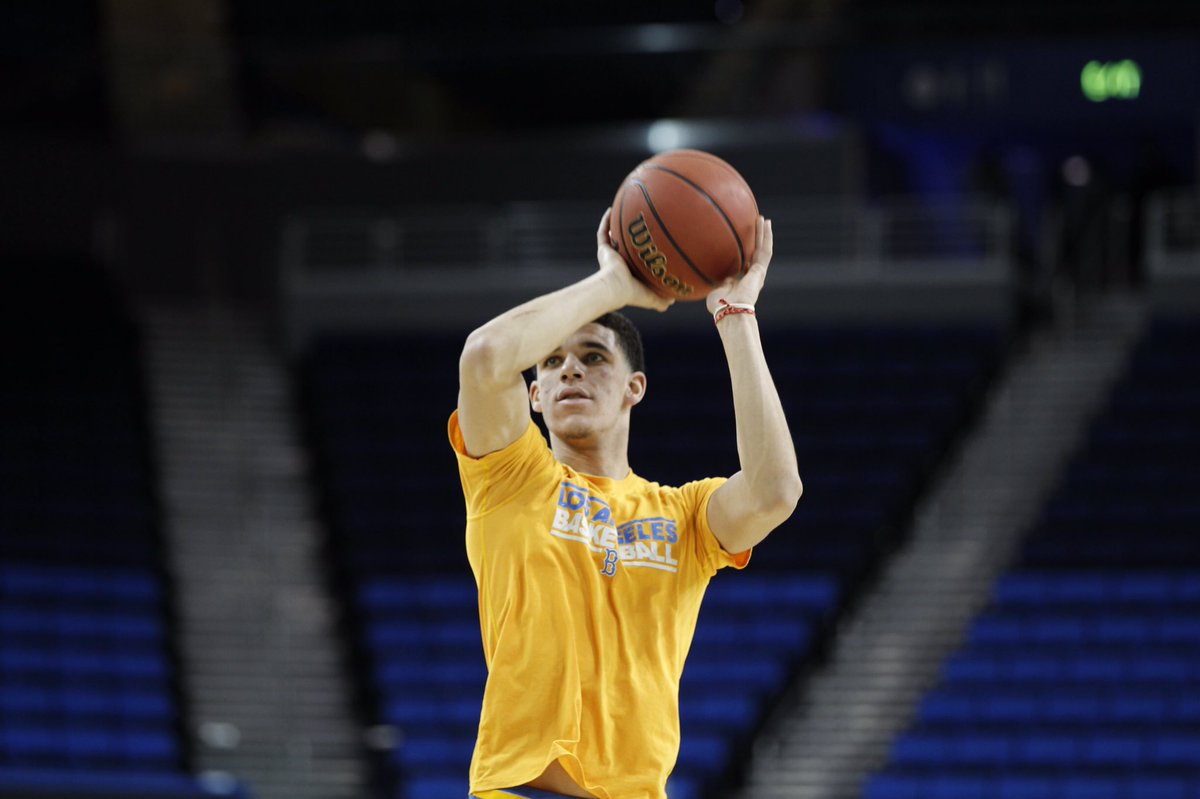 UCLA won big at home over the Washington Huskies Wednesday night, 98-66. Coming off their big road win over Arizona on Saturday, the number three ranked Bruins are rolling as they head into the Pac-12 tournament next week.
In his second to last home game, senior Bryce Alford caught fire early. His eight three-pointers and 29-points carried him past Toby Bailey (class of '98) for fifth on UCLA's all-time scoring list. Star-freshman Lonzo Ball filled the stat sheet with his 19-points, 8 assists, 7 rebounds and 4 steals. He made plays all-over the court, and his intuitive feel for the game was on full display. In one sequence, he soared for a lob pass over a defender, scaling above the rim before tapping it back to a wide open teammate for a dunk.
Entering the game at 2-14 in Pac-12 Conference play, Washington is a one-man team with no one to depend on other than their sensational freshman Markelle Fultz. When the Huskies play without Fultz, who was out against UCLA with a knee injury, they might as well not bother to show up. At least, that's how it felt watching Lorenzo Romar's unit sleepwalk at Pauly Pavilion.
Even when these two teams played with a healthy Fultz, the result was pretty much the same as Wednesday: a 41-point smack-down in the Emerald City. Ball was equally as brilliant in that game, scoring 22-points while in total control of the action, while Fultz had a quietly efficient 25-points. Unless Washington can make some noise in the upcoming Pac-12 tournament, a long-shot as the conference's second-lowest seed, that February 4th meeting was the final chance to watch these two prospects battle until they don an NBA uniform next fall.
With the seventh of his eight assists of the night, Ball passed Jason Kidd for second on the Pac-12 freshman assist list, and is two dimes from Gary Payton's all-time record. Wednesday's milestone felt symbolic with the amount of comparisons the UCLA guard has drawn to the former University of California stand-out, and deservedly so. With their defensive skills and omniscient court-vision, it's easy to see the similarities. NBA comparisons aren't usually fair to college players, but this one feels warranted.
Kidd struggled with his jump shot before reinventing himself as a pure point-guard during his tenure with the Dallas Mavericks. This is where the Ball-Kidd comparison slightly drifts; Ball is already an excellent shooter, connecting on 42.2% of his five attempts per game this season. Scouts have criticized his unorthodox release, which is fair; Ball, a right-hander, flicks the ball from the left side of his face and has a slight hitch during his shooting motion. This may lead to difficulties on pull-up jumpers driving right, but on a results driven basis, it hasn't held him back so far.
Why does form matter anyway? If the ball goes in, so what if it's not pretty? Critics of Ball who argue that his form is a cause for concern, are just grasping at straws to find any flaws in his game.
Aside from the critique of poor mechanics and a wirey frame; he will need to bulk up to survive at the next level. The other possible problem regarding Ball, involves his father, former NFL tight end LaVar Ball, and how he may unsuitably influence the UCLA guard moving forward. The eldest Ball can't go a week without drawing headlines in regards to his son; this includes comments that Lonzo is better than two-time NBA MVP Stephen Curry, and will only play for the Los Angeles Lakers, although he clarified the latter comment during another rant.
On Monday, LaVar Ball told ESPN's Morning Show that he's "not looking for no endorsement deal," and instead, his son's branding power deserves a total marketing and distribution deal, akin to Michael Jordan. "The only person doing that is Jordan with Nike. That's what we're for. If Lonzo doesn't sign with Adidas, Nike or Under Armour, guess what — I'll sign the Big Baller Brand. We already got our own brand. Triple Bs. Lonzo is going to be the first one drafted with his own brand. That don't happen." LaVar is a father, whom I'm sure means well, but sometimes the best intentions can cause more harm than good. He can take credit for bringing his son this far, but it would be wise to let someone with more experience and know-how take it from here.
Ball appears to be a sure-thing. He has NBA-ready skills, defensive instincts, range and size. As UCLA gears for an NCAA Tournament run, let's just enjoy the Lonzo Ball experience. He's truly a joy to watch.
UCLA finishes the regular season Wednesday against Washington State. Tip off is at 7:15 PST on ESPN.