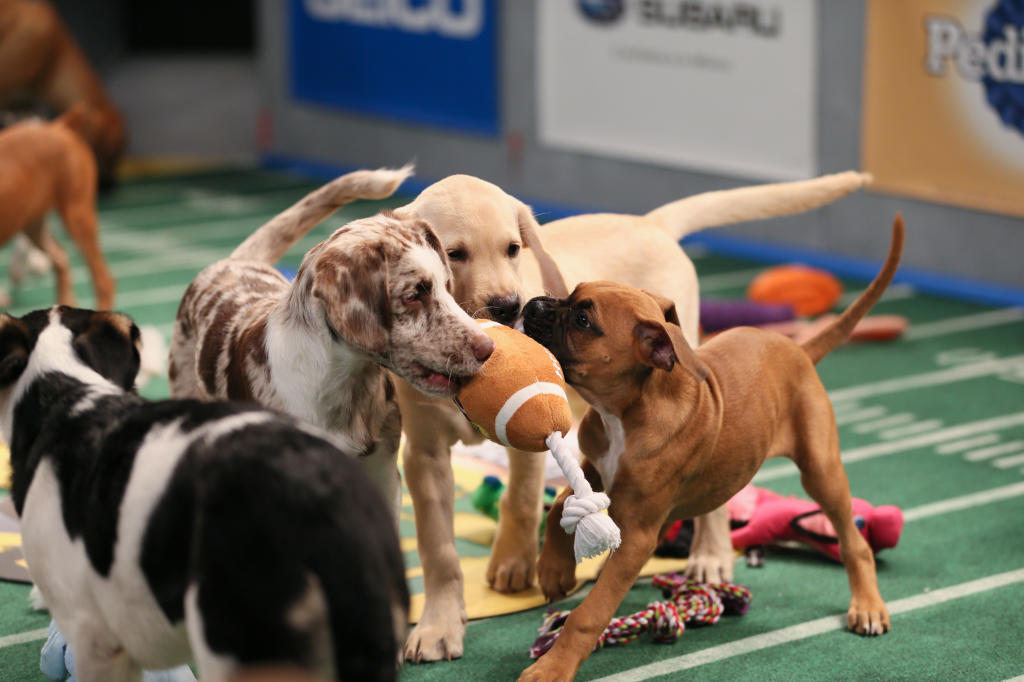 The cutest competition in sports history returns with an epic matchup between Team Ruff and Team Fluff's adoptable players who go nose to nose to win the inaugural Petco Lombarky trophy in PUPPY BOWL XIII at GEICO Stadium. But after the pup-tastic game of ear pulls and tail tugs is over, they all end up as winners when the puppies find their forever homes.
For the first time, Animal Planet's PUPPY BOWL XIII will air simultaneously on both coasts when it premieres Sunday, February 5 with three hours of fuzzy faces, sloppy kisses and puppy penalties.
"Tail"gating starts at 2:00 PM ET/11:00 AM PT with the PUPPY BOWL PRE-GAME SHOW, featuring aww-nalysis and cuddly commentary from sports correspondents including the infamous Rodt Weiler. At 3:00 p.m. ET/12:00 p.m. PT, PUPPY BOWL XIII kicks off at GEICO Stadium with a special appearance by the furriest weather forecaster in the world – Mr. Punxsutawney Phil. The famous groundhog and two of his inner circle officiate the coin toss to start the game.
PUPPY BOWL XIII repeats all day and night for a total of 10 hours on game day. There will be a special one-hour premiere of the new series ANIMAL NATION WITH ANTHONY ANDERSON directly after the premiere of PUPPY BOWL at 5:00 p.m. ET/2:00 PM PT.
This year's PEDIGREE® Starting Lineup boasts 39 puppies who are also competing for the individual BISSELL® MVP (Most Valuable Puppy) by scoring the most touchdowns with dog-approved toys by Petco. For the sixth year in a row, America's favorite "Rufferee," Dan Schachner, returns to call the puppy penalties, furry fumbles and terrier touchdowns. Award-winning animal advocate and television correspondent Jill Rappaport introduces the Subaru Pup Close and Personal segments that highlight some of the heartwarming stories of the adorable athletes.
For PUPPY BOWL XIII, Animal Planet worked with 34 different animal shelters and rescue organizations from across 22 states to fill the rosters of #TeamRuff and #TeamFluff with 78 adoptable players for this puppy pile up. With the help of DNA testing conducted by Embark, these four-legged athletes go beyond fur deep to find out what they are really made of and use it to their advantage. This year, the Bowl also features three pups with special needs – Doobert (deaf), Lucky (three-legged) and Winston (hearing and sight impaired) – who won't let their disability stop them from trying to score the winning touchdown and a loving home. One special player is drafted to play in PUPPY BOWL XIII by celebrity dog Chunk Handler. Plus, viewers will get to see the canines conduct their pre-game rituals when the cameras are allowed in the locker room.
While the puppies break for a cat nap, the ARM & HAMMER™ Clump & Seal™ KITTY HALF-TIME SHOW gets underway with a performance by the feline musical group Chicago Rock Cats with Kitty Gaga singing "Puparazzi" to her little monsters of adoptable rescue kittens.
Its cuteness overload this year when the teams add rescue mascots to their cheering section. Team Ruff gains the watchful eye of Orlando the Screech Owl and Team Fluff recruits Muffin the Chinchilla who adds another layer of fluff. Getting the fans excited on the sidelines are rescue rabbits and guinea pig cheerleaders who hop into action.
"Meep the Bird" gets a makeover and returns as a rescue African Gray Parrot. Meep will talk sports with GEICO The Gecko and live tweet updates throughout the big game. Fans can follow @MeepTheBird to catch the latest news, puppy drama, and locker room moments from inside the stadium. Plus, PUPPY BOWL fans get a glimpse of celebrity dogs Chloe the Mini Frenchie, Chloe Kardoggian, Ella Bean, Marnie the Dog, Manny the Frenchie, Mervin the Chihuahua, Sometimes Carl and Toast Meets World with her siblings Muppets Revenge and Underpants the Dog who are watching the biggest game of the year from the stands.
As always, fans will witness PUPPY BOWL's iconic water bowl cam, slow-motion playback cam and fan-favorite Dairy Queen® kiss cam. Viewers won't miss a minute of excitement with aerial shots of the field from the SHEBA® Sky Box, and Surge the Hamster is back on his wheel powering the PUPPY BOWL scoreboard.