Get your dinner reservation, stock up on that Champagne.. it's time to ring in 2018! Here are some top destinations in and around Los Angeles for your New Year's celebration!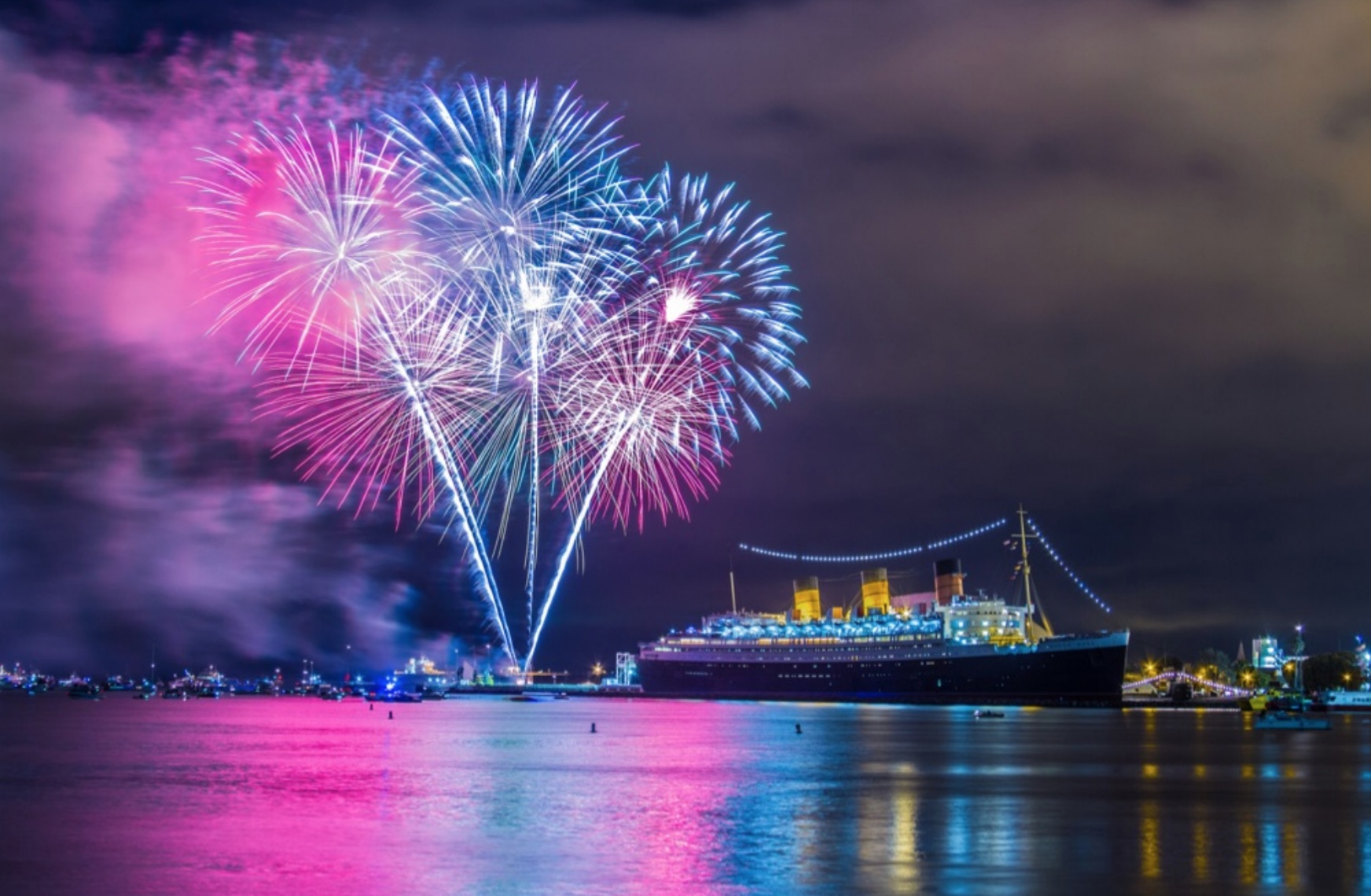 QUEEN MARY
Toast to 2018 aboard the majestic Queen Mary and ring in the New Year with a night of captivating live entertainment, delicious food, and spectacular drinks culminating with one of SoCal's top New Year's Eve fireworks display on Sunday, December 31, 2017. Travel throughout the ship's decks, ballrooms, and salons for one night of multiple celebrations including a live performance by well-known 90's artist, Sir Mix-A-Lot.
Dubbed Southern California's top fireworks display, the 15-minute-long fireworks show paints the night sky with exhilarating colors in-sync to New Year Eve themed music off the stern of the Queen Mary.
NEW YEAR'S EVE ENTERTAINMENT:
Grand Salon

Sip champagne and sing along to exciting Los Chicos Del 512 Selena Tribute Band with live performances at 9 p.m. and 11 p.m.

Windsor Salon

Delight in the New Year's Eve Buffet – Regional Cuisine of Mexico. Walk up only and seating starts at 8 p.m.

Capstan Deck (Champagne Suites)

Upgrade your night with private Champagne Suites including a private lounge, private bar, personal server, upgraded party favors, Hors d'oeuvre & Cheese Platter, (2) Bottles of Champagne OR (1) One Liter Bottle of Vodka wit mixers, (10) VIP tickets, private escort to Champagne Deck by the captain and exclusive firework viewing.

Royal Salon

Dust off your boots and pull up a bar stool for country line dancing and country music. Live performances from Daniel Bonte and the Bona Fide at 8:30 p.m., 9:45 p.m., and 11 p.m. DJ Coral Rodriguez will spin top country hits at 8 p.m., 9:15 p.m., 10:30 p.m., and 11:45 p.m.

Promenade Deck

Channel your inner George Clooney from Ocean's Eleven and lounge at the Promenade Deck while playing popular casino games for prizes and sipping on your favorite classic cocktail.

Sports Deck

Spin and dance onto the Sports Deck into New Year's Eve vibes with top Reggaeton hits from 96.3's top DJ HIFE.

The Tea Room

Sip on your favorite cocktails and enjoy live a jazz band in the Queen Mary's infamous Tea Room.

The Bow

Lights and music presents this turn-of-the-millennium-themed dance party with black lights, LED furniture and top EDM hits by DJ Kurr from 7 p.m. to 1 a.m.

Queens Salon

Dance into 2018 in the Queen's Salon and live top 40 hits from well-known DJ CUTT with a celebratory balloon drop at 12 a.m.

Mauretania

Let loose and set sail into the Speakeasy themed party with the Stargazer Quintet, classic cocktails and beautiful art deco décor.

Verandah Grill and Deck Gazebo (VIP only)

Celebrate 2017 with popular 90's artist Sir mix-a-lot performing live at 11 p.m. and dance to today's top hits with well-known DJ Carisma from 7 p.m. – 1 a.m. and fireworks at 12 a.m.

Britannia Salon (VIP only)

Dueling Pianos will take over the Britannia Salon at 8:30 p.m., 10 p.m., 11:30 p.m., and 12:30 a.m. Enjoy cocktail bites till 11 p.m. VIP firework viewing will start at 12 a.m.
WHEN:
December 31, 2017 8pm – 1am
VIP early entry at 7 p.m.
TICKETS (21+ only):
GA tickets $119 – includes admission, fireworks, and access to select parties.
VIP tickets $199 – includes early entry at 7 p.m., premium firework viewing, (2) drink tickets, access to all parties and premium firework viewing.
To reserve a Champagne Suite, for more information, pricing, hotel packages and more, visit http://queenmary.com or call 877-342- 0742.
N.Y.E. L.A. at Grand Park
Grand Park, 200 North Grand Avenue
Tickets: Free
The W Hotel Hollywood
6250 Hollywood Blvd
Los Angeles, CA 90028
(323) 798-1300
www.whollywoodhotel.com
New Year's Eve in Downtown Long Beach
Waterfront Amphitheater
300 S. Pine Ave.
Long Beach, CA 90802
(562) 436-4259
www.downtownlongbeach.org
Official Hollywood NYE Block Party
Ivar Ave. & Hollywood Boulevard
Los Angeles, CA 90028
Click here
Click here for info on Universal CityWalk's NYE outdoor concerts