Put 'Diners, Dives and Drive-Ins' on pause… Guy Fieri has a new show; inviting some of his chef-friends over for Sunday cook-offs on Guy's Ranch Kitchen beginning on Sunday, November 12th at 12pm ET/PT.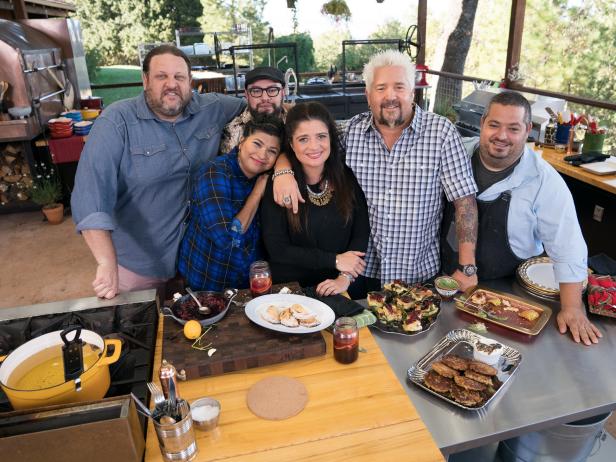 Each week, Guy and a few of his best chef pals, who happen to also be among the country's best chefs, such as: Scott Conant,Rocco DiSpirito, Eric Greenspan,Alex Guarnaschelli, Marc Murphy, and Jonathan Waxman, come together for a Sunday meal. With "too many cooks in the kitchen," friendly competition sparks as they try to outdo each other with the most flavorful and delicious dishes. Whether it is an Asian-fusion meatloaf, sweet and savory ricotta lemon pancakes, or a healthy spin on eggplant parmigiana, these chefs add their own flair to recipes prepared in Guy's Ranch Kitchen, that can be recreated in anyone's kitchen at home!
On the premiere episode, Guy hosts a delicious Friendsgiving to celebrate Thanksgiving. For this festive feast each guest is in charge of preparing a delicious dish. Alex Guarnaschelli makes cheese the star with a mouthwatering, melty-hot brie sandwich with a tangy cranberry vinaigrette and Eric Greenspan reinvents a traditional holiday dish with his crispy sweet potato latkes and marshmallow crème fraiche. Aarti Sequeira prepares samosas, an Indian food favorite, stuffed with the flavors of Thanksgiving, while Carl Ruiz takes a Latin approach to his dish filling empanada pastries with cranberry and turkey. It's not a celebration without libations and dessert, so Aaron May pours a Portuguese-style sangria with cranberry and cinnamon to go with delicious handheld pumpkin and pecan pies. Whether it is a retro recipe reboot, or healthy comfort food, or meals for a family-style gameday, each of the eight half-hour long episodes are filled with tasty dishes, friendly competition and lots of laughs.
Fans can head to FoodNetwork.com/GuysRanchKitchen to browse behind-the-scenes photos of your favorite chefs, watch video extras and get the recipes. Tell us which dishes are your favorite using #GuysRanchKitchen.