Multi-Platinum selling and Academy of Country Music "Male Vocalist of the Year" Thomas Rhett took the stage this week at AT&T Stadium.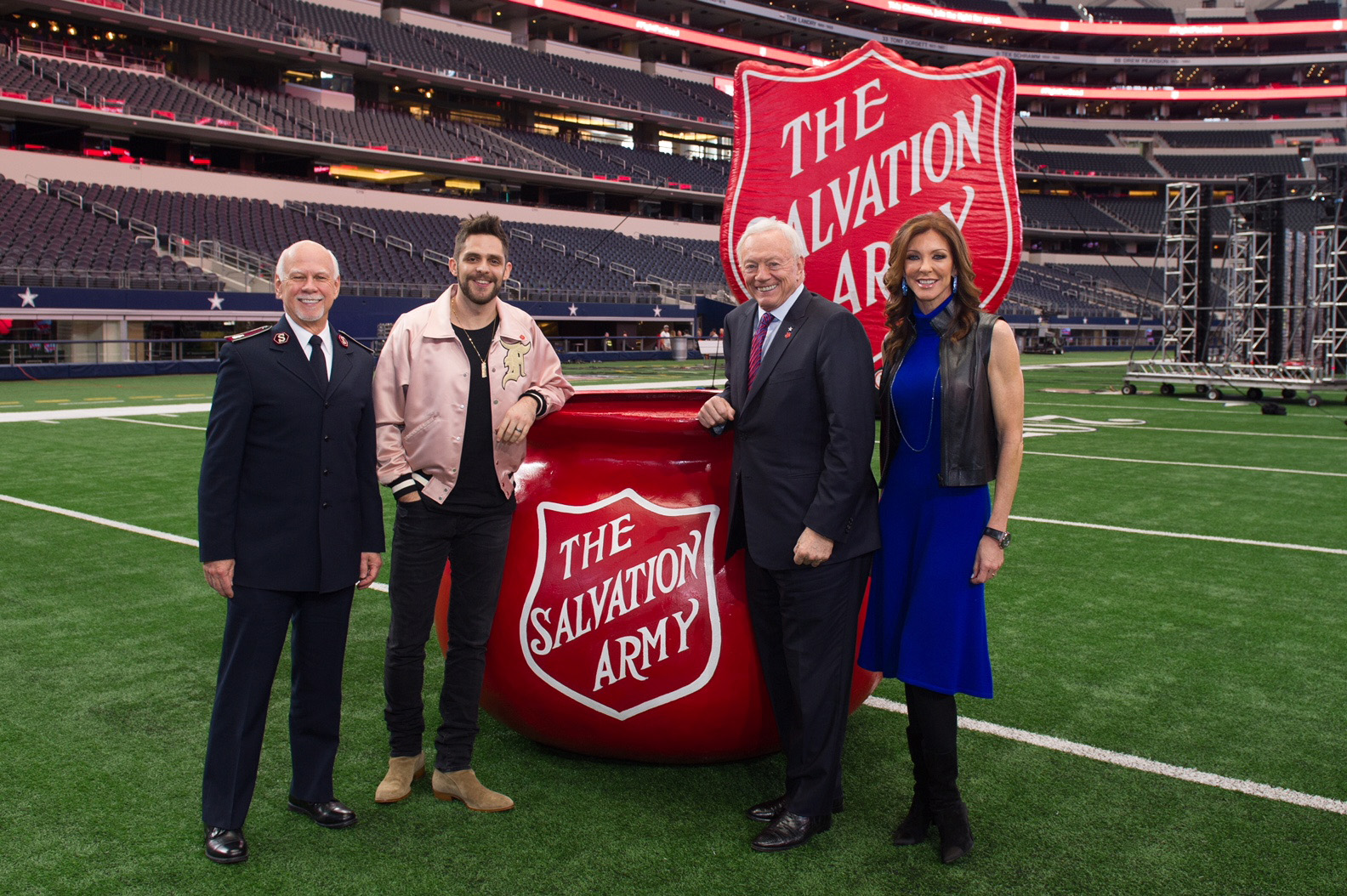 He kicked off The Salvation Army's 127th annual Red Kettle Campaign with a LIVE, nationally televised halftime performance during the Dallas Cowboys Thanksgiving Day game against the Los Angeles Chargers, to air on CBS.
"It's really cool to be part of this Thanksgiving tradition that's also been part of my family for as long as I can remember," said Thomas Rhett. "And this year will be really special because they're here with me for the game."
The iconic campaign officially begins with Thomas Rhett's LIVE halftime performance and the inaugural Red Kettle donation from the Gene and Jerry Jones family, owners of the Dallas Cowboys. Since teaming up in 1997, The Salvation Army and the Dallas Cowboys have collaborated to raise nearly $2.2 billion for the Red Kettle Campaign, which provides America's most vulnerable with food, shelter and other support throughout the year.
Thomas Rhett will join a star-studded list of past performers: Eric Church, Luke Bryan, Selena Gomez, Kenny Chesney, Enrique Iglesias, Keith Urban, Daughtry, Jonas Brothers, Kelly Clarkson, Carrie Underwood, Sheryl Crow, Destiny's Child, Toby Keith, LeAnn Rimes, Creed, Jessica Simpson, Billy Gilman, Clint Black, Randy Travis and Reba McEntire.
Red Kettle Kickoff is just the beginning of an exciting holiday season for The Salvation Army. This year, The Salvation Army has issued a call for action as the holiday season approaches. As one of the largest nonprofit organizations in the country – with a presence in every ZIP code and a structure akin to the military – The Salvation Army is asking supporters to join the Fight for Good, the official theme of the 2017 Red Kettle Campaign.
Joining the Fight for Good
Join the Fight for Good in four easy steps:
Visit redkettlereason.org.
Click "Join the Fight" or scroll to the bottom of the page and join one of our notable citizen soldiers' fundraisers.
Specify the community, fundraising goal and designated cause to support, or simply make a general donation to The Salvation Army.
Encourage friends and family to donate or start their own fundraising pages.