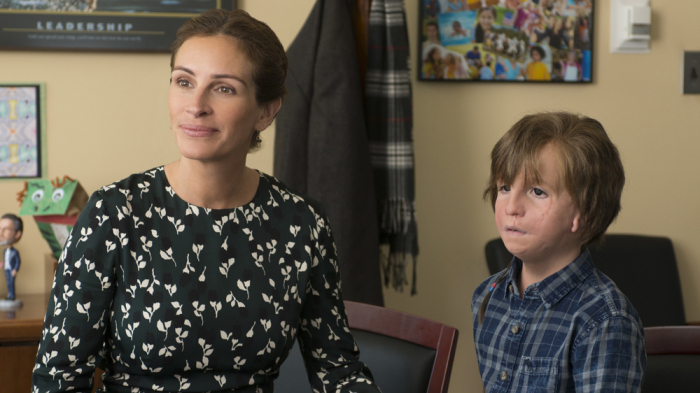 A homeschooled ten year-old boy with facial differences struggles to fit in when he's entered into the local fifth grade in "Wonder," a sometimes touching, sometimes schmaltzy coming-of-age drama starring Jacob Tremblay, Julia Roberts and Owen Wilson.
Based on R.J. Palacio's best-selling children's novel, for the most part, this big screen adaptation from director Stephen Chbosky ("The Perks of Being a Wallflower") is an affecting family film that celebrates the outsider while also exploring the concept of compassion in an agreeable and not overly didactic manner. Although the script by Chbosky, Steve Conrad and Jack Thorne, which is split into chapters representing different characters in the film, does occasionally veer off into overly sentimental territory, and also hits some noticeably familiar beats in its depiction of childhood growing pains, it still tells a heartwarming tale that comes together in crowd-pleasing fashion. Featuring poignant performances from the wise-beyond-their-years child actors, none more so than Jacob Tremblay ("Room"), and sturdy supporting turns from Julia Roberts and Owen Wilson this syrupy but sweet and spirit boosting fall release should play well to the family-friendly demographic.
In the film, Tremblay plays Auggie Pullman, a gifted ten year-old born with "craniofacial differences" that have required numerous surgeries and prevented him from participating in society like a normal child. Homeschooled by his loving parents Isabel and Nate (Julia Roberts and Owen Wilson), and supported by his protective but neglected sister Via (Izabela Vidovic), Auggie is forced to finally put down the astronaut helmet he wears to mask his deformity and face his fellow students when he is enrolled in fifth grade at Beecher Prep.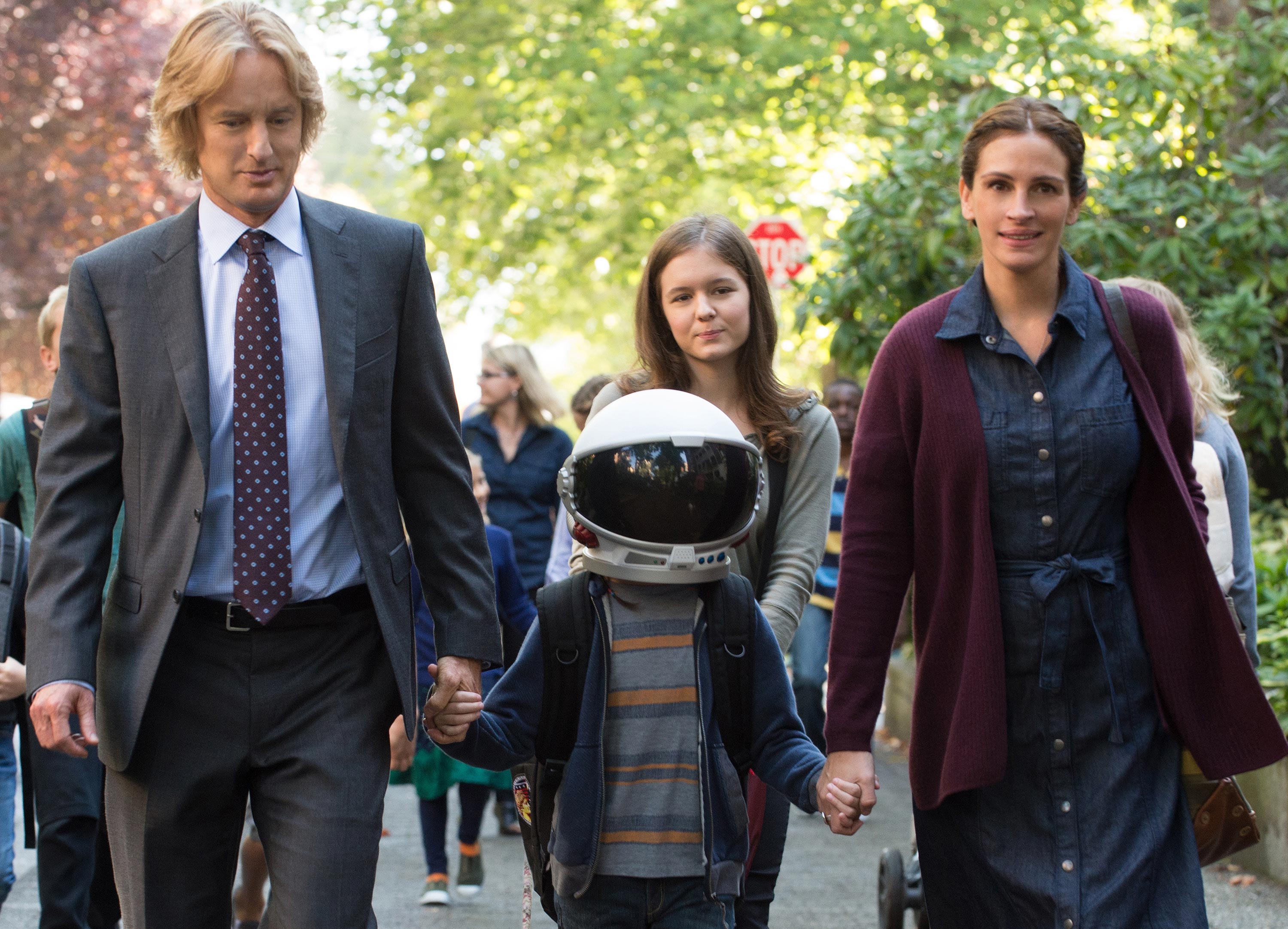 As one might expect, not every fifth grader in Auggie's class is willing to accept him with his differences, which leads to many tearful trips home from school and many more declarations that he'll never return. Meanwhile, Auggie's sister is similarly struggling in her private life – in her case, over the fallout between her and her best friend, who returned from summer camp and wanted nothing to do with her. As the siblings struggle with their respective growing pains, the characters causing some of their heartache soon learn that kindness and compassion can help them become the best versions of themselves.
Director Stephen Chbosky is no stranger to coming-of-age stories ("The Perks of Being a Wallflower"), and that background serves him well in deciding which elements of this very particular youthful tale to underscore in order to earn maximum dramatic depth. And while the screenplay by Chbosky, Steve Conrad and Jack Thorne runs the risk of coming across as cloying, and occasionally does exactly that, more often than not, the film's genuinely touching moments outweigh any scenes that could be categorized as corny.
The script also does an admirable job in injecting some levity into the proceedings with some well-earned moments of humor, most of which come courtesy of Jacob Tremblay's inspired portrayal of Auggie. Anyone who has seen Tremblay in "Room" is aware not only of his charisma but also his emotional maturity as a performer, and those qualities serve him well in his layered lead performance in "Wonder." As Auggie's strong but sorrowful sister Via, actress Izabela Vudovic displays some serious range of her own, while youngsters Noah Jupe leaves a lasting impressions as Auggie's first true friend. As for the A-list actors, Julia Roberts sufficiently steers some of the more dramatically intense moments, while Owen Wilson projects tenderness and humor as Auggie's dad.
A family-friendly film that earns laughs and tears in equal measure, "Wonder" invites audiences to celebrate our differences instead of ridiculing them.
By Lucas Mirabella
Running Time: 113 minutes
Rated PG for thematic elements including bullying, and some mild language.