GuitarTown Kids, a celebrity art guitar auction event launched on CharityBuzz.com is giving back in a big way.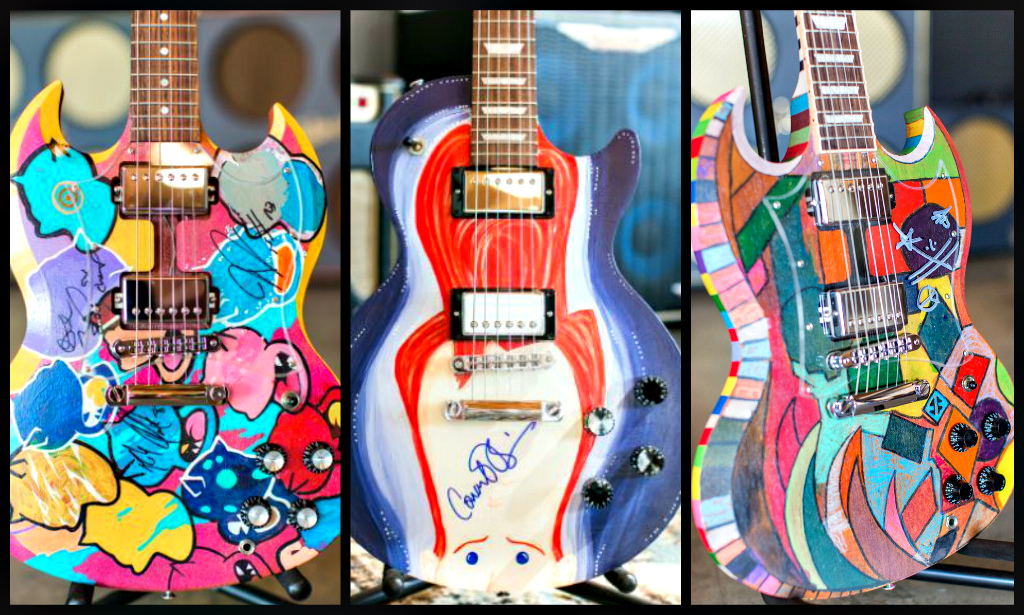 The auction will benefit the T.J. Martell Foundation's pediatric cancer research at Children's Hospital Los Angeles. The foundation is the music industry's leading foundation which helps to fund innovative medical research focused on finding treatments and cures for cancer. Celebrities from television, music and sports have all put their own twist on a series of one-of-a-kind painted Gibson guitars – all designed and painted by local artists whom have interpreted various ideas on to the guitar.
Among the many celebrities who have supported the foundation include Singer/Songwriter and actress Selena Gomez, all of the coaches from the hit show "The Voice" including Blake Shelton, Jennifer Hudson, Miley Cyrus and Adam Levin, Latenight host Jimmy Kimmel and Conan O'Brien, Country music superstar Brett Eldredge, New England Patriot's Rob Gronkowski, One Direction's Louis Tomlinson, All American Rejects, Temecula Road, Tegan Marie, The Revivalists, Shawn Hook, Grace VanderWaal, Jake Paul, Sky Katz, Isaac Brown, Navia Robinson, Jason Maybaum, China Anne McClain, Ricky Garcia, Lain Attridge, Emery Kelly, R5, James Arthur, Charlie Put, Los Angeles Laker Julius Randle and American Professional Boxer Andre Ward.
Each guitar includes its own unique artwork and is signed by the artist.
To bid on the guitars go to https://www.charitybuzz.com/support/guitartownkids. Details about each guitar and photos are listed on the auction site. The Gibson Foundation has partnered with the T.J. Martell Foundation on the art project which brings celebrity families together to design and paint regular size guitars with a focus on kids helping kids fight cancer. Over 30 Gibson guitars are available in this VIP auction.
For more information follow: www.facebook.com/tjmartellfoundation, www.twitter.com/tjmartell, www.pinterest.com/tjmartellfndn, and www.instagram.com/tjmartellfoundation.