The NBA Champion Golden State Warriors received their 2016-17 NBA Championship rings during a special pre-game ceremony, October 17th.
Warriors Owners Joe Lacob and Peter Guber selected Jason of Beverly Hills, who also designed their 2015 ring, to design and manufacture the Golden State Warriors 2017 NBA Championship ring.
The total carat weight of the player's rings is 11 carats of diamonds and blue sapphires, which is more than any other championship ring across all four major sports.
"Jason of Beverly Hills continues to set the bar higher and higher when it comes to championship rings," said Warriors' Assistant General Manager Kirk Lacob. "We tasked them with producing a ring that captured the essence of our record-setting season while also acknowledging our tremendous history as an organization. The results were spectacular for the second time in three years."
In line with their 2015 NBA Championship, the main focus of the Championship ring is the Golden State Warriors logo, with the circular top as a nod to the shape of the Warriors jersey logo. The 2017 ring is predominantly 14kt yellow gold, or "Warriors" gold, to incorporate more of the team's colors into the ring.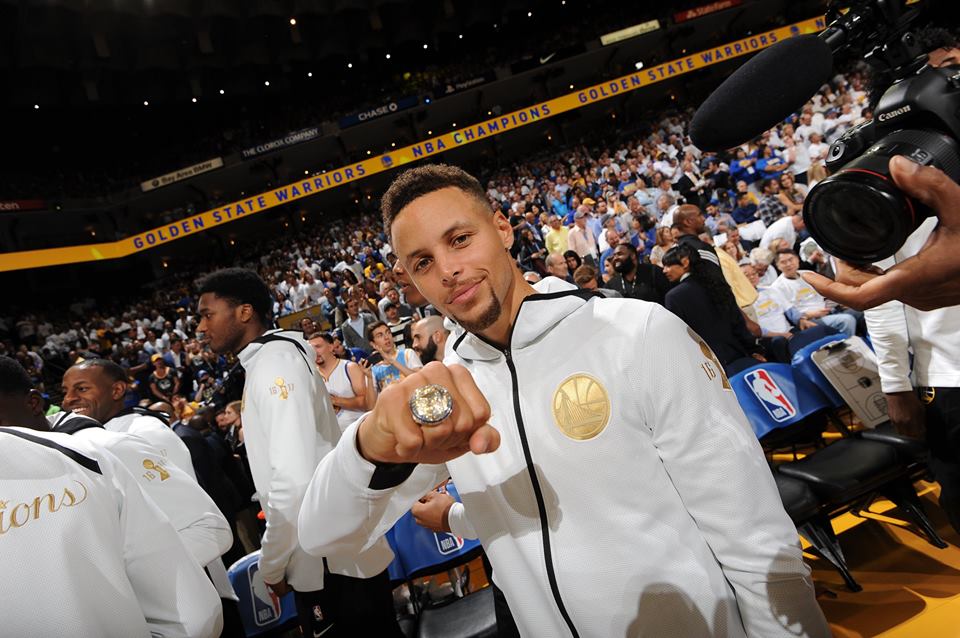 facebook.com/warriors
Per the Warriors request, there are a few hidden details that really capture the Warriors journey in this year's Championship ring. Aside from just incorporating more Warriors blue into the ring this year, the 36 princess blue sapphires represent the at home wins during the regular season. The 31 laser cut white trapezoid diamonds stand for the road wins during the regular season. There are 83 pave stones on the top of the ring to represent the total season wins, regular and playoff combined. The 2017 playoff records and the finals record are noted on the sides of the ring and the five trophies featured represent all the championships won in the Warriors franchise history (2017, 2015, 1975, 1956, 1947).
Under the ring there are either one or two trophies, depending on if the player was with the Warriors in 2015, that will leave an imprint on the player's finger.
This is the fourth NBA Championship ring the brand has designed and manufactured in nine years (2009, 2010, 2015).