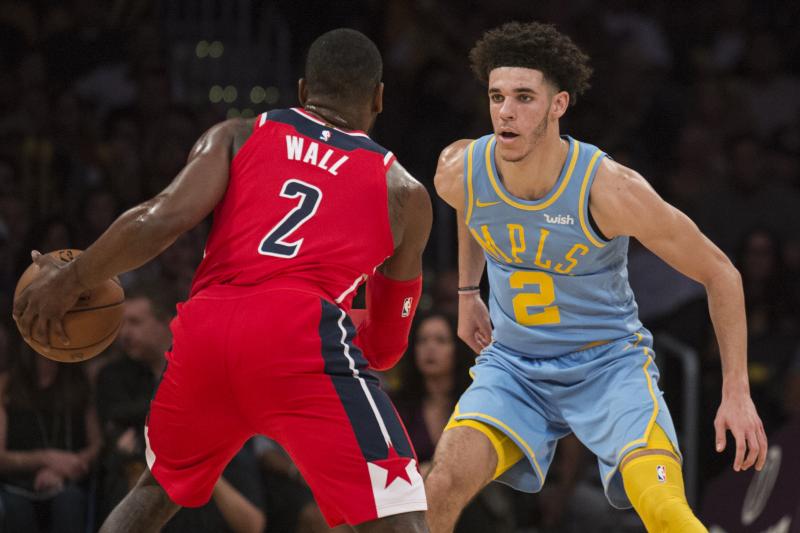 After some back-and-forth on social media recently, Marcin Gortat said that Wall would "torture" Lonzo Ball. Lonzo's always outspoken father LaVar promised a Lakers win. "Washington coming in here Wednesday? They better beware," LaVar Ball said. "Because Lonzo ain't losing again! Not in the same week!" Like it or not, the "loudmouth" was right.
The Lakers came from behind to beat the Washington Wizards 102-99 in overtime Wednesday night at Staples Center. Although Ball didn't have a great game (2-of-11 shooting for six points), he helped his team with 8 rebounds and 10 assists. John Wall had 18 points and nine assists, but he had just one basket in the fourth quarter and overtime. The matchup between Wall and Ball was mainly a dud. Neither player had a memorable game.
The Lakers managed to hang around, thanks mostly to Larry Nance and Brandon Ingram putting together solid efforts. Nance recorded his second double-double of the season with 18 points and 10 rebounds. Ingram had a team-high 19 and added 10 boards as well. Ingram has now scored in double figures in three of the Lakers' first four games. Kyle Kuzma (15 points), Kentavious Caldwell-Pope (14) and Julius Randle (11) were all in double figures too. The Lakers play host to the Toronto Raptors on Friday.