It's time to start thinking about filling up those candy bowls and collecting the top sweet treats for your Halloween parties!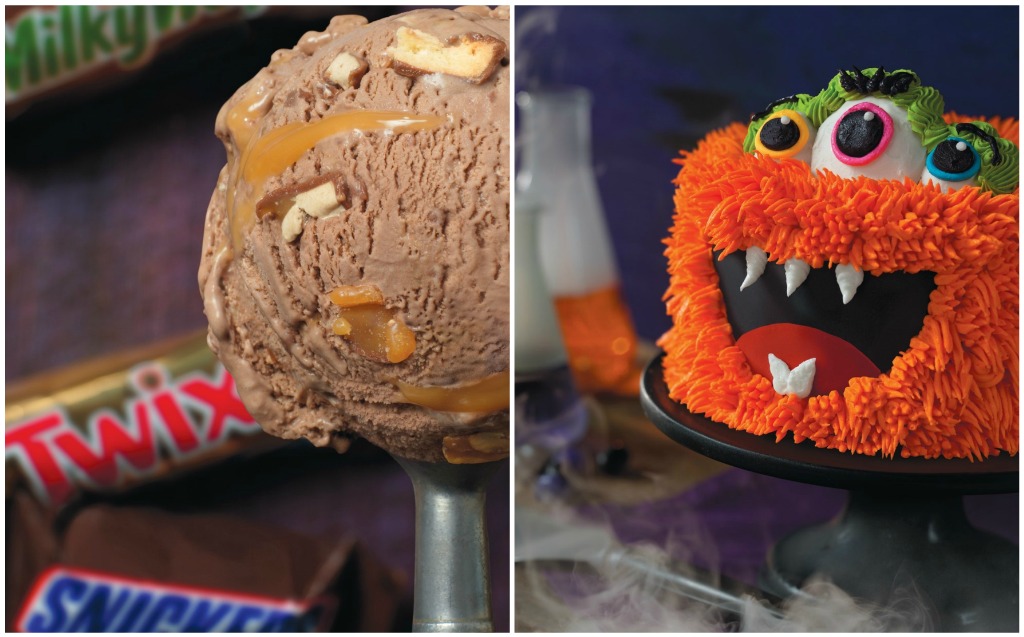 Baskin-Robbins is bringing hauntingly delicious desserts to its shops nationwide this Halloween season, including the new Fang-Tastic Monster Cake. Additionally, Baskin-Robbins is offering a range of frighteningly good deals over the course of October, including a small Cappuccino Blast® for $2.99 all month long.
"Spooktacular" Treats
The newest addition to Baskin-Robbins' ice cream cakes lineup, the Fang-Tastic Monster Cake, is a friendly and fuzzy monster cake that can be customized with a guest's favorite ice cream and cake flavors. Guests are also invited to try Baskin-Robbins' new Trick or Treat Polar Pizza® Ice Cream Treat, which features Made with SNICKERS® ice cream piled high with classic Halloween candies. Both treats can be pre-ordered for Halloween parties either in-store or online at www.baskinrobbins.com/onlineordering.
Baskin-Robbins is also getting into the Halloween spirit with its October Flavor of the Month, Candy Bar Mashup. This flavor features a monster mashup of SNICKERS®, MILKY WAY® and TWIX® bar pieces in chocolate ice cream with a caramel ribbon swirled throughout. Candy Bar Mashup can be enjoyed in a cup, cone or with candy toppings.
Finally, Baskin-Robbins is launching a new and improved Milkshake this month that's creamier and more delicious than ever. Guests can enjoy any Baskin-Robbins ice cream flavor in their Milkshake, including classic favorite World Class® Chocolate, which features rich white chocolate-flavored mousse ice cream swirled with milk chocolate-flavored mousse ice cream.
Frighteningly Good Deals
Throughout the month of October, Baskin-Robbins will be offering guests several frighteningly good deals, including a small Cappuccino Blast for $2.99 all month long. This delicious frozen coffee beverage is made with 100% Arabica coffee and ice cream blended together and topped with whipped cream and cinnamon. It can also be enjoyed with any Baskin-Robbins flavor, including seasonal favorites like Pumpkin Pie.
Starting this month, guests can also enjoy ice cream cakes starting at $12.99. Ice cream cake varieties starting at $12.99 include the ½ roll Celebration Party Cake, which is a festive cake featuring colorful streamers, and the ½ roll Rosette Cake, which is an elegant cake enrobed with either pink or blue rosettes. These two cakes serve 2-4 people and are perfect for everyday occasions.
Finally, guests can make Halloween even more "fang-tastic" by stopping into Baskin-Robbins to enjoy its October "Celebrate 31" promotion. On October 31 at participating restaurants nationwide, guests can enjoy any regular or kids-sized scoop of ice cream for $1.50.* This promotion can be enjoyed on any Baskin-Robbins ice cream flavor.