The Santa Barbara International Film Festival announced today that Academy Award® winner Dame Judi Dench will be honored with the twelfth annual Kirk Douglas Award for Excellence in Film.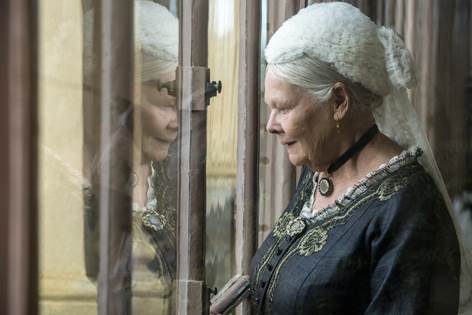 The award will be presented at a black-tie gala dinner at Bacara Resort & Spa on Thursday, November 30, 2017. Perhaps best known for her iconic roles in SHAKESPEARE IN LOVE, PHILOMENA, NOTES ON A SCANDAL and SKYFALL, Dench will next be seen as Queen Victoria in Stephen Frears' VICTORIA & ABDUL, in theaters on September 22, 2017.
Victoria & Abdul tells the extraordinary true story of the amazing and unlikely friendship between Queen Victoria (Judi Dench) and a young clerk, Abdul Karim (Ali Fazal), who becomes her teacher, her spiritual advisor, and her devoted friend.
In 1887, Abdul travels from India to present a ceremonial medal as part of the Queen's Golden Jubilee but surprisingly finds favor with the elderly Queen. The unprecedented and unlikely relationship causes a battle royale within the royal household, pitting the Queen against court and family. Victoria & Abdul humorously explores questions of race, religion, power, and the farce of Empire through the prism of a highly unusual and deeply moving friendship.
The screenplay of Victoria & Abdul is by Academy Award nominee Lee Hall (Billy Elliot), based on journalist Shrabani Basu's book Victoria & Abdul: The True Story of the Queen's Closest Confidant, which brought to light the long-hidden history of Victoria and Abdul from their own diaries and journals.
Since 2006, the annual Kirk Douglas Award for Excellence in Film has been awarded to a lifelong contributor to cinema through their work in front of the camera, behind, or both. Past honorees include Warren Beatty, Jane Fonda, Jessica Lange, Forest Whitaker, Robert DeNiro, Michael Douglas, Harrison Ford, Quentin Tarantino, Ed Harris, and John Travolta.
"I am especially delighted to learn that Dame Judi Dench will accept the award that bears my name. She is a consummate artist of stage and screen who is a particular favorite of mine," says Kirk Douglas, original award recipient. "I wish I could have had the joy of working with her, but I am happy for the pleasure of seeing my name coupled with hers in support of the Santa Barbara Film Festival."
The 33rd annual Santa Barbara International Film Festival will take place from Wednesday, January 31st through Saturday, February 10th.