Timothy White
Hollywood Beauty Awards' 2017 Photography Honoree Timothy White is constantly bringing the Morrison Hotel Gallery to life with refreshing new exhibits at The Sunset Marquis Hotel.
On Thursday night, the hotel and gallery was popping and grooving with vibrant colors, a light show and artwork for The Psychedelic Experience with White and Grace Slick.
The legendary photographer gallery co-owner and the hotel's cultural curator, and Slick, lead singer of Jefferson Airplane and Jefferson Starship, painter, and provocateur, wanted guests to experience an era that transformed music, art, photography, literature, fashion and minds.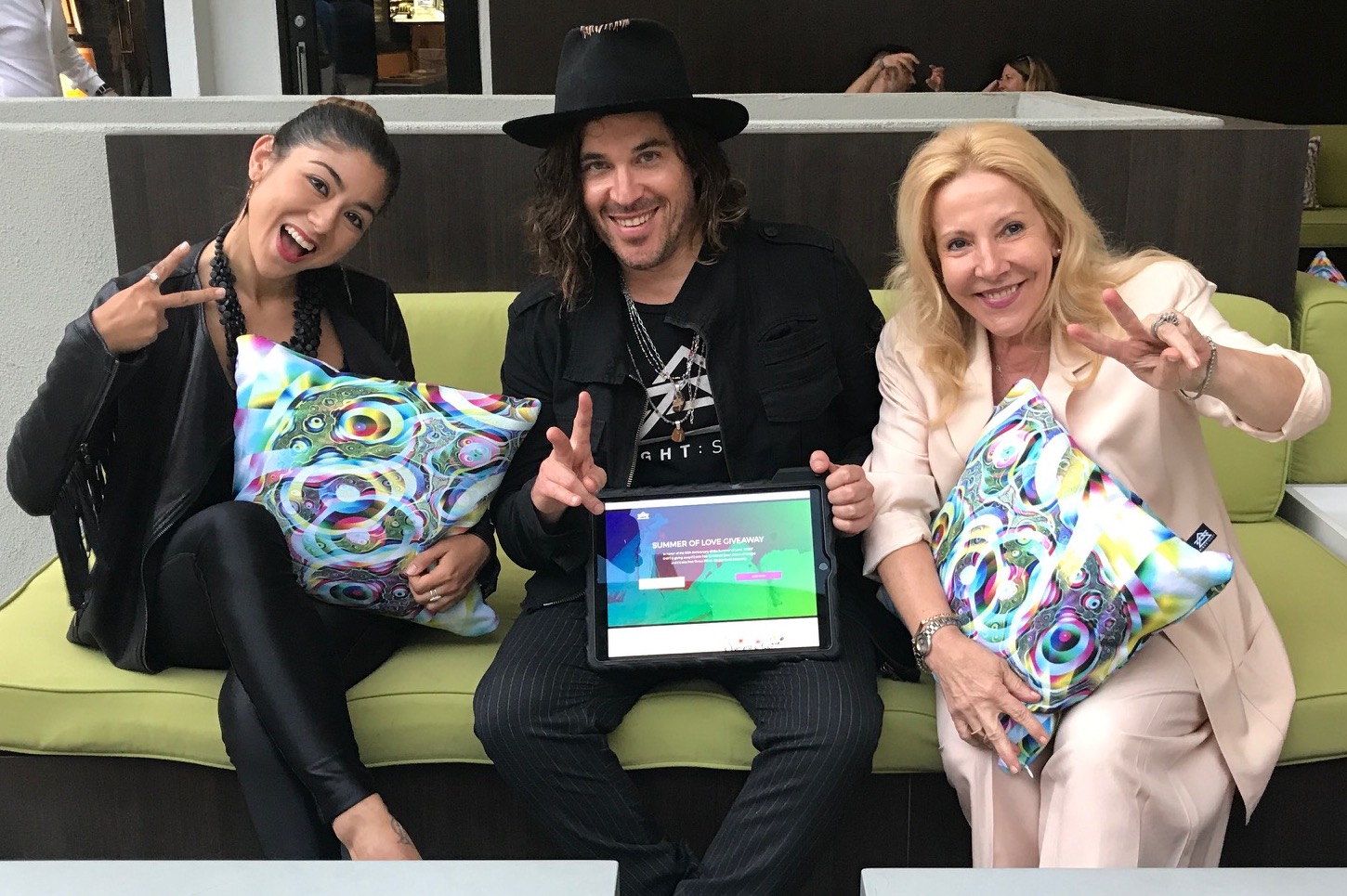 LATF USA's VP Pamela Price, Eddie of NIGHT : SHIFT, LATF USA's CEO Michele Elyzabeth
And experience they did, thanks to vivid décor provided by Eddie and his
NIGHT : SHIFT
team who dressed the outside lounges and cabanas with colorful bedding and unique psychedelic patterns.
Ocean Grown Extracts, the cannabis concentrate company run by Damian Marley, Casey Dalton and her brother and sister Dan and Kelly Dalton, provided a taste of their award-winning extract poolside.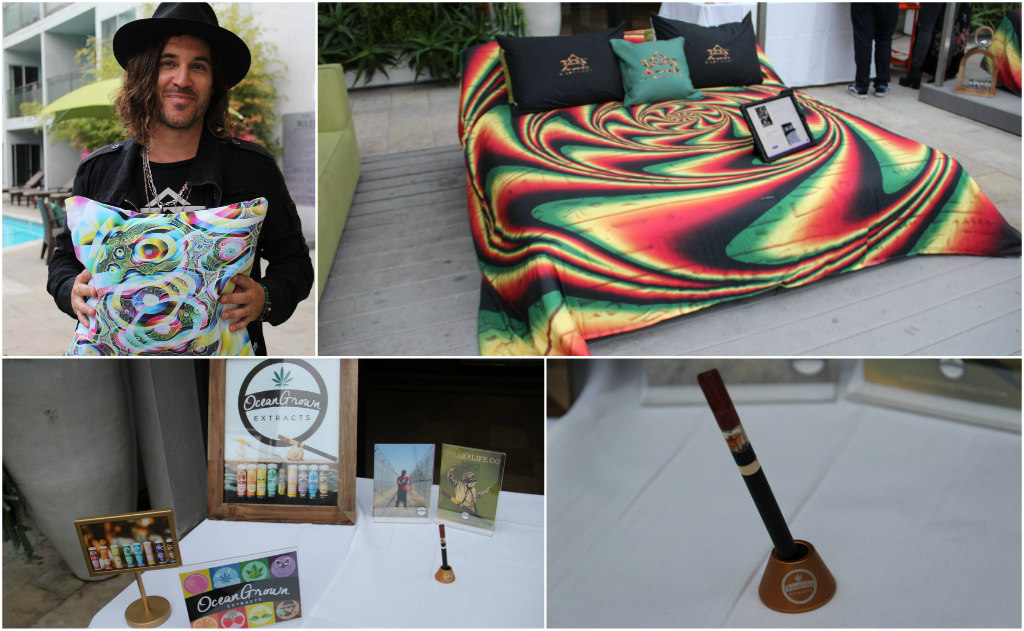 Designer Anna Sui dressed the gallery staff in designs from her 2017 Fall Line, "Blithe Spirit" as they served Purple Haze cocktails with Stillhouse clear American whiskey.
The evening featured music by DJ Bart Davenport and a poolside psychedelic light show.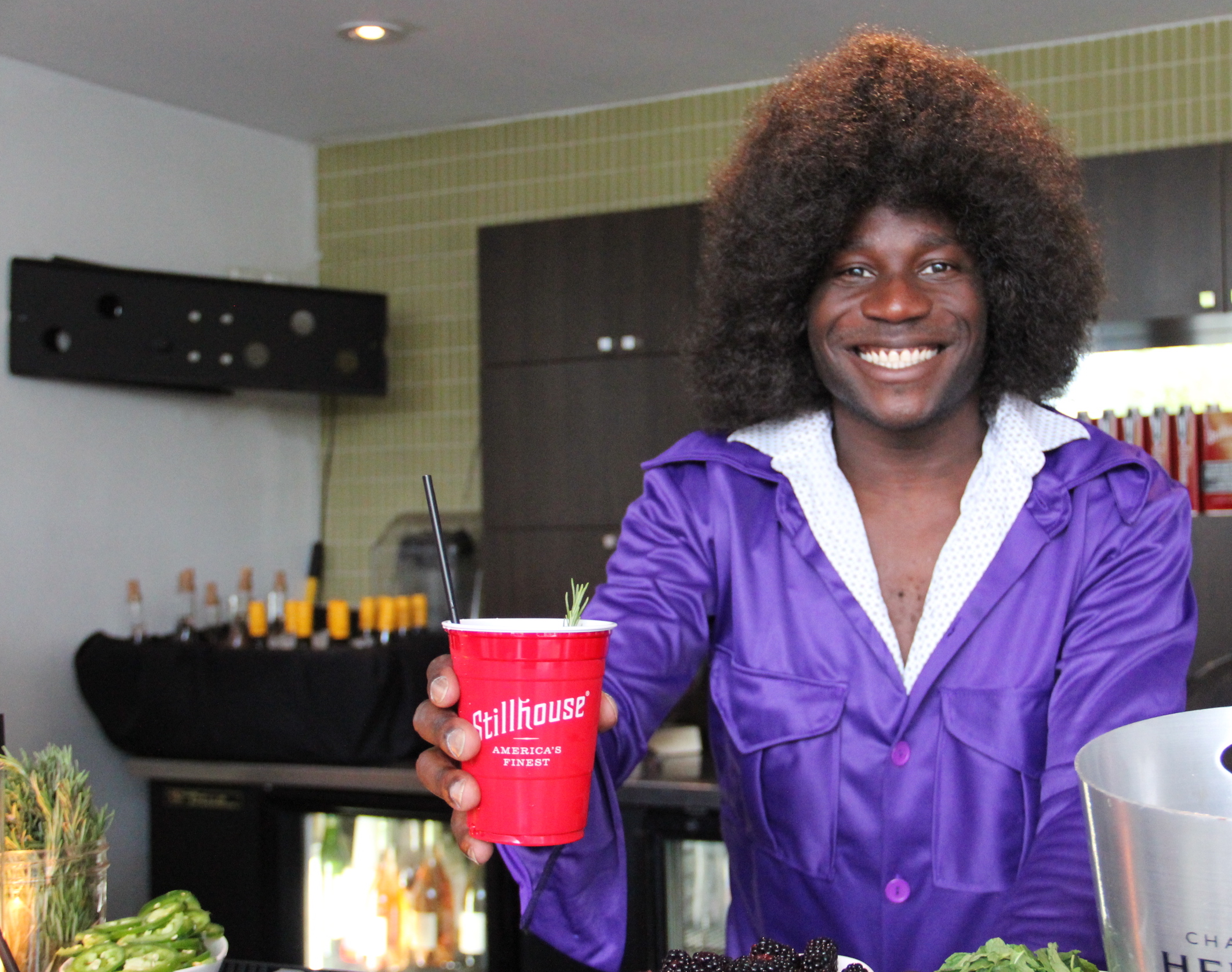 The exhibition, which will run through August 31st, highlights the original artwork of Ms. Slick, which she describes as, "Complicated cartoons…I'm always trying to get it 'lit from behind,' like a movie or a TV show. Lighting from behind really makes the colors pop, and you think 'that's incredible.' That's what I'm trying to achieve."
Her subjects include psychedelic tropes from Alice in Wonderland like Alice herself, the White Rabbit, Caterpillar and other characters, as well as portraits of her friends such as Janis Joplin and Jerry Garcia.
Concurrently, the exhibit will be at the gallery's New York location from August 24th thru September 6th. Works by some of the most talented photographers of that era are also on display as well. Featured artists include Henry Diltz, Barry Feinstein Herb Greene, and Karl Ferris.
Concurrently, the exhibit will be at the gallery's New York location from August 24th thru September 6th.