Clarins has been known for their highly performant products largely based on plants. Here are my picks for the week: Two eye products, one for the face and one for the body.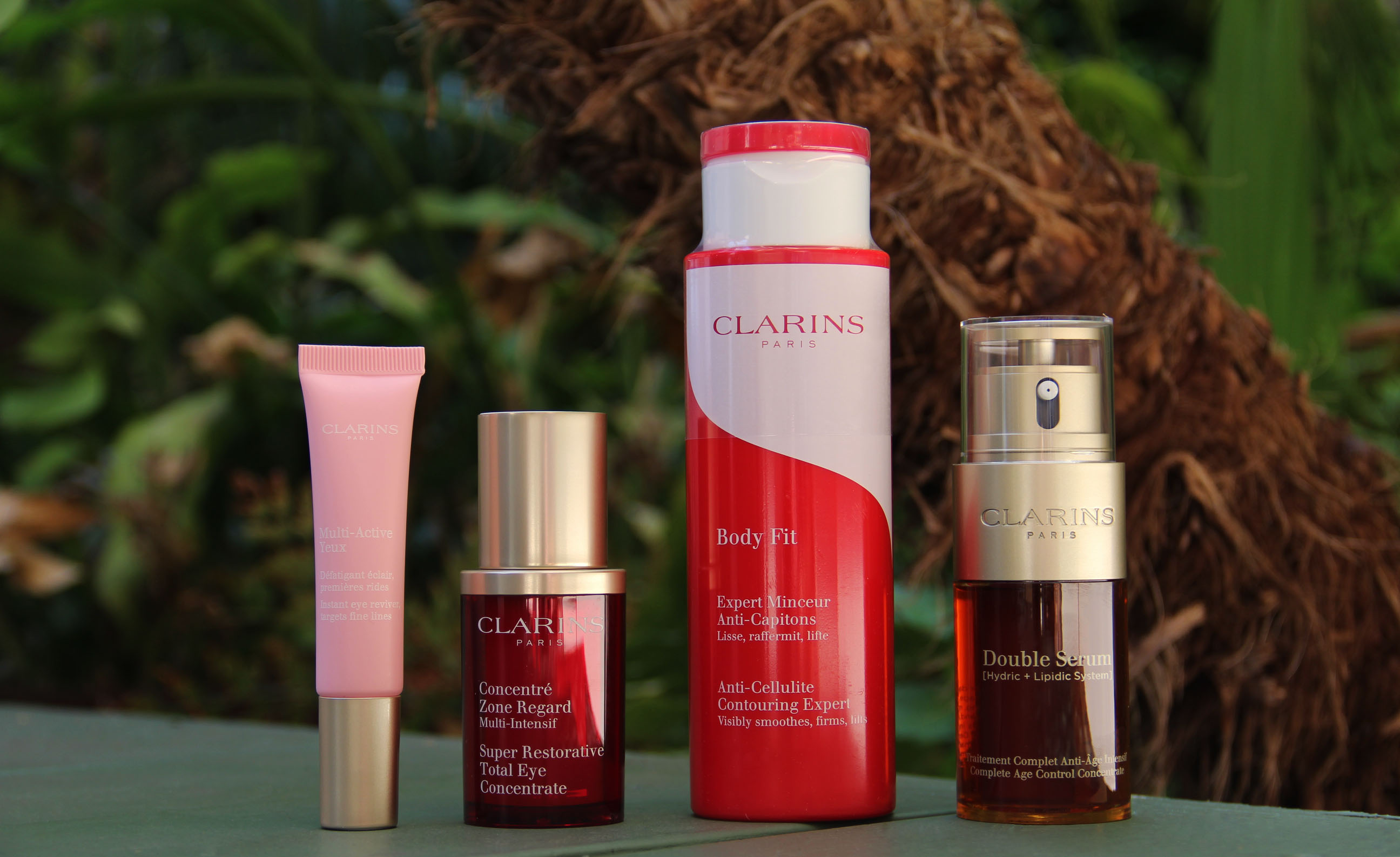 Instant Eye Reviver – Super Restorative Total Eye Concentrate – Body Fit Anti-Cellulite Contouring Expert – Double Serum complete Age Control Concentrate
INSTANT EYE REVIVER
This highly refreshing, smoothing cream-gel visibly targets fine lines and helps reduce signs of fatigue (dark circles and puffiness) linked to a hectic lifestyle and lack of sleep.
Enriched with illuminating pigments, Multi-Active Eye instantly lightens and brightens the eye contours. Applying the ultra-cold cyro-metallic tip to the eye contour enhances drainage to help reduce the appearance of puffiness and dark circles.
Why is it so good?
The encapsulated Teasel extract helps protect and minimize fine lines caused by a stressful lifestyle. Myrothamnus extract smooths fine lines and boosts radiance. Escin from Horse chestnut + Caffeine help visibly diminish puffiness and dark circles due to lack of sleep. Clarins Anti-Pollution Complex.
Price: 0.5 fl. $45.00
SUPER RESTORATIVE TOTAL EYE CONCENTRATE
Powered by organic harungana, Clarins' all-in-one, anti-aging eye treatment acts on all visible signs of skin-aging—from temple to temple: deep wrinkles, crow's feet, puffiness and dark circles.
Price: 0.5 Oz. $85.00
DOUBLE SERUM COMPLETE AGE CONTROL CONCENTRATE
Two power-packed anti-aging serums in one! Clarins' Next Generation wrinkle treatment is now packed with [20+1] potent plant extracts — including Turmeric, known for its exceptional anti-aging properties — to effectively target lines and wrinkles, even out skin tone, and boost radiance in just 7 days. Good for All ages, all ethnicities, all skin types — even the most sensitive skin. Mineral oil free. Comes in 2 sizes 1 fl. and 1.6 fl..
Price: 1 fl. $89.00 and 1.6 fl. $122.00
BODY FIT ANTI-CELLULITE CONTOURING EXPERT
Visibly smoothes, firms, lifts. Based on 60 years of contouring expertise, this innovative body treatment — powered by Quince Leaf extract helps reduce the look of cellulite with targeted refining and reshaping actions. Clarins Laboratories have pinpointed Quince Leaf extract's unique ability to visibly smooth, firm and lift. Addictively refreshing cream-gel texture instantly absorbs to soothe and smooth the skin's surface. Good for all skin types.
Price: 6.9 fl. $70.00