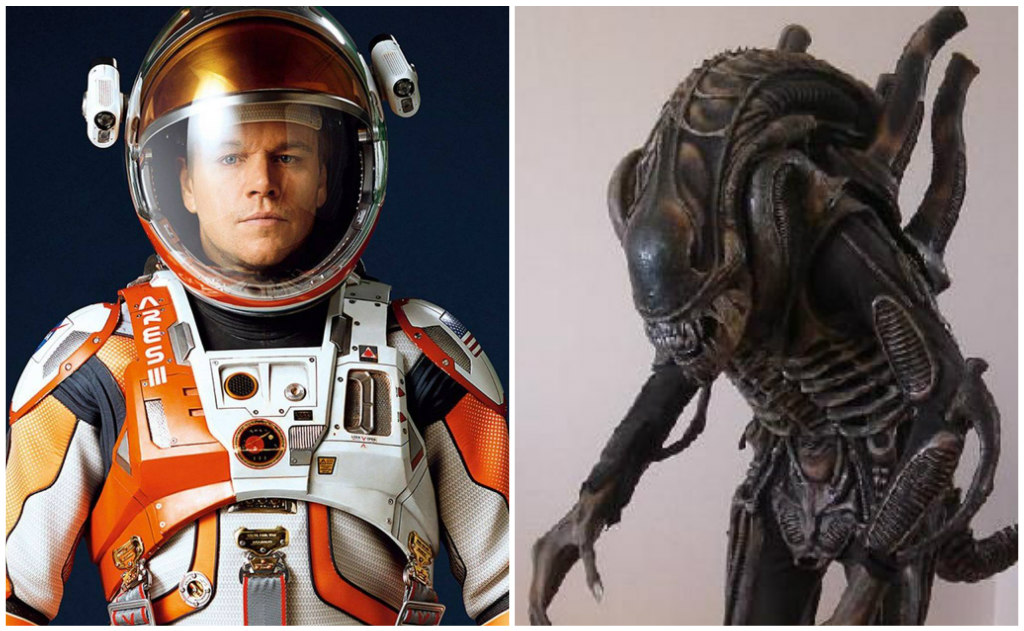 Sci-fi fanatics who collect film memorabilia, this auction is for you.
The Alien Creature Costume from James Cameron's sci-fi classic Aliens and Matt Damon's spacesuit from Ridley Scott's Academy Award-nominated film The Martian are estimated to sell between £20,000 – 30,000 each as part of Prop Store's Entertainment Memorabilia Live Auction, featuring a collection of film memorabilia worth over £2-3 million.
A preview exhibition featuring over 300 auction lots will take place between 7th – 26th September 2017 at the BFI IMAX in Waterloo, London.
Stephen Lane, Prop Store's CEO said, "The Alien creature from Aliens is one of cinema's most well-recognised sci-fi creatures and we're thrilled to be featuring this incredible costume in our upcoming auction alongside props and costumes from sci-fi films old and new, including Star Wars, Star Trek and The Martian. These fantastic lots will be sold together with 600 props and costumes from over 230 films at Prop Store's Entertainment Memorabilia Live Auction on 26th September at London's BFI IMAX proudly presented by ODEON."
The Prop Store Live Auction will feature lots from sci-fi classics including:
Dr. Peter Venkman's (Bill Murray) Jumpsuit from Ghostbusters (1984). Estimate £6k – 8k
C-3PO Special Effects Head from Star Wars: The Empire Strikes Back. Estimate £60k – 80k
USS Enterprise NCC-1701-D "Pyro" Model Miniature from Star Trek: The Next Generation. Estimate £20k – 30k
The auction will be live-streamed online for fans to track the bidding on auction day. A free preview exhibition will be open to the public in the run up to the auction showcasing over 300 lots from the upcoming auction. Movie fans and collectors alike will be able to see these incredible pieces of movie history up-close.
Registration and bidding is now open. Bids can be placed online at www.propstore.com/liveauction ,- over the phone or in person.
The free exhibition is open to the public at the BFI IMAX, Waterloo, London, England SE1 8XR from 10:00am to 9:30pm, 7th – 26th September 2017. Prop Store's Entertainment Memorabilia Live Auction, in partnership with the BFI IMAX proudly presented by ODEON, will also take place at the BFI IMAX Waterloo on Tuesday 26th September 2017 from 12:00pm.