The stars have aligned with the return of multi-platinum selling band DNCE aboard Royal Caribbean International for a live musical performance to celebrate the Great American Eclipse, a phenomenon 99 years in the making.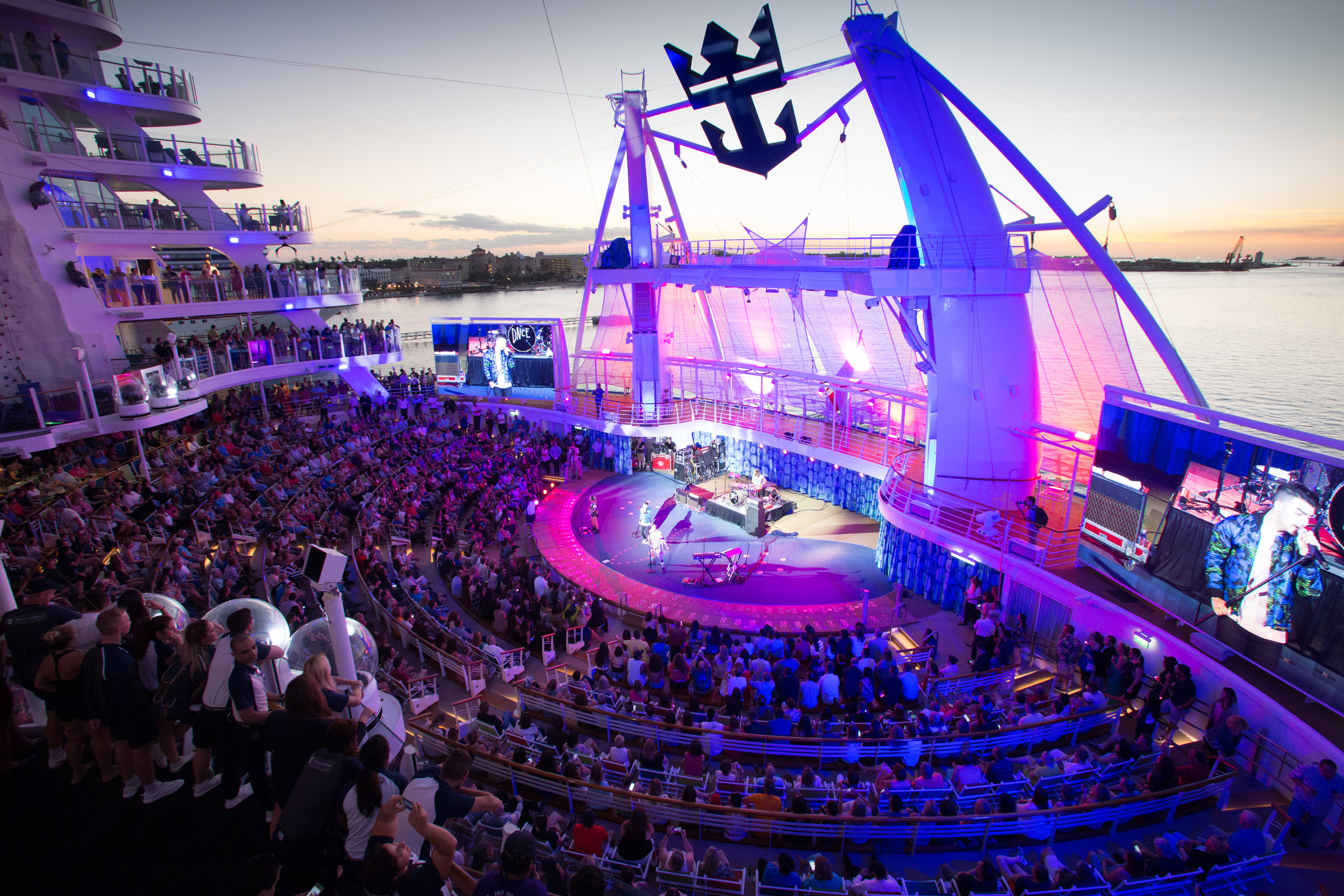 On Aug. 21, DNCE will headline Royal Caribbean's bucket-list-worthy solar eclipse viewing party with a surprise guest for an out-of-this-world performance aboard the exclusive 7-night Total Eclipse Cruise on board Oasis of the Seas, one of the world's largest and most adventure-packed cruise ships.
Adventure-seekers will have the vantage point of the century when Oasis of the Seas positions itself along the eclipse's path of totality where the moon completely masks the sun for a few minutes of total darkness. Building up to the unprecedented moment at sea, DNCE frontman Joe Jonas and all-star bandmates, including bassist and keyboardist Cole Whittle, guitarist JinJoo and drummer Jack Lawless, will perform the band's heart-pumping hits like "Kissing Strangers," "Body Moves" and, of course, "Cake by the Ocean." Guests booked on the Total Eclipse Cruise can visit Royal Caribbean's website and reserve their complimentary seats for the concert by logging on to their reservation.
"When we were invited to headline this once-in-a-lifetime event, we didn't think twice. What could be more out of this world than witnessing a full solar eclipse at sea?" said Joe Jonas. "We're stoked about coming back on board with Royal Caribbean to put on a lights-out performance with a very special guest. It's beyond exciting to be able to celebrate this crazy moment in history out in the middle of the ocean."
The viewing party will last far into the night, long after the moon eclipses the sun, creating social media-worthy moments for what is predicted to be one of the most trending topics of 2017.
In addition to the viewing party, guests on Oasis of the Seas will be treated to other eclipse-themed activities, including dance parties, trivia, interactive science fun for kids and their families, and tasty cocktails and dishes.
Travelers sailing on board Oasis of the Seas will also enjoy the ship's bold and unexpected lineup of experiences and amenities. From two FlowRider surf simulators and a zip line nine decks high – speeding riders 82 feet across an open-air atrium, to unparalleled entertainment, including Broadway-style shows and high-diving, acrobatic performances in the iconic AquaTheater; and world-class dining at 150 Central Park by James Beard Award-winning chef Michael Schwartz, there is an adventure for travelers of all ages aboard Oasis.
The 7-night Total Eclipse Cruise on board Oasis of the Seas will set sail on Aug. 20, 2017 from Orlando (Port Canaveral), Florida, and visit Caribbean destinations in the Eastern Caribbean, including Phillipsburg, St. Maarten; Charlotte Amalie, St. Thomas; and Nassau, The Bahamas. Adventurers can book now to witness this historic event at sea by visiting RoyalCaribbean.com/TotalEclipse, calling (800) ROYAL- CARIBBEAN or contacting their travel agent.