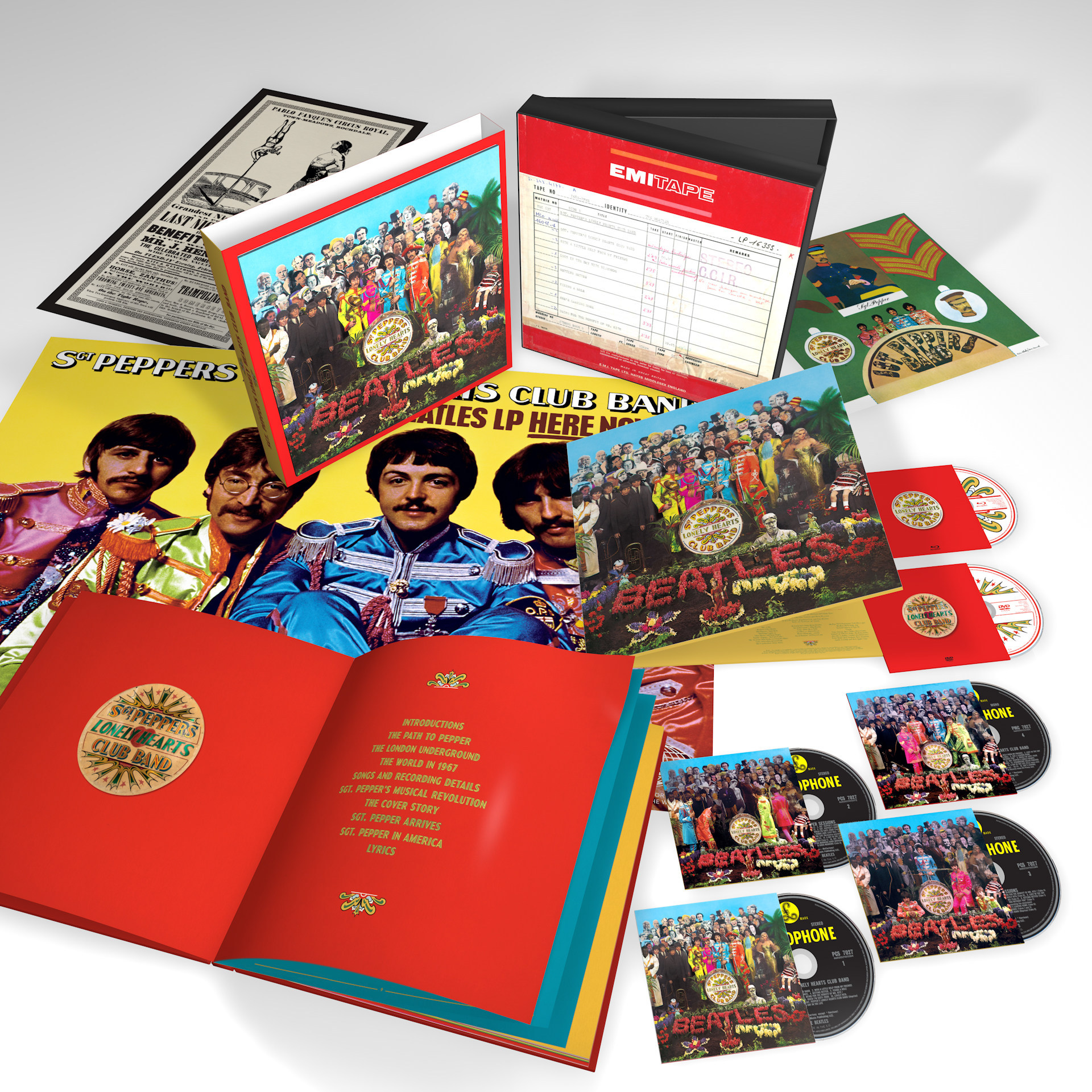 It was 50 years ago this June 1st when The Beatles' John Lennon, Paul McCartney, George Harrison, and Ringo Starr astonished and delighted the world, ushering in the Summer of Love with Sgt. Pepper's Lonely Hearts Club Band, a groundbreaking masterwork that became popular music's most universally acclaimed album.
To salute the occasion, The Beatles will release a suite of lavishly presented 'Sgt. Pepper' Anniversary Edition packages on May 26 (Apple Corps Ltd./Capitol/UMe). The album is newly mixed by Giles Martin and Sam Okell in stereo and 5.1 surround audio and expanded with early takes from the studio sessions, including no fewer than 34 previously unreleased recordings.
"It's crazy to think that 50 years later we are looking back on this project with such fondness and a little bit of amazement at how four guys, a great producer and his engineers could make such a lasting piece of art," says Paul McCartney in his newly-penned introduction for the 'Sgt. Pepper' Anniversary Edition.
"'Sgt. Pepper' seemed to capture the mood of that year, and it also allowed a lot of other people to kick off from there and to really go for it," Ringo Starr recalls in the Anniversary Edition's book.
For Record Store Day on April 22, Apple Corps Ltd./Capitol/UMe will release an exclusive, limited edition seven-inch vinyl single of The Beatles' "Strawberry Fields Forever" and "Penny Lane," among the first songs recorded during the 'Sgt. Pepper' sessions, which began in November 1966. Rather than being held for inclusion on the album, the two songs were released as a double A-sided single in February 1967. Amidst intense media speculation about the band's next move, the single bridged what was then considered a long gap between the Revolver album, released in August 1966, and 'Sgt. Pepper,' which followed 10 months later.
This is the first time Sgt. Pepper's Lonely Hearts Club Band has been remixed and presented with additional session recordings, and it is the first Beatles album to be remixed and expanded since the 2003 release of Let It Be… Naked. To create the new stereo and 5.1 surround audio mixes for 'Sgt. Pepper,' producer Giles Martin and mix engineer Sam Okell worked with an expert team of engineers and audio restoration specialists at Abbey Road Studios in London. All of the Anniversary Edition releases include Martin's new stereo mix of the album, which was sourced directly from the original four-track session tapes and guided by the original, Beatles-preferred mono mix produced by his father, George Martin.