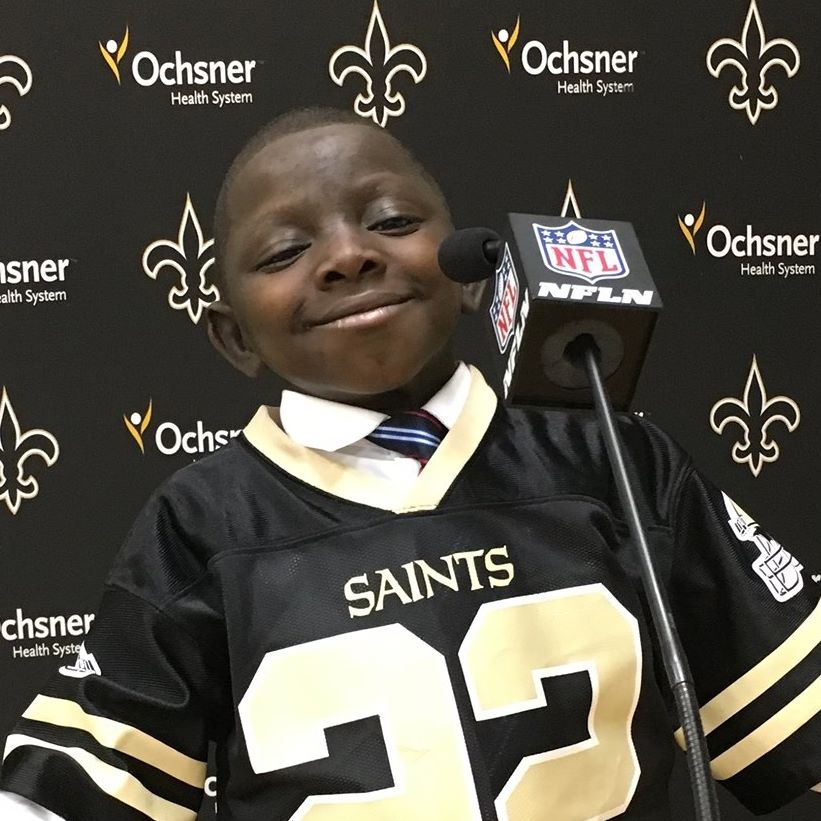 Talk about giving back. New Orleans Saints superfan Jarrius "JJ" Robertson has been in and out of hospitals his whole life, battling a chronic liver disease called biliary atresia. The 15-year-old's wit, energy and effervescent attitude made a lasting impression on Saints players who met him during a 2015 visit to the Ochsner Hospital for Children, and since then he has been crowned official "hype man" and social media master for the team, winning over fans with his dance moves and his impressive football acumen.
ESPN announced that Robertson will be honored with the Jimmy V Perseverance Award sponsored by Bristol-Myers Squibb on July 12 at "The 25th ESPYS presented by Capital One" on ABC.
Robertson, who has undergone two liver transplants and 13 surgeries in 15 years, is a true example of perseverance. His health battles haven't stopped him from being the Saints' biggest cheerleader – he's become a fixture at home and away games and has also joined the team for practices.
"When I first heard the news I thought I was dreaming!" said Robertson. "'The ESPYS'? For real? The past two years have been a blessing in so many ways for me and my family. I have been able to do things I never thought I would be able to do. But to be included with Craig Sager, Stuart Scott, Leah and Devon Still, Eric LeGrand and the man himself, Jimmy V, is truly amazing and I am really grateful and humbled."
The Jimmy V Perseverance Award was named after, and inspired by, the late Jim Valvano who, while battling cancer, gave an emotional acceptance speech at the 1993 ESPYS that included his famous words "Don't Give Up . . . Don't Ever Give Up!"®. Valvano passed away less than two months later, but his words were never forgotten.
"Jarrius is such an inspirational young man," said New Orleans Saints quarterback Drew Brees. "His strength, determination and resolve along with his infectious energy and attitude should be an example that no matter the circumstances or adversity with a positive outlook and embracing the motto of 'Don't Give Up… Don't Ever Give Up' there isn't a challenge that cannot be conquered."
The Jimmy V Perseverance Award is given to a deserving member of the sporting world who has overcome great obstacles through perseverance and determination. In 2007, Women's College basketball coach Kay Yow became the very first recipient of the Jimmy V Perseverance Award. Past recipients include Eric LeGrand, Anthony Robles, George Karl, Dick and Rick Hoyt, Stuart Scott, Devon and Leah Still, and Craig Sager.