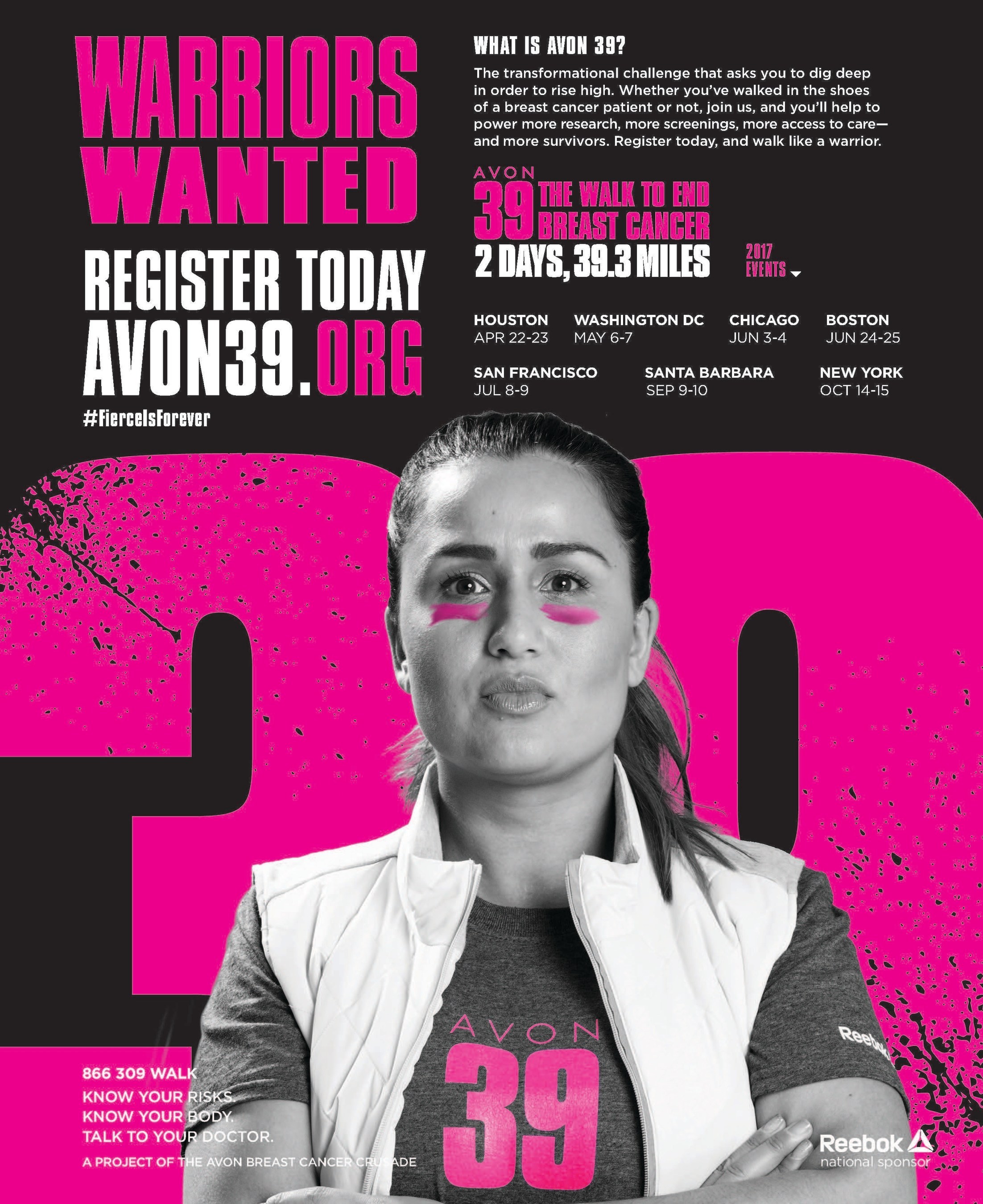 Avon Breast Cancer Crusade is kicking off: AVON 39 The Walk to End Breast Cancer. Register today in one of the major cities below:
Now in its 15th year, the 2017 season begins this weekend in Houston, followed by Washington, D.C. (May 6-7), Chicago (June 3-4), Boston (June 24-25), San Francisco (July 8-9), Santa Barbara (September 9-10) and New York (October 14-15).
United by the theme #FierceIsForever, the two-day, 39.3 mile walks celebrate the strength and philanthropic commitment of participants who raise a minimum of $1,800 to accelerate breast cancer research; improve access to screening, diagnosis and treatment; and educate people about breast cancer. The 2016 AVON 39 event series drew more than 13,000 participants from across the country, including 1,728 breast cancer survivors, who raised more than $30 million to advance access to breast health care. Since the series' launch in 2003, more than 235,000 participants have raised nearly $620,000,000. Funds raised are distributed by the Avon Breast Cancer Crusade to local, regional and national breast cancer organizations with the goal of improving breast cancer outcomes and reducing disparities in survival rates.
This year, AVON 39 The Walk to End Breast Cancer advertising features alumni walkers sharing their personal experiences, including an Avon Representative and employee:
Avon Representative, Laura Whitaker: A breast cancer survivor, entrepreneur and second time New York AVON 39 walker. Laura is a true warrior, and has been cancer-free for a year. In 2016, she walked 34 miles of the AVON 39 journey and looks forward to completing the full walk this year. Laura walks to support finding a cure and to inspire other breast cancer survivors.
Avon employee, Christina Satturo: A Merchandising Manager in the company's Fashion department, Christina is a third year veteran of the AVON 39 New York event. She originally joined "Team Avon" as a way to get more involved with the company, and to feel connected to women in her family that have been impacted by breast cancer. Christina walks for her grandmother, aunt, and close friend, and to raise awareness for all women who are unable to get appropriate treatment and care.
To get a behind the scenes look at Laura and Christina's AVON 39 photoshoot, visit Avon Insider at www.avon.com/blog.