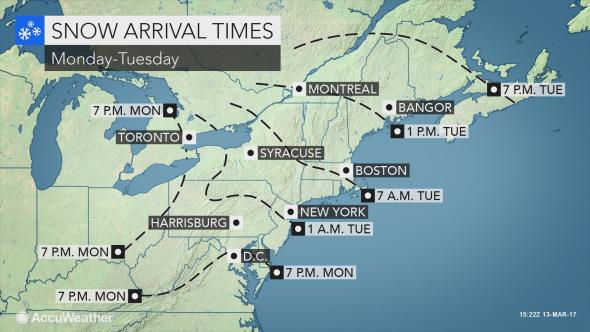 They're calling Stella a "classic Nor'easter" and a "blizzard," according to Accuweather.
The latest snow storm to hit the East Coast is promising heavy snow and strong winds from Washington, D.C., to New York City and Boston early this week. A foot or more of snow is expected from the northern and western suburbs of Philadelphia to New York City, Boston and Portland, Maine.
"Residents should prepare for school closures and potential cancellations of sporting events due to hazardous travel for players and fans," according to AccuWeather Senior Meteorologist Kristina Pydynowski.
Blizzard conditions are expected to also hit as south as western Maryland and eastern West Virginia.
Follow the storm at: http://www.accuweather.com